Bills coaches make an impact with the players they coach each and every day on the field and in the meeting room. But earlier this week, a group of coaches made a point to make an impact off the field in the Buffalo community.
A group of the Bills' coaches took some time out of their day to serve meals at the Buffalo City Mission.
Led by team Chaplin Len Vanden Bos, the event served over 70 meals to members of the City Mission's transitional housing program and emergency shelter guests. Each guest was also given a reusable Bills facemask, gaiter, and a 2020 Bills yearbook.
"It's an opportunity to serve," Vanden Bos said. "The city of Buffalo has embraced the Bills for so many years, and anytime we get an opportunity to give back, even for just an hour so, it means so much to them and we are blessed by it as well."
Lunch was made by chef Darian Bryan of The Plating Society who is also a personal chef for many NFL players. He made the guests chicken alfredo with broccoli, a side salad and a wide array of desserts.
The coaches served the meals to all the guests and also cleaned up after they were finished. After lunch, the coaches went around to talk with the guests, take pictures and sign autographs. Defensive coordinator Leslie Frazier was one of the coaches in attendance and he felt honored and humbled to serve and contribute to this event.
"I think for all of us coming down and just being able to serve and participate and be a part of the community," Frazier said. "I mean we feel very fortunate and blessed to be able to do what we do for a living. To see the smiles today when we were serving food and just participating brings so much joy to your heart. It means a great deal to be able to give back."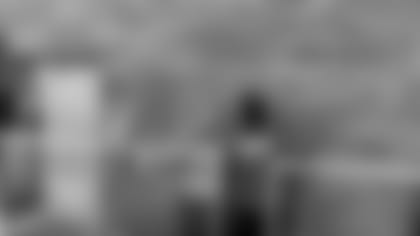 Wednesday's event is the third Buffalo Bills Community Meal at the City Mission. Community Meals with the coaches were served in 2018 and 2019 but were paused in 2020 due to pandemic restrictions. This was the first event to take place in the brand new 75,000 square foot Alfiero Family Center of Hope and Promise, which opened in March 2021.
Aubrey Calhoun who is the Associate Executive Director at the Buffalo City Mission was thrilled that this community meal could be the unofficial opening of the new center.
"We are a big community that supports the Buffalo Bills," Calhoun said. "So, having the Bills come here and give back to a community that's also giving to them is exciting to see because they're really helping us uplift and change lives. Events like this, with the music, just really does it for our residents, they'll remember this for months to come."
Scroll through to see the best photos from Week 3 of Bills OTAs.