Eight names were tossed into a hat. They were the top eight wide receiver prospects of the 1960 AFL Draft, as determined by a handful of executives in the brand new league. A representative from each of the eight AFL teams reached into the hat, drew a name, and thus chose his team's new guy, their draft pick at wide receiver.
It was as simple as that.
They'd continue to draw names at every offensive position until all eleven spots on the field were filled, then begin again with the eight next best receivers and so on until three offensive lineups were complete. There was no defense drafted; draftees were only listed by their offensive positions coming out of college. Their new wide receiver drafted would double on defense.
An additional draft of "second selections" was held days later when AFL leaders realized they needed more manpower, as many who were drafted planned on continuing through their senior years of college before joining the team.
In total, 53 were drafted so simplistically to form the first Buffalo Bills.
There was a little luck, but certainly no chance and no names in a hat when the Bills took their first wide receiver in the second round of the 2013 NFL Draft. Robert Woods was scouted, scoured and scored. For years, Bills personnel took notice and tracked his progress and potential. He was selected with much care, and announced on national TV to boot.
The Draft, in all its present grandeur, has far evolved from its humble roots laid long before the AFL's inaugural draft. From a closed-door meeting in a Philadelphia hotel room in 1936, it's grown into a primetime event held on one of the most noteworthy stages in the country.
There was no walk across the stage at Radio City Music Hall when the first player was drafted into the NFL in 1936. He was a Heisman Trophy winner, but look him up, and you won't find his records in NFL stat books. The first draftee, Jay Berwanger, never played a down, instead choosing a job at a rubber factory because of the low pay in professional football.
If Berwanger was offered the starting salary of Bruce Smith – the most recent Bills player taken first overall – he might have reconsidered.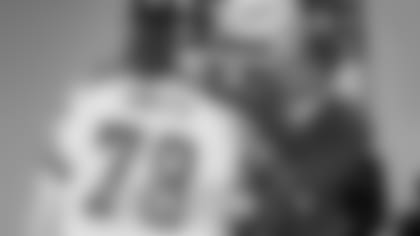 ](http://www.buffalobills.com/media-center/photo-gallery/From-the-Archives-Bills-Draft-History/c48fbafb-e12e-40ad-b85d-35e3c42cae32)
"Riverboat" Richie Lucas' 1960s salary undoubtedly paled in comparison to Smith's as well, but the first ever player drafted to the Bills sure had to earn his keep. The Heisman runner-up at Penn State was a quarterback by trade, but played halfback, defensive back, and kick returner as well during his two seasons on the Bills.
The draft grew contentious as the AFL and NFL battled for the same players to fill their rosters. The Bills first pick in 1962 was actually drafted into both leagues, famously choosing the NFL's Cleveland Browns over the AFL's Bills. Like Berwanger, he would never play a down of professional football, but for a different reason. A little known Bills first round draft choice, this Syracuse running back and first ever African American winner of the Heisman Trophy was the legendary Ernie Davis.
To put an end to the AFL-NFL Draft battles which escalated to secretive drafts and sequestration of teams' much-desired players to hide them from the other league, the drafts were combined in 1967 as a precursor to the leagues' mergers a few years later. The draft was shortened to 17 rounds from a whopping 34 rounds at one point in the AFL.
From then on, the number of rounds would continue to shrink, while the spectacle would only grow. In 1980, ESPN President Chet Simmons approached the NFL and asked if he could televise the draft. The NFL was shocked, as it was still largely a group of older men in a hotel room and didn't seem fit for TV.
Thirty years later, over 20 million people tuned in to watch the first round of the 2013 NFL Draft, live from Radio City Music Hall.
It's safe to say EJ Manuel had more eyes on him this Draft Day than his Bills QB predecessor Lucas did in 1960. It's also safe to say Manuel won't be choosing a career at a rubber factory over one at Ralph Wilson Stadium.