Tours & Experiences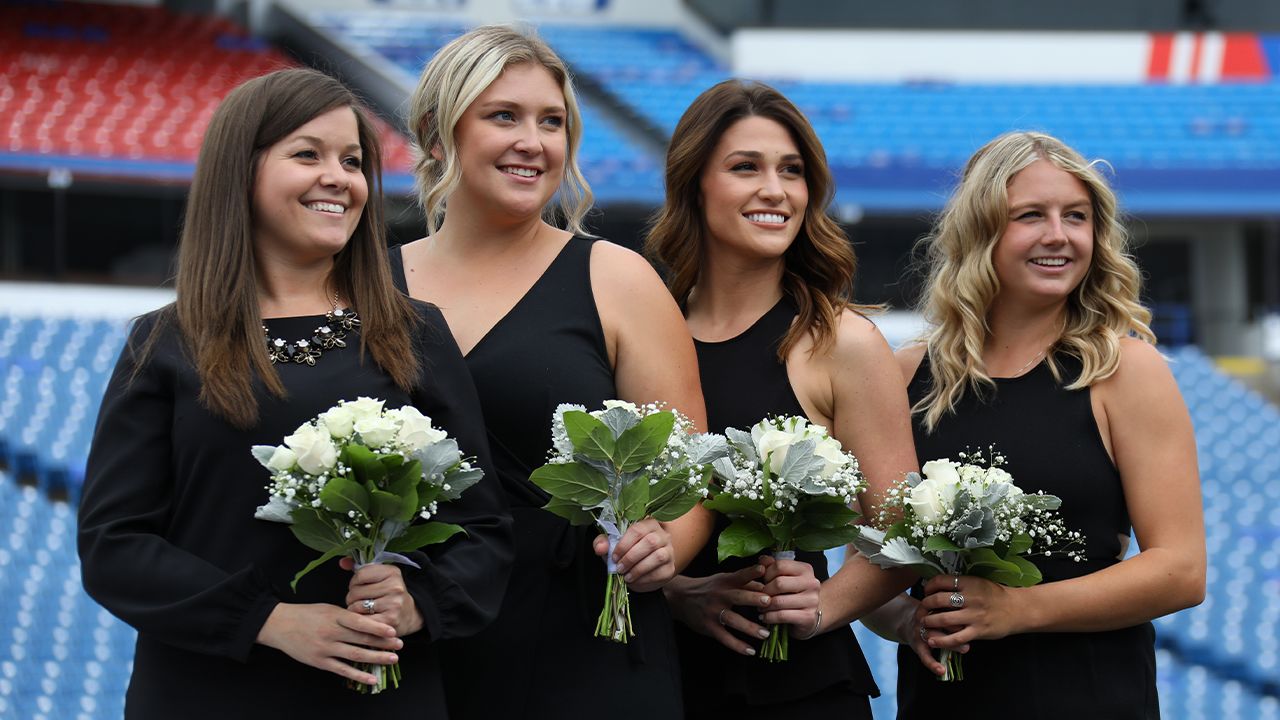 On-Field Experiences
The stadium makes for the perfect setting to document or celebrate a special day in one of the most unique atmospheres in Buffalo! With exclusive access to the field, your group (up to 25 guests) will have an unforgettable experience.
If interested in booking an on-field experience photography session, please fill out and submit the form below and an event representative will contact you.
Pricing for on-field experiences starts at $500 and includes 1 hour access to the stadium field. 
Note: The Bills do not provide professional photographers.
Stadium Tours*
Highmark Stadium, home to the Buffalo Bills, now offers tours that provide fans with a behind-the-scenes experience. Your guided tour will visit our premium spaces, Press Box, and a visit to the stadium field. All tours includes 3 miles of walking, stairs, and constant movement. Highmark Stadium tours offer an exciting and educational experience for every Bills fan!
Public tours are offered on select weekdays. Advance tickets must be purchased.
All private tours must be scheduled 14 days in advance. Pricing starts at $500.**
If you have any questions, please contact us here.
*All stadium tours are subject to availability based on football and events schedules.
**Please note there will be a price increase starting January 1, 2024.
Meet the Highmark Stadium Tour Guides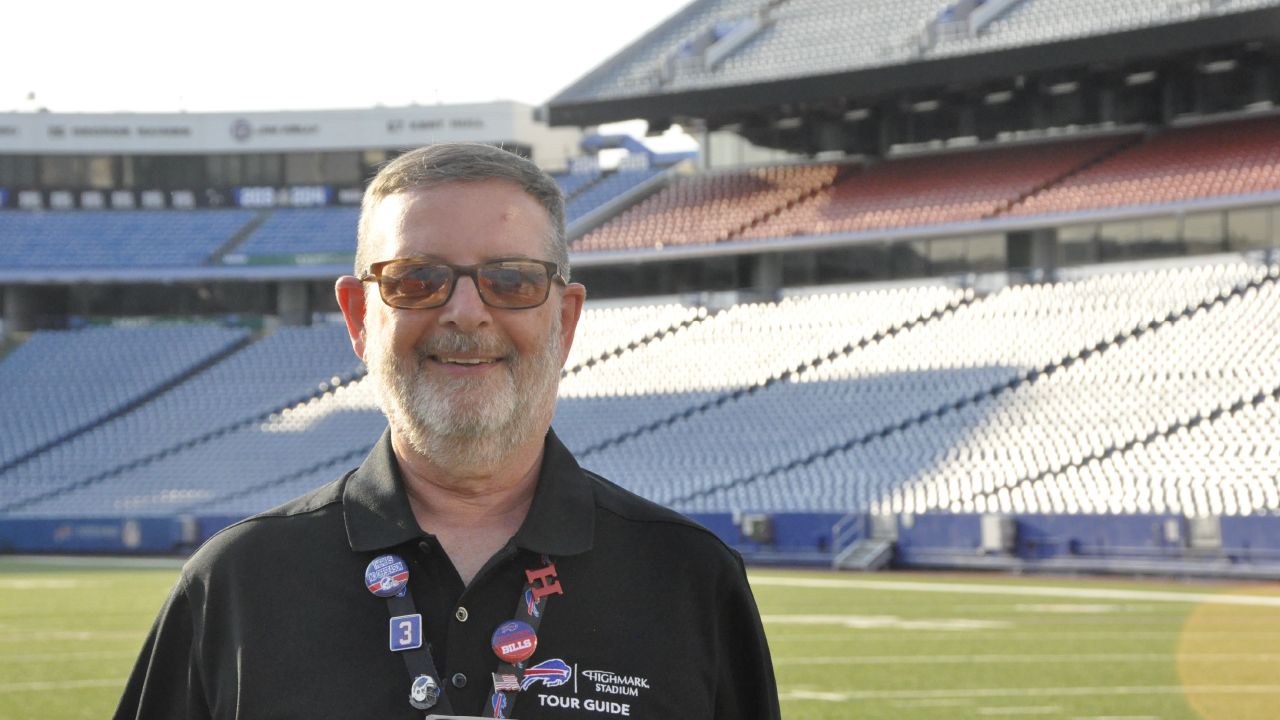 Corky Forney (2018)
After a 45-year career in retail management, I became a Buffalo Bills Guest Services Ambassador in 2018 and a Stadium Tour Guide in 2022. My game day responsibilities are with the ADA/Blue Team, providing golf cart transportation from the parking lots to the stadium gates for our physically challenged and elderly guests. I've been a die-hard Bills fan since 1966 and still wait with all of Bills Mafia for the day we win the Lombardi Trophy!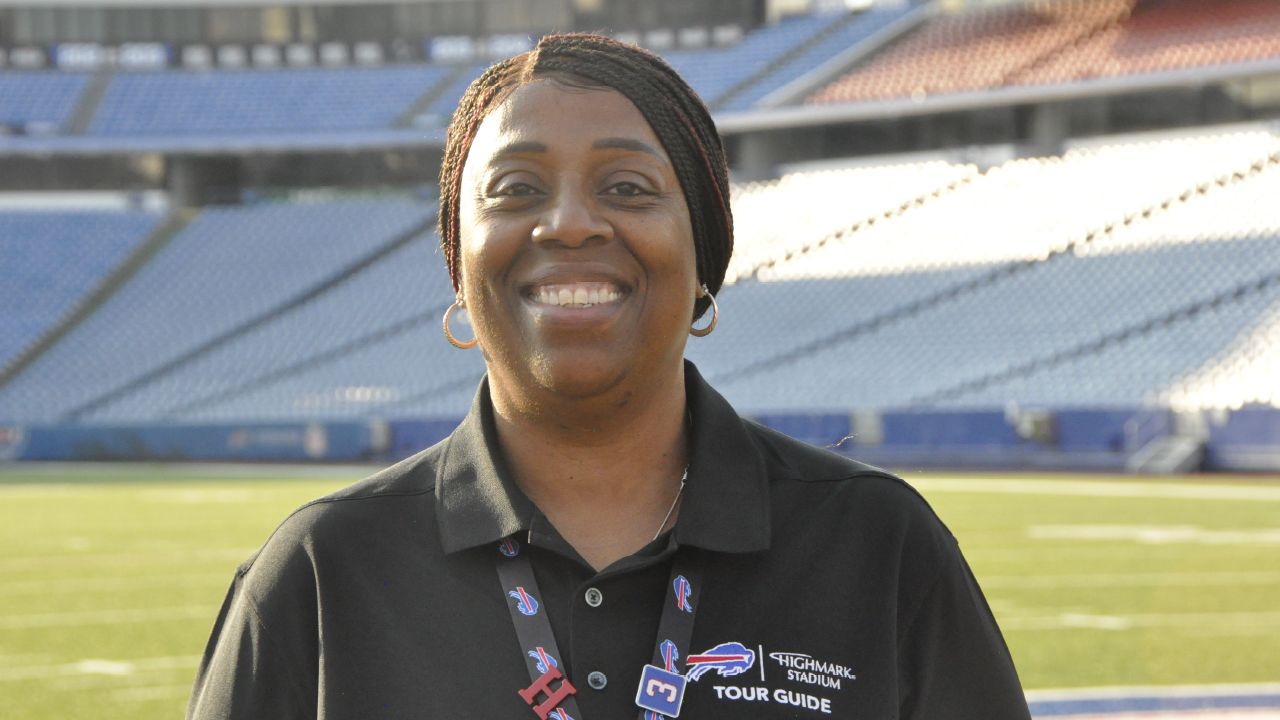 Sharon Harris (2022)
I was born in Jacksonville, FL, but was raised in a small town outside of Pittsburgh, PA called Aliquippa. A fun fact about my hometown is that there are a few NFL Hall of Famers from where I grew up: Ditka; Tony Dorsett; Ty Law & Darrelle Revis. Joe Namath was from a nearby town named Beaver Falls, which is about 15 miles away.
Dawn Hoeltke (2011)
I have been a fan of the Buffalo Bills since I was old enough to say "GO BILLS!" I have twin daughters and a grandson who I have instilled the love for the Bills on! Game days are my favorite especially when they are home. I thoroughly enjoy every aspect of being there, the excitement and energy is amazing and we truly do have the BEST fans ever!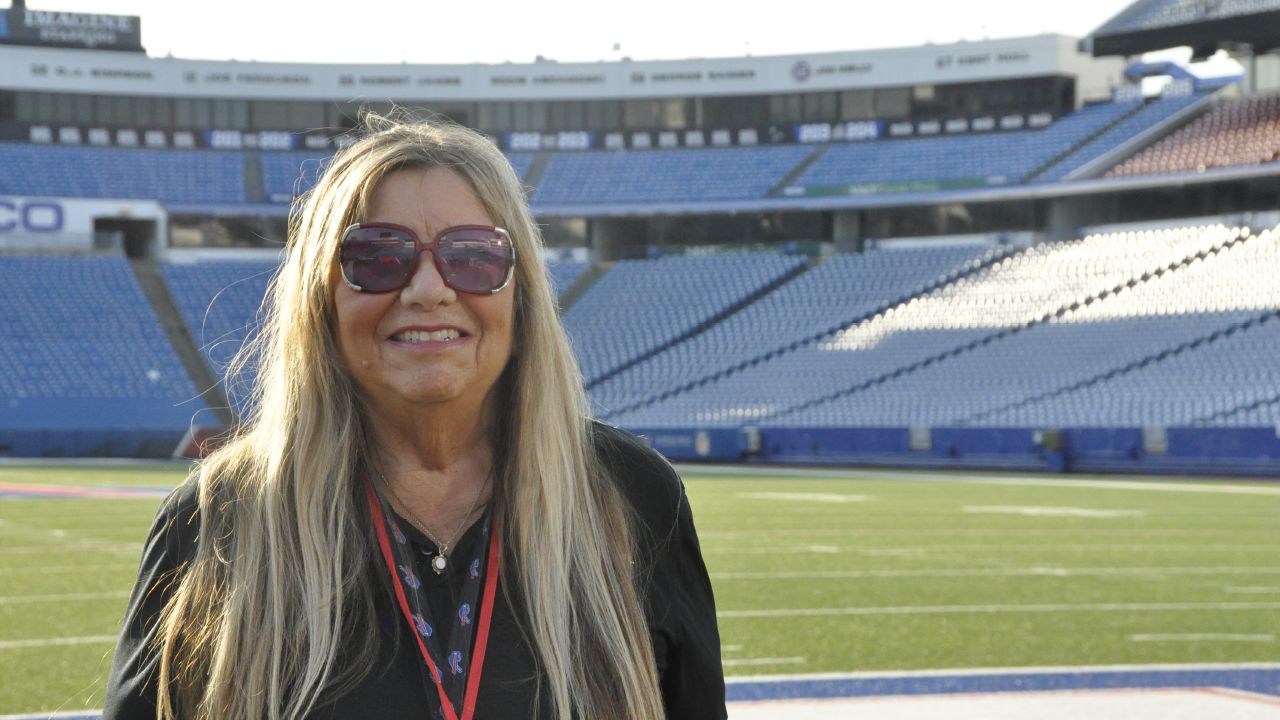 Barbara Kelleher (2013)
I began with Bills in 2013 as Guest Services. I service the Uniform and Equipment Room on game day and event days. I am also a member of the In Event Response Team.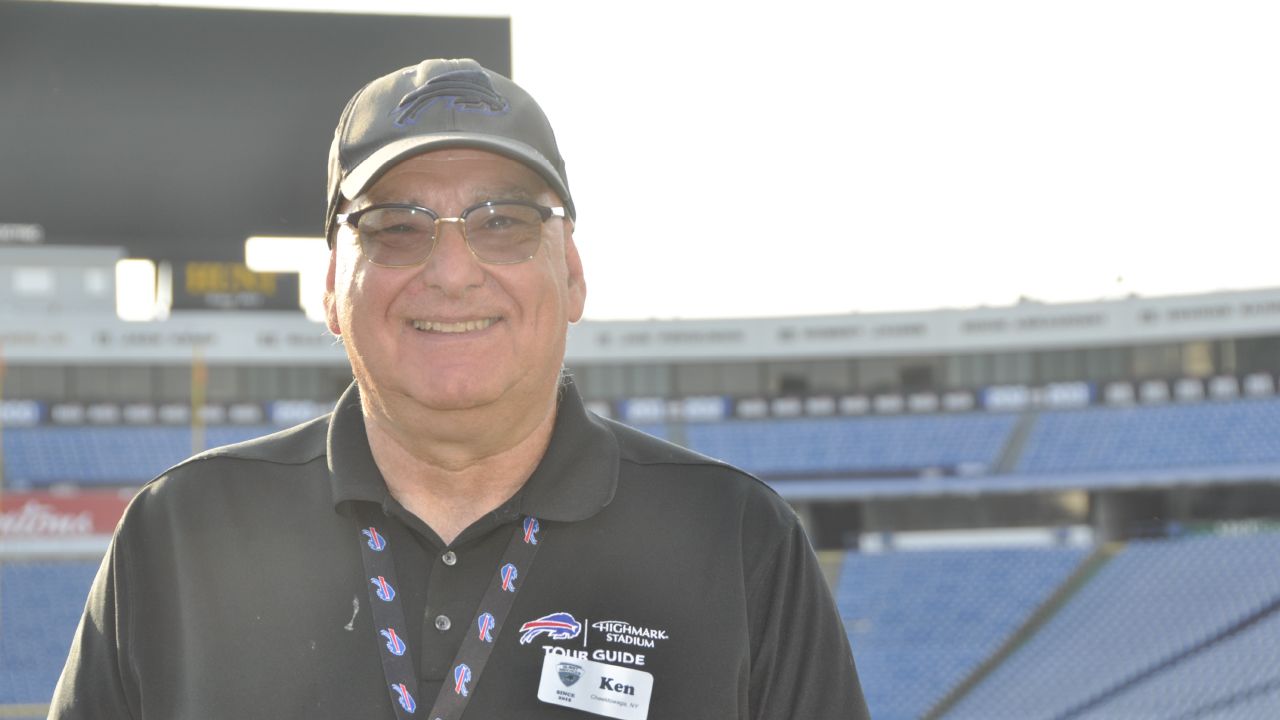 Ken Kern (2016)
I am a native Western New Yorker and a dedicated NFL and Bills fan since the late 1960's. I started working with Buffalo Bills Guest Services in 2016 and in my first year was a ticket taker and usher. In addition to being assigned as the usher for Pepsi West Club 206/207 in 2017, I also began working the Stadium Tours. I enjoy visiting and touring other NFL club's facilities and visit the Pro Football Hall of Fame every few years.
Bob LaBarbera (2011)
From 1987 to 2000, I coached football, basketball, track & field, cross country and golf at Cardinal O'Hara High School in Tonawanda, NY, while also serving as Assistant Athletic Director from 1996 to 2000. Before that, I served in the military as a member of the Air National Guard from 1969-1975. My entire family, wife, two children and three grandchildren as all loyal members of the Bills Mafia…Go Bills!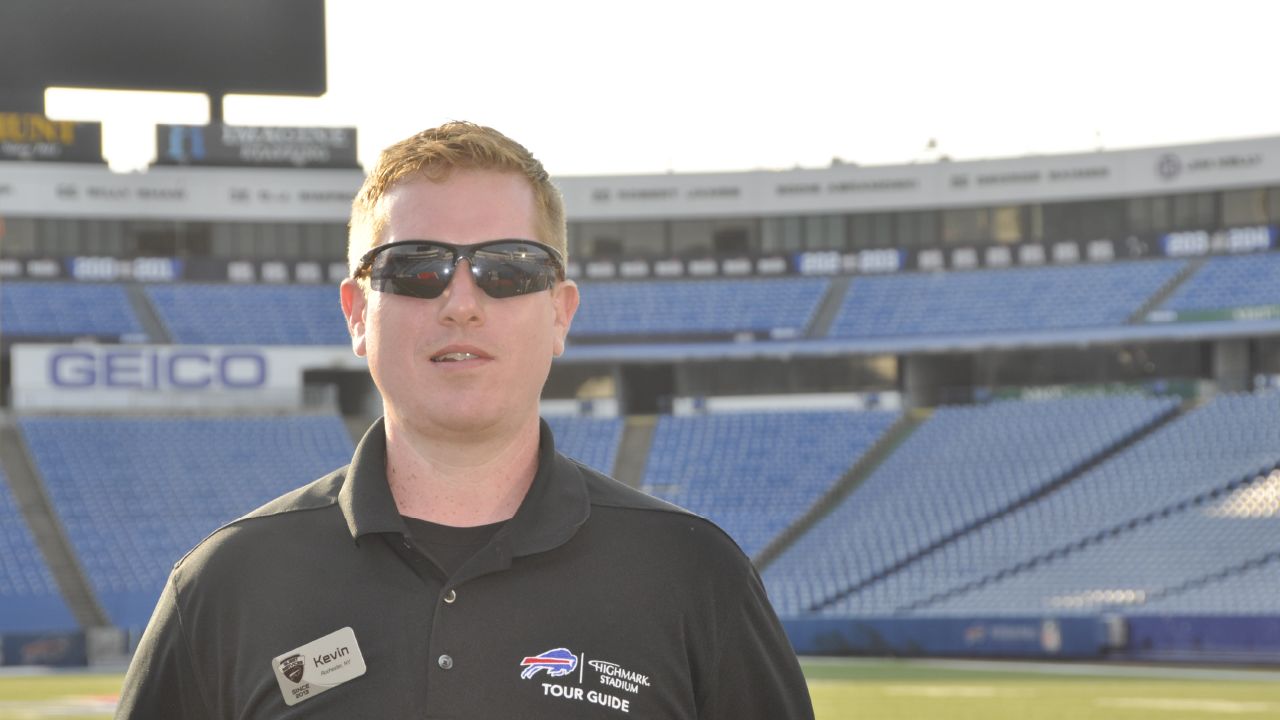 Kevin Loewke (2013)
My first Bills game was in October of 1999 when it was known as Ralph Wilson Stadium. The energy and gameday atmosphere were unlike anything I'd ever experienced, and I was hooked! One of my fondest memories here at the stadium was experiencing the snow game against the Colts in 2017, a day where the Bills snapped a long playoff drought. The amount of snow that fell during the game was unforgettable and the fans truly enjoyed an epic snow game.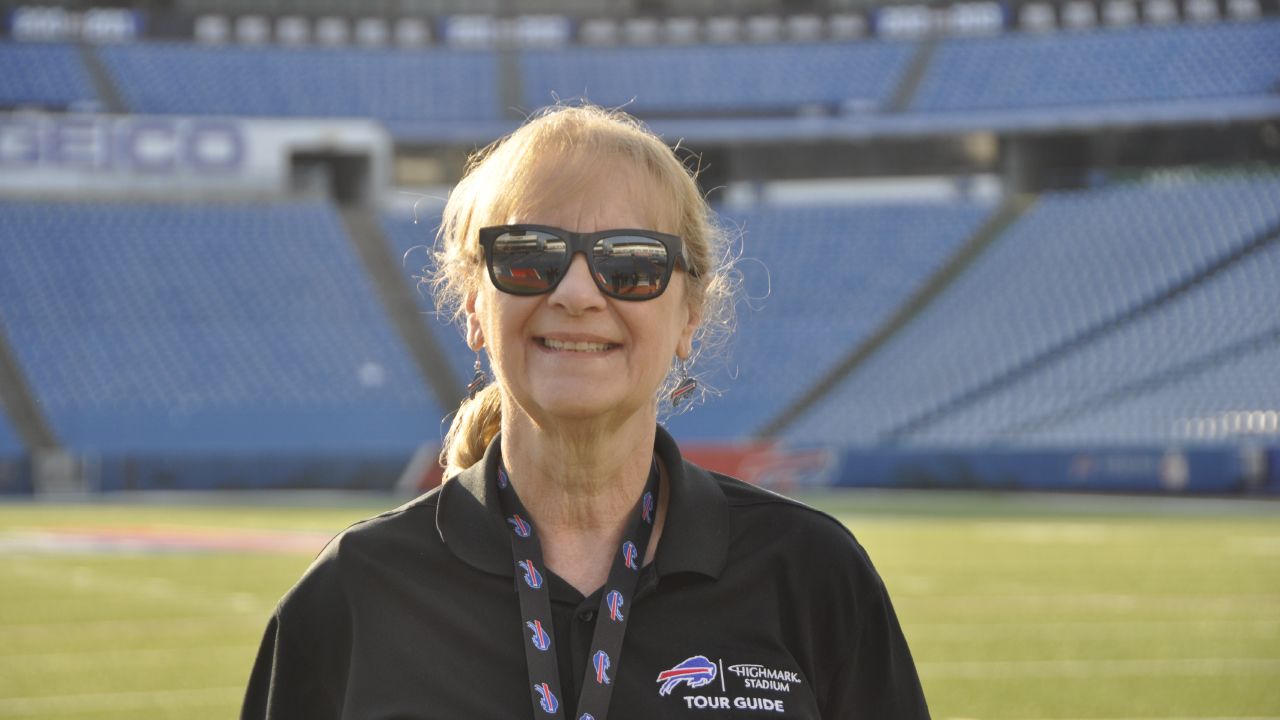 Laurie Pawlak (1975)
I am a lifelong Western New Yorker. I am retired from my careers as a teacher and case manager for the VA. I love all kinds of sports and being outdoors, especially on the lake. On game day, I am a ticket taker at Highmark Stadium, and also usher at the arena and the ballpark. I have been a Bills fan since 1963 and was at the game at the old Rockpile in 1964 when the Bills won their first AFL Championship.
Cheryl Szuniewsicz (2018)
After being a fan for many years, I joined the Bills Guest Services in 2018. I am so happy they selected me to join the Highmark Stadium Tour Guide Squad. I love providing little stories about the players (Josh Allen's Favorite movie? Bruce Smith's game day dressing routine?) and seeing the fans excitement as we go to the Bills' locker room and onto the field. It's so awesome to meet people who come from all over the country to visit and am so happy the tours are now available to the public once again. Come join us on a tour - you won't be disappointed! GO BILLS!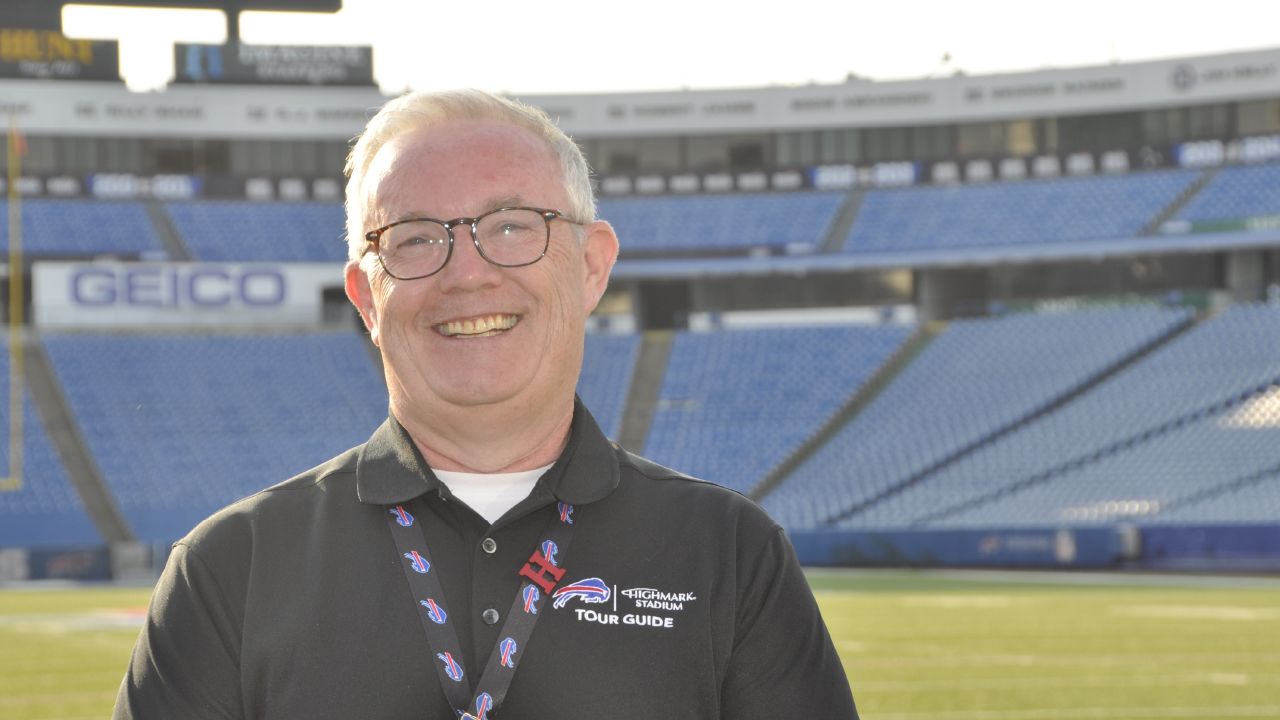 Geary Yarnes (2021)
I was born and raised in Buffalo, New York and have been a Bills fan since the 1960's with Jack Kemp, Daryle Lamonica, Paul Maguire. I have enjoyed many games at "Rich Stadium" and had season tickets during the Super Bowl teams of the 90's. Included are many memories of the biggest comeback in history or my all-time favorite game of defeating the Raiders and advancing to our first Super Bowl. I am so excited about the Josh Allen era and the expectations of our current team. I trust the process! Go Bills!
Do you offer stadium tours?
Public and private tours can be booked based on schedule availability. Private tours start at $500.*
Do I have to sign a contract?
The Buffalo Bills do require an Event Licensing Agreement to be signed, which outlines the rules and requirements of our stadium.
Do I need to provide insurance?
Proof of insurance and/or waivers will be required at the stadium.
Do you provide food & beverage?
Catering drop offs are available through Delaware North Sportservice, the official food and beverage provider of the Buffalo Bills.
Can we bring in our own food, beverage, or catering service?
Outside food, beverage, and catering is not permitted at the stadium. All catering and concessions must be ordered through Delaware North Sportservice, the official food and beverage provider of the Buffalo Bills.
Can we have alcohol at our event?
Alcohol sales and service are available at the stadium, and must be provided through Delaware North Sportservice. Due to New York State liquor laws, some conditions or restrictions may apply.
Is parking included?
The complimentary use of parking lots at the stadium is included for most events.
Can we bring and set up decorations?
In many cases, decorations are allowed. Due to safety, fire code, and stadium rules, some types of decorations and/or placement are not permitted.
Are tables, chairs, linens, and other items provided?
A limited number of tables and chairs are available in the stadium for catering use.
What is the cancellation policy?
Events cancelled by the organizer at least ninety (90) days prior to the scheduled date will be refunded by one-half of the deposit amount. Events cancelled less than ninety (90) days prior to the scheduled date will not be refunded. The Buffalo Bills reserve the right to cancel or reschedule events for reasons listed in the event rental license agreement at any time.
May I use the Bills logo to promote my event?
The use of the Buffalo Bills word mark, charging buffalo, and standing buffalo logos are reserved for use by official team partners only. Only team partners may use these marks to promote their events. All signs, banners, displays, advertising, and printed materials for an event must be approved in advance by the Buffalo Bills.
What if it snows?
In the event of snow, the stadium staff will ensure that all event parking areas, footpaths, and entryways are cleared of snow and safe for use by your party. If severe weather poses a threat to the safety of guests, the Buffalo Bills reserve the right to cancel or reschedule events as deemed appropriate.
*Please note there will be a price increase starting January 1, 2024.