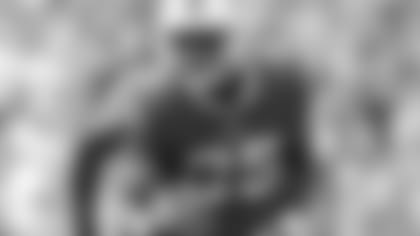 1 – McCoy is going to see lot of passesAs impressive as LeSean McCoy was in his debut performance against the Jets with 110 yards rushing, his utilization in the passing game was even more noteworthy.
When asked to describe the difference in the Rick Dennison offense compared to that of the last two years this past spring, McCoy said, "I'm going to have a lot more receptions."
In Week 1 we witnessed some of that increased presence in the passing game. McCoy was the second-most targeted passing target (six) next to Charles Clay (nine) and had 59 yards receiving to give him 169 total yards from scrimmage in the game.
"We knew going into this game that the backers were something we had to take advantage of matchup-wise," said Tyrod Taylor. "We didn't think those guys could stop Shady and Charles coming out of the backfield as well as working them in the middle of the field."
According to McCoy, he wasn't even the number one option on a lot of the plays where he was targeted by Tyrod Taylor.
"It was kind of crazy that the pass numbers were so cool, but we didn't even run a lot of my plays as far as me being the main target," McCoy said. "Plays designed for me in the passing game, and we had a lot listed. So, imagine if we went to those plays and the ball had come to me."
McCoy had only two games last season in which he had more production in the pass game than this year's opener. He had six catches for 81 yards in the loss to Pittsburgh and five catches for 71 yards in the loss at Oakland.
He had 51 receptions last season, but with offensive coordinator Rick Dennison's plans, McCoy could be closer to 70 catches by season's end.
2 – Run defense is going to be dominantThey may not hold every opponent down the way they did the Jets on Sunday, but after a strong preseason, Buffalo's defense carried their run stopping ways into Week 1 without any interruption in their effectiveness.
The Bills held the Jets rushing attack to just 38 yards on 15 carries. Matt Forte had five carries for eight yards before an eight-yard rush got him to 16 for the game. Bilal Powell had six carries for 11 yards and wouldn't had gotten over 20 for the game were it not for an 11-yard carry, which was the longest in the game for New York.
"We wanted to control the line of scrimmage and I thought we did that on the defensive front," said head coach Sean McDermott. "Our run defense was outstanding."
The 2.5 yards per carry average for the Jets, was the same average Buffalo's defense held their first three opponents to in the preseason. If they can sustain that kind of success it will create a lot of long down and distance situations for their opponent and a lot of pass rushing opportunities for the Bills come third down.
"I think that we're fundamentally sound," said Kyle Williams. "We've got some really good players on our defense that are physical guys. It all comes back to repetition. Reps, reps, reps. How good are we going to be because we know where we're supposed to be, when we're supposed to be there."
3 – Heavy defensive line rotationAfter the last two seasons in which Buffalo's starting defensive linemen were rarely rotated out in games, some Bills fans may have been surprised to see defensive coordinator Leslie Frazier's heavy rotation of defensive line personnel through the course of the game.
Following the first couple of defensive series, the rotation began. Shaq Lawson and Marcell Dareus came off the field on some third downs in favor of Lorenzo Alexander and Ryan Davis. Davis subbed in for Jerry Hughes and Cedric Thornton came on for Kyle Williams. Adolphus Washington subbed in for Dareus as well and Eddie Yarbrough was rotated in for Lawson.
Coach Frazier outlined his plans for a consistent rotation back in the spring.
"We like to have a rotational system and a lot of it will depend on the depth that we have and what happens when our starting four are off the field," said Frazier this past May. "Ideally, we'd like to have a rotational system so we can have fresh guys on the field – especially in those situations when you want to rush the passer." That proved to be effective late in the game Sunday as starter Jerry Hughes made a long run after a scrambling Josh McCown in the fourth quarter to pressure and hurry a throw that wound up being an interception. And starters Lorenzo Alexander and Kyle Williams pressured McCown again with 1:44 left in the game to force a second INT and seal the game.
"We were rotating guys in and out trying to keep guys fresh," said McDermott. "We want to do that, keep guys fresh. That way we're throwing fast balls at the quarterback and stopping the run. We had a lot of different guys added in there. We added some pressure in there too, so I thought Leslie (Frazier) did a good job."