Bills head coach Sean McDermott held his final press conference of the regular season to look back on the year's accomplishments and evaluate where the team can improve. Here are 10 things we learned from the head coach now that he has the opportunity to look back at the year as a whole.
1. The Bills are not satisfied
After an AFC East title, 15 total wins and a franchise record for most points scored in the regular season, Sean McDermott is pleased with the team's achievements. Although a loss to the Chiefs in the AFC Championship game made it known that the group can't be fully satisfied with the season. They believe there's still a lot left in store for the talented group.
"We accomplished a lot," McDermott said. "We won a division, won 13 games, hosted and won two playoff games. There's one game after the game that we just played. Do we make it a goal to make it to the AFC Championship Game? No. The goal is to win the World Championship. So we came up short, disappointed in that but extremely grateful for what we were able to accomplish this season. Believe me, we're going back to work. We're already back at work to assess where we are and how we can move our team forward. I feel good about what we've done, not satisfied."
2. Evaluating Buffalo's two field goals against the Chiefs
The Bills took a quick 9-0 lead against Kansas City in the first quarter of the AFC Championship game. The Chiefs then scored touchdowns on their next three drives making it 21-9 with just over four minutes to play in the half. Buffalo was able make it into the red zone on a drive that had a 14-yard pass to Cole Beasley, a Dawson Knox 12-yard catch and a 20-yard T.J. Yeldon grab. The Bills had the ball at Kansas City's four-yard-line, but were unsuccessful at scoring on 2nd & goal and 3rd & goal. Sean McDermott opted to kick a 20-yard field goal on 4th & goal, which made the score 21-12 at the half.
McDermott said he felt like the team needed points heading into the locker room at the end of the second quarter.
"The one before half really felt like morale was a big piece of that," McDermott explained. "They had momentum, they were getting the ball after half as well. I felt like we needed to come away with points at that one because even though sometimes analytics may say one thing, whether it said it or not, on our chart I think there's a human element to the game, at the end of the day. I felt like we needed to come away with points as I look at those guys in the locker room and say 'Hey we got something to show for that drive we put together at the end of the half.' I thought that was important because it was getting awfully tough sledding there for a little bit."
In the third quarter, Buffalo had a 4th & 3 at Kansas City's eight-yard-line and also chose to kick a field goal. The drive was 10 plays and included a 17-yard catch by John Brown, a 23-yard completion to Cole Beasley and a nine-yard scramble by Josh Allen. McDermott said he is still processing the decision to kick the field goal instead of go for a touchdown.
"I felt like, I think it was a 12-point-lead at the time, if we could get to nine that would change what we needed from two scores to a score and a half," McDermott said. "Even with that, that's still the one that, very open with you here, I still think about maybe I should have gone for it there. Fourth-and-three, I felt like if we could get into fourth-and-two or one, I know for sure we would have went for it. So maybe third down, sticking a run in there getting that one or two yards we would have felt a bit more comfortable there. The score came into play a little bit there, but at the end of the day Patrick Mahomes is a good quarterback. That's the piece in my mind where I'm kicking myself a little bit, at the end of the day, let's just be aggressive there."
Regardless of the decision, McDermott said he and his staff can always learn from situations like that.
"I always learn from those situations," McDermott shared. "And more than anything, I think alignment with me and my staff too, and the guys that help me. They've done such a great job all year. That's another piece of us growing as a team, as an organization. If we're in that situation again, this is how we want to handle it one way or the other. A lot to learn from."
3. Taking the next step as an organization
The Bills understand the Chiefs are a great team who they could see again in the playoffs next year. Several players like Tre'Davious White spoke with the media yesterday and explained that Kansas City set the standard, and Buffalo needs to beat that standard if they want to win a Super Bowl. Sean McDermott said they learned a lot from the experience of being in an AFC Championship game and it's important to use that to take their next step as a team.
"They're (Chiefs) in year eight, right and we're in year four, but that's a little bit of a feel for how long they've been building their program and where we are," McDermott explained. "There's a lot that we've improved on in terms of what's gotten us to where we are. But to Tre's [White] point and what we shared as a team yesterday, there is still a gap in terms of where we are and where they are. It's just not one answer as to what solves that problem. We all have to continue to ask ourselves the hard questions of the what ifs, the whys and the hows.
"And we as a staff have to get better and improve, we have to improve our roster, we have to improve our operation and what we do. We have a lot of respect for them, they're well coached and they have a good roster. They played better than we did, they coached better than we did. This is a learning experience for us. A lot of our players have never been in a game of that magnitude on that stage, and I'm confident that we will learn from that experience. Those players in particular will learn who have never been in that situation. We as an organization, I think, learned a lot by going through the week we just went through."
4. A look back at a season full of COVID-19 challenges
Sean McDermott believes the NFL and the Bills have come a long way since before training camp when everyone was working to figure out if an NFL season would be possible during a pandemic. With several NFL protocols and safety measures put in place, another layer presented itself adding to game preparation each week. McDermott said it was challenging at times, but everyone did their part in being as safe as possible.
"Every morning waking up, filling out a questionnaire, getting your nose swabbed, all of that is for good safety reasons, of course," McDermott said. "But it becomes another layer on top of just trying to win games, and that's hard enough to do in normal years. But listen we're not unlike anybody else in the NFL, in terms of the challenges we had or have. I thought our players, our staff did a phenomenal job of managing those challenges."
McDermott shared he and his team are very thankful to have been tested every day. Even through the positive tests, the team was able adjust and continue preparing for games safely.
"All of that was a great challenge, but I think our organization knew that whoever had success in this year would have an asterisk next to their name," McDermott said. "I mean that in a good way. We showed that we are a winning organization, we showed that we keep and maintain safety first. And we care about our people."
5. Josh Allen's improvements in year three and potential contract talks
Bills quarterback Josh Allen showed progress in several different ways during his third NFL season. Allen broke several franchise records including touchdowns, passing yards and passer rating. He increased his completion percentage going from 58.8% in 2019 to 69.2% this season. The QB also improved his passer rating by 21.9 points, which is the sixth largest increase by a quarterback in their first three seasons since 1970. McDermott said there are small improvements to make and he knows Allen will work hard at them during the offseason.
"There's very few parts of his game that aren't developed after his third season that you say, 'Well, you really struggle in this area,'" McDermott shared. "I think there's a small conversation of things that he still needs to evolve in, and he would probably tell you the same in those areas. I've seen him do much of what it takes to win and win at a high level. I think he answered quite a few of the questions that are out there about him, maybe from outside this building, specifically about his play.
"I know that the comforting piece to me about Josh is he's going to go back to work. I know the comments he made the other day after the game about taking responsibility. I think when you do that as a leader, it says a lot about yourself and it says a lot about what you're driven to accomplish in the future. He's an extremely driven young man with a bright future and he's done a great job of leading our team this season."
In terms of new contract negotiations, McDermott knows Bills general manager Brandon Beane will do what's best for the team.
"I feel very comfortable with Josh as our quarterback," McDermott said. "I think contracts, all that type of stuff, usually handles itself in the offseason. I have a lot of confidence in Brandon to handle all that whether it's Josh's situation or other situations."
6. Where the Bills need to grow in the offseason
With a feeling of not being satisfied with how the season ended, Sean McDermott understands the team has areas that need to see growth. He admitted just being a couple days removed from their last game, it's a little early to announce what improvements must happen. McDermott said it all starts with looking at himself and how he can achieve more as the head coach.
"If you sit here and say, 'All we need to do is do this much more to make it to the Super Bowl,' you're wrong," McDermott said. "You have to start over. Yes we can carry a lot of things forward, but every year you have to start over. You have to rebuild the football team, you have to grow as an individual. You have to take it upon yourself, just because we had success, to ask yourself the hard questions. I can start off saying we've got to be able to run the football better."
McDermott wants his entire team to share the mindset of feeling like they have much more to accomplish.
"You have to take that growth mindset approach," McDermott shared. "To think well we made it, we won 15 games and lost four, well we're perfect. No we're not. And even if we were, you have to take the growth mindset approach. That's what you do when you're a winner. That's what you do when you're hungry to be the best and that's what we're going to continue to do."
7. McDermott: Cole is a warrior
Bills wide receiver Cole Beasley announced he finished the regular season playing with a broken fibula. Beasley partially broke his fibula during the Week 16 game against the Patriots. He missed Week 17, but was back for the playoffs. The wide receiver recorded 14 catches and 157 yards in the playoffs. McDermott said Beasley can be an example for the whole team.
"Cole is a warrior," McDermott said. "It didn't surprise me that he got himself ready to go since that injury. He's a shining example to our team of being able to work through that. The mental toughness it takes, not only the physical toughness, but the mental toughness it takes to play in this league. And what it meant to him to play down the stretch and how important it was to him."
Beasley had a season full of career highs finishing with 82 catches for 967 yards and four touchdowns.
8. What McDermott said to Stefon Diggs after the Chiefs loss
Bills wide receiver Stefon Diggs was the last Bills player on the field after their loss to the Chiefs in the AFC Championship. Diggs stood on the far side of the field and watched Kansas City celebrate the victory during their trophy presentation. Sean McDermott said he went up to Diggs after the game to show support.
"I can understand why he wanted to stay out there and watch that," McDermott said on Diggs' decision to stay on the field. "I've been around this game and those games enough including the Super Bowl where I can tell you, I don't want to watch it anymore. I know how hard it is to watch it, but you learn from it. That's part of what he needed to do to get closure and also learn from it. When I got to him, he was obviously visibly upset and I just wanted to be there for him as a teammate. Nothing really more than that, love him and care for him."
Diggs finished his first season with the Bills leading the NFL in receptions (127) and receiving yards (1,535). He also became the first Bill to lead the league in both categories and had career highs in those statistics.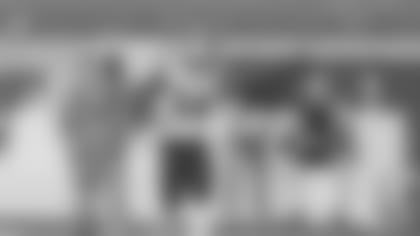 9. The defensive line and their first year with defensive line coach Eric Washington
The Bills defensive line was the only position group to welcome a new coach along with several new players to the team this season. Defensive line coach Eric Washington joined the Bills after spending 2011 to 2019 with the Panthers. Five new players joined the defensive line group--Mario Addison, A.J. Epenesa, Vernon Butler, Quinton Jefferson and Justin Zimmer. McDermott thinks the group got better as the season went on with the impact Coach Washington provided.
"That's a critical area for our football team to improve," McDermott said of the defensive line. "We have to be able to affect the quarterback with a four-man rush. I thought at times we did that. Other times we could have been better just like our entire defense and our entire football team. There's still meat on the bone there.
"I think more than anything what Coach Washington was able to do is lay a foundation of techniques and understanding, that's the growth we made through the season. When the guys come back, they understand now what's expected in terms of the techniques and the fundamentals that go with playing at a high level at that position."
10. Rookie assessment
The Bills drafted A.J. Epenesa, Zack Moss, Gabriel Davis, Jake Fromm, Tyler Bass, Isaiah Hodgins and Dane Jackson in the 2020 NFL Draft. Several saw a good amount of playing time in their first season. McDermott was asked to share what he saw in Epenesa, Davis and Bass' first NFL season.
"Good first years, all at different stages through the year," McDermott explained. "Gabe, I thought, got off to a really good start. Tyler hit some turbulence early like most kickers do and then worked himself through it. I would say similar in A.J.'s development through the year, but both, as you close shop on their first season, can look back, all of them can look back and say 'Hey, it's a plus coming out of this first year.'
"Now the biggest challenge is year one and year two, what are you going to do with it. Sometimes when you have success there's a degree of I've got this, I've done this before when I've gone from high school to college or college and now. You can't do that because this league is too difficult, too challenging and too competitive. You have to go back out there and recreate yourself every offseason."
Epenesa played in 14 games and recorded 12 total tackles, one sack and one pass defended. Davis had 35 catches for 599 yards and tacked on seven touchdowns. Bass broke the franchise record for most points in a season with 141.