The 2014 NFL Combine had its share of highs and lows over its six days at Lucas Oil Stadium in Indianapolis. Below we take a look at the story lines that grabbed headlines in the league's biggest pre-draft event.*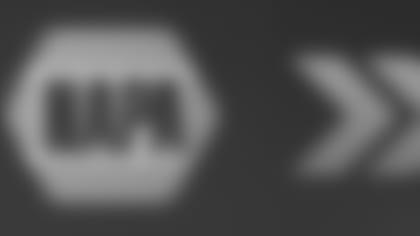 ](http://www.buffalobills.com/news/combine-2014.html)
1. Two of top three offensive tackles shine
Auburn's Greg Robinson and Michigan's Taylor Lewan grabbed a lot of attention in their workouts last weekend. Robinson was thought to be athletic going in and lived up to the billing while Lewan may have exceeded expectations proving more athletic than some may have thought.
In the offensive line group Lewan finished first in the 40 (4.87), first in the broad jump (9-9), third in vertical leap (29"), fourth in the three cone drill (7.39), ninth in the short shuttle (4.49) and 11th in the bench (29 reps).
"Greg Robinson and Jake Matthews, are great players," said Lewan. "I've seen them play and they are awesome. As far as selling myself as a player – I'm a consistent player, regardless if I am injured or whatever, I am going to play through it no matter what. Anything that happens, I am here to play through it. I am team player through and through."
Texas A&M's Jake Matthews didn't quite measure up to the other two in the testing, but fared very well in the position drills.
2. The receiver class is one of the deepest ever
Going in it was widely thought that the receiver group in this year's draft was one of the most talented ever. Though game tape largely shapes that opinion the receiver class at the Combine confirmed it in the workouts. Twenty of the 45 receivers who participated in the 40 ran sub 4.5.
"It's the best wide receiver draft I've seen in years," said NFL Network draft analyst Mike Mayock. "There are really good football players who can contribute immediately."
The workouts for Clemson's Sammy Watkins and Texas A&M's Mike Evans were seen as most helpful in solidifying their draft stock.
3. Whaley says no cap casualties
In an interview on the John Murphy Show during Combine week, Bills GM Doug Whaley characterizes Buffalo's salary cap situation as "very comfortable" and doesn't anticipate any cap casualties from the current roster.
"No we shouldn't have any (salary cap casualties)," said Whaley. "We're pretty comfortable with all the guys who are on our roster right now who are signed and we shouldn't have to make any moves."
4. Mack doesn't disappoint
UB's Khalil Mack upheld the expectations of being a top 10 pick in May with a solid workout performance Monday. He finished second in the broad jump and vertical leap among linebackers and fourth in the 40 and the short shuttle in his position group. He was also 10th in the three cone drill and professed his appreciation to Mike Mayock, who said Mack would be his first pick in the draft.
"Mike Mayock – I love him," said Mack. "He's the man. I want to prove him right. I want to be the best. I don't know who all you guys talk to, but in anything- my Dad always taught me, man - he told me you want to be the best at anything and everything that you do. And, I strive to be the best at anything I do"
5. Talks continue with Jairus Byrd
"We have had conversations with them and we're looking forward to see what they have to say," said Bills GM Doug Whaley.
6. Dee Ford goes after Clowney
The Auburn pass rusher raised his profile with the comment he made about South Carolina DE Jadeveon Clowney calling him a "blind dog in a meat market." Ford clarified his comments further to NFL Network's Kimberly Jones, but didn't back off his assessment of himself as a superior pass rusher to Clowney.
Ford said the comment originated from a former coach of his, who called him a blind dog in a meat market, because he was just relying on his athleticism and wasn't making use of the technical aspects of the game. Ford feels his game has matured as a result and believes he's a more complete pass rusher than Clowney.
"When I see Jadeveon, that's what I see," said Ford, who did not work out at the Combine. "He's 6-foot-6, 270 [pounds], 4.4 guy. He just plays. He can make plays like that, but at the end of the day, does that make you a great pass rusher or a better pass rusher than me? No. We're not saying that the dog can't run. We're just saying that he can't find the meat."
Ford plans to work out fully at the Auburn pro day on March 4th.
7. Michael Sam
The Missouri pass rusher, who publicly announced he was gay two weeks prior to the Combine, said he wasn't concerned about potential slurs being uttered in his future NFL locker room.
"I've been in locker rooms where all kinds of slurs have been said and I don't think anyone means it," he said. "I think a little naive and uneducated but as time goes on everyone will adapt."
8. Dri Archer flies
He did not set the record for the fastest 40-yard dash time in NFL Combine history, but he came awfully close. The Kent State running back (5-8¼, 179) ripped off a 4.26 40 time, which was the lowest mark this year and beat Bills WR Marquise Goodwin's time of 4.27 a year ago.
9. Bridgewater, Manziel don't throw
Two of the top quarterback prospects chose not to throw at the NFL Combine. Fresno State's Derek Carr also declined. Manziel plans to throw at his Texas A&M pro day March 5th. Bridgewater, who also did not run, will perform at his Louisville pro day on March 17th.
10. Seferian-Jenkins sidelined
One of the top tight end prospects, Washington's Austin Seferian-Jenkins was prohibited from participating as he was not medically cleared by doctors. He was unsure if he would be able to participate at his pro day in April due to a pre-existing foot condition.
Buffalobills.com Combine coverage is presented by NAPA Auto Parts.  Visit your local NAPA Auto Parts store for NAPA Know How and all your car care needs.