No. 54 - RB Clyde Edwards-Helaire, LSU
Looking at the Bills depth chart, there are no obvious holes to fill. They've talked about adding another running back to their roster, and Edwards-Helaire would be a wonderful fit. His elusiveness and tackle-breaking ability after the catch would maximize the Bills' conservative passing offense.
No. 86 - EDGE Jonathan Greenard, Florida
The Bills need to keep developing young edge defenders who can get after the quarterback, and although Greenard isn't a bendy athlete, he's got enough moves and counters to make some noise as a rusher in the NFL.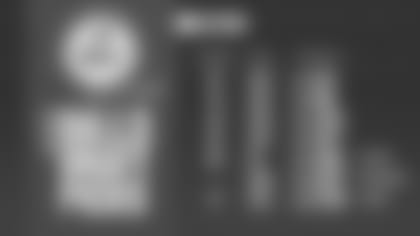 No. 54 - EDGE Josh Uche, Michigan
The Bills lost Shaq Lawson in free agency and signed Mario Addison, but Uche provides even more edge rush presence for a talented defense.
No. 86 - S Kyle Dugger, Lenoir-Rhyne
Dugger is a small-schooler who brings versatility to the table, and he should fit in well on Sean McDermott's defense.
No. 54 - EDGE Julian Okwara, Notre Dame
Jerry Hughes isn't getting younger, Lorenzo Alexander retired and Shaq Lawson just signed with the divisional rival Miami Dolphins. The Buffalo Bills need to select an edge rusher that will help bolster their quarterback pressure numbers.
No. 86 - CB Bryce Hall, Virginia
The Buffalo Bills can afford to select cornerback Bryce Hall and sit him until he is healthy, as they just signed Josh Norman to a short term deal. If Hall regains his form, the Bills just stole a first-round talent in the middle of round three.
No. 128 - RB Antonio Gibson, Memphis
No. 188 - WR John Hightower, Boise State
No. 207 - QB Cole McDonald, Hawaii
No. 240 - TE Jake Breeland, Oregon
No. 54 - RB Jonathan Taylor, Wisconsin
No. 86 - WR Chase Claypool, Notre Dame
No. 54 - EDGE Julian Okwara, Notre Dame
No. 86 - DB Shyheim Carter, Alabama
No. 54 - RB Jonathan Taylor, Wisconsin
Beane has done a masterful job in free agency attacking needs and leaving very little necessary things to accomplish in the draft. But a meaningful running back to complement Devin Singletary is a must and Jonathan Taylor would be perfect. At 5-foot-10 and 226 pounds, Taylor is a physical runner but also brings rare explosiveness for his size, clocking a 4.39 40-yard dash at the 2020 NFL Scouting Combine. Taylor scored 55 touchdowns in three seasons at Wisconsin and would fill Beane's need for a "touchdown maker." A young running back platoon of Taylor and Singletary would give Buffalo one of the most dynamic backfields in the league.
No. 86 - CB Bryce Hall, Virginia
I've interviewed Bryce Hall on two different occasions, and it's clear Sean McDermott is going to love him. Hall is a fit for Buffalo in every way. From his character and leadership to his ability as a zone corner who brings length, range, physicality and ball skills to the table, Hall has a chance to be a fixture opposite of Tre'Davious White.
No. 112 - WR Bryan Edwards, South Carolina
TRADE: Buffalo moves up from No. 128, parting with No. 188
While Duke Williams is still in the mix, he needs competition as the size/catch radius player in the Bills' receiving corps. Bryan Edwards provides exactly that. Edwards measures at 6-foot-3 and 212 pounds and is fairly explosive and productive after the catch in addition to his alpha qualities at the catch point.
No. 167 - S Geno Stone, Iowa
The Bills feature one of the NFL's top safety tandems in Jordan Poyer and Micah Hyde but the depth behind them can be improved. Geno Stone is one of my favorite sleepers in this year's class. His processing skills are outstanding in deep zone coverage. Stone is physical and profiles well in Buffalo's zone defense.
No. 207 - P Braden Mann, Texas A&M
The Bills haven't had a decent punter since 2012 when Brian Moorman left and even then his game was in decline. Corey Bojorquez is highly inconsistent and Buffalo squanders way too many opportunities to flip the field positioning and pin teams deep because of Bojorquez's erratic leg. Braden Mann has a chance to be the long-term answer for the Bills, who need to shore up the little things as they are primed to compete.
No. 239 - WR Joe Reed, Virginia
Joe Reed is another one of my favorite sleeper prospects in this year's class. He measures at 6-foot, 224 pounds and clocked a 4.47 40-yard dash with a 38-inch vertical jump to showcase his explosive athletic profile for his size. Reed is an accomplished kick returner in college who took five to the house, caught 129 passes and logged 24 rushing attempts. He is a multifaceted weapon who hasn't mastered any one position but he would be perfect for an upgrade to the Isaiah McKenzie role in Brian Daboll's offense. Reed would thrive as a space player that offers some down field receiving upside while presenting a big body for Allen. Reed claimed a bigger role every year for Virginia and could develop into a multifaceted playmaker at the next level.
No. 48 - RB Jonathan Taylor, Wisconsin
Bills receive: 48th overall
Jets receive: 54th overall, 2021 sixth-round pick
All it took was a sixth-round pick — No. 189 overall — for the Bills to secure a new RB, and why shouldn't they? Jonathan Taylor has the ability to shoulder the entire load of an offense, alleviating some of the urgency that Josh Allen plays under with his game-breaking speed. Taylor is also an ideal foil to Devin Singletary, who wins on passing downs and in space, while Taylor wins on a north-south path between the tackles.
No. 86 - EDGE Darrell Taylor, Tennessee
I wanted to go earlier on EDGE for Buffalo — Lewis at No. 48 was a real temptation — and I'm sure they would as well. The biggest thing missing from the Bills' defense right now is that reliable third-down rusher who wins his one-on-one battles more often than he loses them, and Darrell Taylor? Well, Taylor could become that. He has more promise than production at this point, but the athletic tools are awesome.
No. 54 - DL Ross Blacklock, TCU
Blacklock was a spark plug in the middle of TCU's defense last season and he'd give the Bills some depth at the position.
No. 86 - EDGE Trevis Gipson, Tulsa
A developmental player whose athleticism jumps off the screen. He'll need time to grow into his role.
No. 54 - WR Tee Higgins, Clemson
Teams being worried about Higgins' speed and separation ability catalyze this fall for the Clemson star. Buffalo is happy to end his plummet.
No. 86 - S Jeremy Chinn, Southern Illinois
The Bills just created a "nickel coach" position on their staff, and Chinn is an ideal big nickel safety at 6-3, 220 pounds with lightning speed.
No. 128 - CB Michael Ojemudia, Iowa
Ojemudia is a tall, long, zone-savvy specialist who tested better than expected at the combine. Perfect fit in Buffalo.
No. 167 - OL Tyre Phillips, Mississippi St
Phillips played tackle at Mississippi State but could kick inside to guard at 340-plus pounds with jaw-dropping power.
No. 188 - WR Jauan Jennings, Tennessee
Jennings is not going to separate consistently in the NFL, but he's ridiculous after the catch thanks to vision, deceptive cutting ability, and the fact that he's a load to bring to the turf. His contact balance is awesome.
No. 207 - LB Shaun Bradley, Temple
We know the Bills think highly of legit speed at the linebacker spot and Bradley ran 4.51 at the combine. Plus, he went over 75 tackles in each of his last three seasons at Temple
No. 54 - RB Jonathan Taylor, Wisconsin
The Bills are entering the "put-up-or-shut-up" window for Allen, so they'd be wise to surround him with as much talent as possible. Jonathan Taylor adds more explosiveness to their offensive backfield.
No. 86 - EDGE Darrell Taylor, Tennessee
Darrell Taylor can step into the Bills front seven and aid in covering the potential loss of Shaq Lawson to free agency.
No. 54 - WR K.J. Hamler, Penn State
No. 86 - CB Essang Bassey, Wake Forest