1. Hyde and teammates take the field for a good cause
Bills safety Micah Hyde is once again going above and beyond to make a difference in the lives of children in the Western New York area. This time however, he and his teammates will trade in their football pads for a bat and mitts when they take to the diamond to play in the inaugural Micah Hyde Charity Softball Game. The game, which will benefit Hyde's IMagINe for Youth Foundation, will take place on June 2 at the home of the Buffalo Bisons. Featuring an anticipated offensive versus defensive matchup, Hyde is ecstatic to serve the community, spend time with fans and have fun in the process.
"It means a lot," said Hyde on Thursday to the media. "Every year we have our annual events that we put on here in Buffalo. We have a back to school [backpack] drive for the kids. We have a Thanksgiving dinner for the kids and we also have a Christmas event. So, we wanted to bring this, something that we've done in the past, and bring it to Buffalo. We just know how excited fans here will be…it's a day where we all just have fun, laugh, joke around. We interact with the fans. You might see me up in the crowd, talking to some kids [and] throwing some baseballs out. It puts our faces out there in front of the community and I think it's very important.
"You know, I was fortunate enough to be able to participate in it when I was in Green Bay and in my opinion, I think Bills Mafia is louder, prouder, more excited about their football than what they have a little bit up north."
2. *A battle for bragging rights  *
Joined by fellow Bills Levi Wallace, Dion Dawkins and Zay Jones on Thursday, Hyde couldn't help himself as he made bold predictions about the outcome of the game.
"I feel like these stands can get filled and we as a defense, are going to smash the offense," he said excitedly. "Obviously, you have some offensive players here that disagree. It is what it is…so we're ready to show the fans of Buffalo."
Even though the game is all in good fun, according to Hyde, it won't be lacking friendly competition.
"That's what always happens when you get a group of guys like a football team, a bunch of competitors, a bunch of alphas out there competing," said Hyde. "The first couple of innings it's fun and games, you kind of feel out who's good [and] who's not. But then by the end of the game, you're mixing up the batting order…So, it's definitely going to be competitive."
Hyde wasn't shy about his score prediction either.
"These games, in the past when I've played, the score gets pretty high," he said. "The bases are moved in a little bit. The fence is moved in a little bit, so [there will be] a little more home runs. I'm going to say, 22 to 10, defense."
Offensive teammate Zay Jones had a different opinion when he weighed in on the conversation.
"Baseball was my sport," said Jones with a smile. "I played it. The same way Tre'Davious [White] played hockey, I played baseball. I played short stop all my years – high school and college. So, you know.
"No, but, I'm very excited for this guy [Micah]. Excited for what he's doing. This means a lot to him. He's putting his heart into it [and] encouraging every fan, anybody to come out and be a part of this great event. So, [I'm] very proud of him."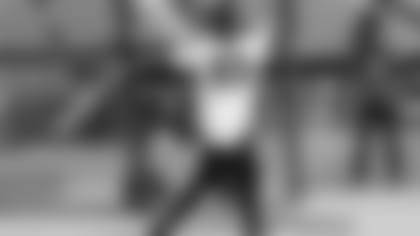 Fans who attend the event will see Hyde manning center field – a comparable position to that of a safety.
"I'm in center field, Hyde said. "I'm roaming. I'm going from post to post. I'm in the middle field [and] I'm just trying to go get it. Levi [Wallace] is going to be out there with me. He's going to be out there snagging some balls too. Like I said, we're really excited.
"This is me right here...I like to get on the diamond and see what I can do."
Interested Bills fans can purchase tickets by visiting the Buffalo Bisons' website.