The players were glad to be back in familiar surroundings after spending almost a week in Pennsylvania, and there was good news on the health front for Buffalo's offensive line.
Cordy makes full return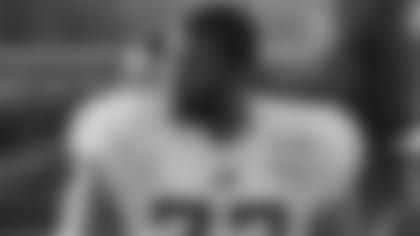 Bills starting left tackle Cordy Glenn missed the first half of training camp with an undisclosed medical condition that landed him on the Non-Football Illness list. Last week he was cleared to begin practicing on a limited basis. On Monday Glenn was cleared to participate in team drills and practice fully for the first time since mid-June.
"It's a good sign," said Eric Wood. "Cordy is one of our best players and getting him back on the field it's obviously going to help this football team."
"I love Cordy. I love when 77 is out there," said C.J. Spiller. "A big, old guy to block them guys so I'm looking forward to when he's out there full time. We're working him back in slowly, but hopefully we'll get him into the swing of things."
Glenn got all of the first team reps Monday night and fared well. Head coach Doug Marrone made it clear this doesn't mean his left tackle is completely out of the woods.
"He's cleared to be out there in team periods and progress during team," said Marrone. "I'm going to see how he does during the week. I think we have to be smart. I don't think we should just throw him right in there. A lot of it will depend on how he's doing during the week."
Marrone was not yet ready to make a call on Glenn's availability for Saturday's preseason game, the last dress rehearsal for the starting unit.
No Sammy
Fans in attendance were disappointed to find out that Sammy Watkins was going to be sidelined with bruised ribs for Monday's practice. It was the first practice session that Watkins has missed the entire camp after sustaining the injury on the team's first possession last Saturday in Pittsburgh.
Head coach Doug Marrone was not prepared to give a timetable on the receiver's return.
"Unless I know for sure, I am not going to comment on when they're coming back or when they might come back because it's too difficult," said Marrone. "Ribs are a funny thing. They really are. You can practice the next day sometimes. You can come back into a game. Sometimes on the x-ray it shows that it's a crack. Sometimes it shows that it's not and then you take a better x-ray and there is a crack. Sometimes, depending on the player, you can be out two weeks, four weeks, six weeks or two months. I'm not going to get into that stuff."
The Associated Press reported Monday night that Watkins is day-to-day.
Fellow receiver Mike Williams thinks the time off for Watkins make actually be a blessing in disguise.
It's a good thing it's preseason," said Williams. "He can get his rest in now. He has a long season ahead of him. It's a good thing he can get his rest right now."
Finding combinations – Part I
With Cordy Glenn returning to play in team segments of practice it set off a chain reaction on Buffalo's starting offensive line. Rookie Seantrel Henderson, who had been playing left tackle in Glenn's absence, flipped to right tackle in place of veteran Erik Pears. Pears however, did not come out of the lineup. He kicked inside to right guard replacing Kraig Urbik.
Urbik was moved to second team center with Doug Legursky moving to left guard with the second unit. Even though the regular season opener is less than three weeks away, Eric Wood believes all the shuffling will be handled capably by the linemen.
"Guys are doing a good job of stepping up and knowing what to do and providing a lot of competition," he said. "We're constantly going to try to find the five best starters. We're probably going to try a lot of different combinations. We've got a lot of good players. Some guys are getting healthy and we're finding some good competition."
For Pears it's his first swing at guard in his time with the Bills, so he hasn't lined up there in any capacity since at least 2010.
Urbik appeared to handle center without a problem having been one of the team's backup pivot men since he's been on the roster.
Chris Williams also returned to the lineup from a back injury suffered in the Carolina preseason game. He re-assumed his starting left guard spot in the lineup.
Knowing the importance of continuity for an offensive line Wood is not certain as to when the coaching staff will make final determinations as to who will earn the starting five jobs.
"Maybe after this game, maybe after the following (game)," said Wood. "I'm not sure, that's not my call. I've got a lot of confidence in whoever is lining up and luckily everyone seems to know what they're doing. That's half the battle. If they know what they're doing and know their technique it's not that much of an adjustment. A couple of days at practice should do the trick."
Finding combinations – Part II
On the defensive side of the ball there were also some position shifts. Veteran cornerback Corey Graham lined up at safety alongside Aaron Williams during a good portion of team segments Monday night. Head coach Doug Marrone had mentioned in the spring that it was something they may take a look at come training camp.
It took until the fourth week of camp, but Graham saw a good amount of time there. Whether it continues remains to seen. The coaches have tried a host of different combinations there with the first unit, which has included Da'Norris Searcy and Duke Williams. The only starter at safety whose job is set in stone is Aaron Williams.
The other position shift Monday was rookie LB Preston Brown. Primarily a 'mike' linebacker, who has seen time with both the first and second unit and nickel, Brown lined up at outside linebacker with the first group. He flipped Keith Rivers to the other side in place of Nigel Bradham.
It appears the coaching staff is already trying to prepare for the season opener at Chicago knowing they will not have Bradham, who will be serving a one game suspension.
"We're going to have to have somebody come in and play that first week," said Brown. "So I'm up for any possibilities or any way I can help the team."
Brown, who played both strong and weak side linebacker early in his college career at Louisville, doesn't see lining up outside in Jim Schwartz's system all that challenging.
"It's kind of like how we did it at Louisville my first three years kind of a 4-3 system," he said. "So it's kind of the same deal playing outside with the same responsibilities."
The Bills returned from Pittsburgh to begin the last week of 2014 Training Camp with the final night practice of the year.