This is it. The final preseason game for the Buffalo Bills. Here's an opportunity for these players to make a good impression on the coaching staff before rosters are trimmed to the 53 on Saturday.
1. Jaquan Johnson, safety
Jaquan Johnson should see a good bit of playing time in the Bills final preseason game. The rookie safety from Miami came up with his first turnover at the end of the Week 3 victory against the Detroit Lions, forcing a fumble with two minutes left in the game.
Johnson has played primarily with the third-team defense and has an experienced group ahead of him on the depth chart. Johnson has been adapting to the NFL game with the help of his new teammates.
"They taught me how to group plays together so it's easy for me to process things and slow it down," Johnson said. "When I first came in as a rookie, I was just all over the place. They really helped me calm myself down."
2. Tyree Jackson, quarterback
Tyree Jackson is likely to play the entire game as the starting quarterback. The Bills do not want to risk any injury to either Josh Allen or Matt Barkley with the regular season starting so soon.
"We're still in conversations about that, but more than likely I would say [Jackson will start]," head coach Sean McDermott said on Tuesday.
Jackson has 24 pass attempts through three games so far with eight completions. But McDermott has seen Jackson become more comfortable.
"It's hard for rookie quarterbacks to play in this league and come in and be comfortable," McDermott said. "I think he's gotten more comfortable with each exposure in the games. He's been in the games in good situational moments, at the end of most games. I've seen him grow in those areas for sure."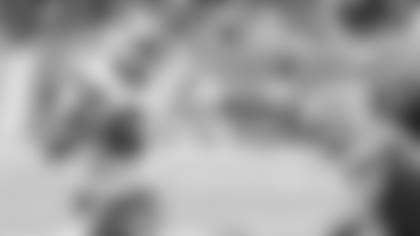 3. Ryan Bates, offensive line
The Bills acquired Ryan Bates through a trade with the Philadelphia Eagles earlier this month. Bates was undrafted this past spring and as a rookie has had a lot to adapt to and overcome. Bates has earned solid reviews from the coaching staff including offensive coordinator Brian Daboll being confident he can play all five positions.
Bates has led the second-team offense with injuries to centers Mitch Morse and Russell Bodine and against the Carolina Panthers had a team-high 51 snaps.
4. Jason Croom, tight end
Jason Croom is expecting to suit up for his first preseason game in the finale against the Vikings. Croom has been sidelined throughout training camp due to a hamstring injury initially suffered in OTAs. Croom is looking to carve out a role in Buffalo's tight end group that already features Dawson Knox, Tommy Sweeney, Lee Smith and Tyler Kroft.
5. Sam Acho/Eddie Yarbrough
If the Bills decide to keep five defensive ends this season, that last spot likely comes down between Sam Acho and Eddie Yarbrough. Buffalo announced Mike Love was put on the injured reserve and will be unable to come back this season. His role is now up for grabs.