It's as though everything went according to plan.
The Buffalo Bills entered night one of the 2019 NFL Draft in search of a dominant pass rusher to anchor their defensive line. When the team went on the clock at pick nine, Houston defensive tackle Ed Oliver was staring them in the face.
The Bills quickly selected Oliver, adding a generational talent to a defense that finished among the league's best last season.
Here are five things we learned from Buffalo's selection of Oliver.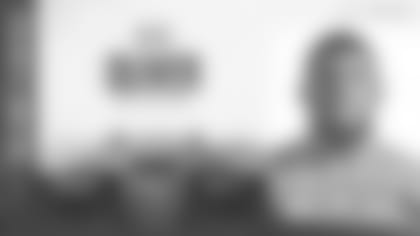 When Brandon Beane made the finishing touches to his draft board, Oliver was sat right near the top.
However, actually picking him at nine seemed like a long shot.
"There were some [internal mocks] where he was gone early," Beane said. "I think the earliest spot in our mocks he went was three, to the Jets a couple of times.
"In the two-quarterback mock [before pick No. 9], I think he did [fall to us]. When it was one quarterback, I don't think he ever fell. We did about eight mocks and just tried to get different scenarios. We knew it was going to be close."
As picks in the top 10 continued to come and go, the possibility of selecting Oliver continued to grow more realistic. When Oliver was available when the Bills went on the clock, it was though their plan had come to fruition.
"Yeah, it definitely did [fall on our lap]," Beane said. "You stack your board, and you're also doing odds and ends as far as trying to figure out how the board's going to fall. We liked where we were at nine. You don't truly know how it's going to fall, there's a lot of smoke about how many quarterbacks are going to go or not going to go.
"We felt if a couple of quarterbacks went, we were hoping for as many as three just to make it safe, that we would get a player that we felt was definitely worthy of nine. That's what we think we did."
2. Oliver: Buffalo feels like 'home'
When Oliver got on the phone with the Buffalo media late Thursday night, he wished he could be talking to them face-to-face.
"[I] feel like I need to be in Buffalo right now," a jubilant Oliver said.
The 21-year-old was visibly excited after commissioner Roger Goddell called his name. He walked to the stage with a purpose, screaming as he put a Bills hat on for the first time. Shortly after the emotional scene, Oliver donned blue and red Zubaz pants backstage, a staple of Sundays in Buffalo.
For Oliver, the Bills' selection felt like a homecoming. Though he grew up in Houston, TX, he felt a connection with Western New York while visiting Buffalo in the pre-draft process.
"Honestly, it was just the people around the program," Oliver said. "When I went there, it almost felt like a... I don't know, it almost felt like I was at home. Or at the University of Houston. It felt like I was supposed to be there."
At Houston, Oliver primarily played zero-technique, lining up directly against opposing offensive linemen. He was dominant in the role, tallying 192 tackles and 13.5 sacks throughout his collegiate career.
Buffalo's front office excepts to use Oliver in a different role, however, with a shift to three-technique being in the prospect's immediate future. Three-techs typically line up outside of an opposing guard, making the role a prime source of pass-rushing production.
Given his stature and athleticism, Oliver appears to be set to excel at the position.
"They used him in Houston a little different than we'll use him," Beane said. "He played a lot of zero, right over the nose. For us, I think Sean will slide him in as a three-tech in our defense. He's a very important piece for what we're doing."
"Brandon alluded to the fact that he was used a little bit differently in college than probably how we'll use him here in our system," head coach Sean McDermott added. "He was more lateral, I would say, to be simple about it, in college. Here, we play a penetrating attack style of defense, playing really on the other side of the line of scrimmage as opposed to staying alongside the line of scrimmage or moving laterally.
"We're a penetration, attack style of defense and we'll use him in that area in that regard. The thing about Ed that stands out first and foremost is how quick he is at the line of scrimmage. They stunted him a lot at Houston.
In Buffalo, Oliver is more than willing to do anything McDermott asks of him.
"Honestly, I can say [McDermott] is a G.O.A.T.," Oliver said. "Just the way he runs his defense is top notch. What he expects out of his players in his scheme is just top notch."
Some analysts questioned Oliver's character following a midseason exchange with Houston head coach Major Applewhite.
This dispute, however, was not an issue for Buffalo's front office, a group that greatly values character. The Bills looked into the exchange while scouting Oliver, determining that the defensive tackle is a high character individual.
"I think he definitely [fits]," Beane said. "Listen, all college kids, there's probably one or two things all of us would like to different. You learn along the way. But deep down, he was raised well. Good kid.
"We do our due diligence. Obviously the film is what it is, but you know how much we care about who the people are, and we checked that box before we gave him that status on our board."
Oliver went over the situation with teams during the pre-draft process, with most groups agreeing to leave the spat in the past.
"I think all the teams, when I explained it to them, they were fine with the whole situation," Oliver said. "Most of them thought it was silly. When talking to coach afterward, they found out that was not indicative of my character.
5. 'No-one is ever going to replace Kyle Williams'
Though he'll have the earn the starting job in training camp, all signs point to Oliver lining up at three-tech for the Bills in Week 1.
He'll replace former Buffalo stalwart Kyle Williams, a 13-year veteran who retired following the 2018 season. Though Oliver will likely take Williams' spot on the field, he has a ways to go before he can replace the 35-year-old as the heart and soul of the Bills' organization.
"I'll say this, no-one is ever going to replace Kyle Williams," McDermott said. "I just want to manage expectations, number one, with that. Ed Oliver is going to come in and, number one, earn everything that he gets. That's how we do things here, you guys know that. No different in this case."
Though Oliver has not had the opportunity to watch a ton of Williams' tape, he's eager to dive into his film and learn the tricks of the trade.
"No, I didn't get a chance to watch him play much," Oliver said. "I know he was an absolute dog on the football field. I can't wait to watch his film and learn from him and see what kept him around so long."