One full week of training camp, visits to camp from national observers, NFL officials on the new instant replay rule, and a Bills Hall of Famer reminisces. All of it this past week on One Bills Live. Here are some of the highlights:
Training camp brings national NFL observers to Pittsford, and most come away with a positive impression after watching Sean McDermott's organized practices and the Bills collection of new talent.
NFL Network's Daniel Jeremiah, a former NFL scout, came to Bills camp Thursday with the Good Morning Football crew from the network. And appearing on One Bills Live, he said it's easy to see the Bills "have a shot."
"To me, I think this team has a shot to make the playoffs," Jeremiah said. "I think they're in the mix. Look, it's goofy to throw numbers out at this point in time, any injury could change that—but when you look at this team on paper, I think this could be a nine-win team. Now, does nine wins get you in the postseason? I don't know."
Bills fans know all about the personnel upgrades the team made in the offseason, through free agency and the draft.
Now, those players are on the field at training camp, for everyone to see, including Adan Caplan, Sirius XM NFL Radio insider. And he says Buffalo as the most improved team in the league.
"You don't win in paper, but from a skill position standpoint they've made a big improvement," Caplan told One Bills Live. "Josh (Allen), they feel, is going to make a big jump. The reason why they're going to be better is the talent level is significantly better."
Caplan was most impressed by Buffalo's re-built offensive line, with all the additions they've made.
"It may not be the best one, but it's the deepest one I've seen this summer. They are a legit 11-deep. One person with the Bills had a great line, 'our backups have backups.' The talent level is outstanding on the line. The coaching by Bobby Johnson will be great"
3. SURROUNDING TALENT WILL MAKE ALLEN BETTER
Another camp visitor, former NFL QB Jim Miller, spent most of his time in Pittsford watching Bills second-year signal caller Josh Allen. Miller played 12-years in the NFL and is now co-host of "Moving the Chains" on Sirius XM NFL Radio.
After talking with Allen and watching him practice, Miller says he can see Allen making better decisions in the pocket.
"He's touched on it. It's a point of emphasis," Miller told One Bills Live. "I know even during the offseason they talked about him taking the check down rather than just throwing it down the field. It's just the style of offense that is different. You've got some intermediate weapons –the crossing routes, the things that Cole Beasley is going to be involved in."
Miller says it's not Allen's decision-making that his strongest attribute. It's how hard he works.
"What's important to me—he cares about it. He works at it. He wants to get better. His teammates love him. I think he will be better at it just because of the guys he has around him."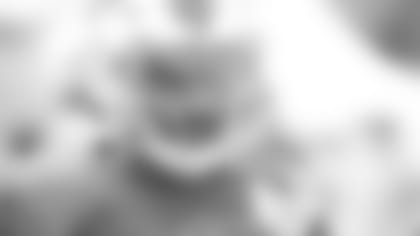 4. AN UNDER-THE-RADAR SIGNING
One week before camp opened, the Bills made a quiet, under-the-radar personnel move that could become significant. They signed nine-year veteran safety Kurt Coleman to a one-year contract. Coleman brings previous experience in Sean McDermott's defense from his time in Philadelphia and Carolina. And with Micah Hyde on the sidelines with a neck injury, Coleman is now with the first team defense.
His experience and his leadership have already impressed Bills CB Tre'Davious White.
"Kurt Coleman is a guy who's been in this system before," White told One Bills Live. "He knows pretty much everything about this system. It didn't take him long for him to show us the type of player he is."
White is most impressed by Coleman's "survivor" approach to life in the NFL. He's started a Super Bowl game, and he was out on the street this summer, unsigned until a week before camp opened.
"Coleman--he's been on both ends of it," White said. "He's been a Pro Bowler type of player. He's been cut. He's been up there with the best of them, then he's been at the lowest point."
And Tre'Davious says even at age 31, Kurt Coleman can help the Bills.
"He still can run. He's strong. He's a big physical guy and he's very athletic too. It's hard to find those type of guys in this league."
5. HERE COMES REPLAY REVIEW FOR PASS INTERFERENCE
It happened once, in the Hall of Fame Game Thursday night. And it's here—the one-year NFL rule experiment allowing instant replay on pass interference.
NFL officials visiting Bills camp this week are ready.
"We're in support, as officials, to get it right. That's what we want," first year NFL referee Brad Rogers told One Bills Live.
Rogers says officiating crews have their marching orders when it comes to replay use on PI. And they know what the league is looking for.
"The words that have been used are clear and obvious, and that's what needs to be seen," Rogers said.  "There needs to be clear and obvious video, visual evidence to be able to see if there's going to be a flag picked up or a flag put on the ground."
Rogers was asked about Hail-Mary plays, at the end of the half, when officials have typically ignored pushing, shoving, and obvious pass interference.
"That's a free for all kind of play," he responded. "Typically, you don't see flags on those. That could be something, maybe it becomes part of the discussion as it moves along. We'll be having an opportunity here in the preseason to be able to experiment and work an understand and see how that process goes."
A new class of eight will be enshrined in the Pro Football Hall of Fame this weekend. And Buffalo's most recent Hall of Famer, WR Andre Reed, will be there in Canton.
"It's a great atmosphere," he told One Bills Live. "I always tell people whenever I go to Canton, I'm like a little kid again. It's always great to see those gold jackets."
Reed was enshrined in the Hall five years ago. And he was asked what he most looks forward to on enshrinement weekend.
"The speeches. To see the new guys, to see them coming in-they look a little bit nervous because those speeches are the speech of their life. I was like that, too."