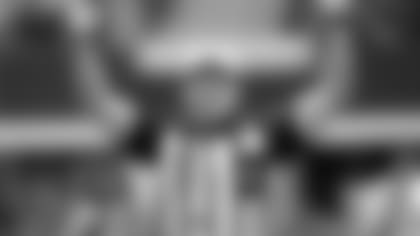 The game will debut innovations that fans will see during the 2014 NFL season. Among them are:
INSTANT REPLAY: The referee will now be able to consult with Vice President of Officiating Dean Blandino during replay reviews. In addition, the recovery of a loose ball in the field of play will now be reviewable. This includes fumbles, backward passes and kicks.
OFFICIAL-TO-OFFICIAL COMMUNICATION: All seven game officials will now be able to communicate with each other during NFL games via wireless microphones.
GOAL POSTS: The uprights will now extend to 35 feet above the crossbar, up from 30 feet in previous seasons, to help officials make definitive rulings on field-goal attempts that previously crossed above the top of the uprights.
TABLETS: Teams will be able to deliver pre- and post-snap photos to coaches and players on the sidelines and in the coaching booth via tablets.
2. Jim Kelly will participate in the coin toss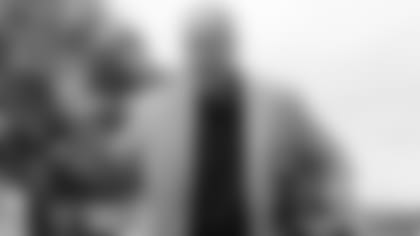 Bills QB Jim Kelly and Giants LB Harry Carson will take part in the pre-game coin toss for the game, as the two Hall of Famers are set to serve as honorary captains for their former teams. "It is a great honor for me to represent the Bills organization at the coin toss to kick off the season. The entire experience will bring back memories from 2002 when so many of the Bills family – fans, players and staff – joined me in Canton for one of the most memorable times of my life."
3. Sammy makes his NFL debut
Buffalo's top draft pick makes his debut in primetime in Canton. WR Sammy Watkins (fourth overall) played three seasons at Clemson (2011-13) and finished his collegiate career with 240 receptions for 3,391 yards and 27 touchdowns. He set the school record for receptions and receiving yards and tied the school record for receiving touchdowns. He also added 1,376 yards on 60 kickoff returns (22.93 avg) and totaled 5,129 all-purpose yards for his career. The 21-year-old ranks second in ACC history for career receptions and third in conference history for receiving yards, and his 5,129 all-purpose yards rank second in school history behind fellow Bill C.J. Spiller.
4. Orange connections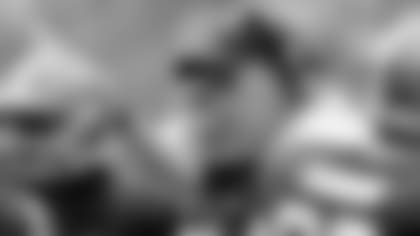 Between Bills coach Doug Marrone, WR Mike Williams, C Macky Macpherson, and the Giants coach Tom Coughlin (who played football at SU), QB Ryan Nassib, and LB Jameel McClain, Canton may be mistaken for a Cuse reunion with all the former Orange in attendance this weekend.
A Syracuse graduate and letterwinner himself, Doug Marrone coached all the players but McClain during their collegiate days while the former prowled the sidelines from 2009-12. Bills assistant strength and conditioning coach Hal Luther and Giants tight ends coach Kevin Gilbride were both at Syracuse from 2004-2005, serving as assistant strength and conditioning coach and offensive graduate assistant coach, respectively.
5. New schemes take shape
As detailed in Chris Brown's Camp Countdown piece, the HOF game is the first look for Bills fans to get a look at defensive coordinator Jim Schwartz's schemes in action. "One of our jobs as we go through training camp is to find out what our players strengths and weaknesses are," Schwartz said. "As coaches, our job is to put them in good position, accentuate the positives and try to minimize our weaknesses."
6. Andre's afterglow
Of course, one of the headliners for the weekend, and perhaps the reason the Bills were chosen for the annual game, the Bills-Giants tilt follows just a day after the long-awaited enshrinement of WR Andre Reed into Canton's Hall.