It's the regular season home finale, with a couple of playoff contenders going head-to-head, and a significant rushing milestone in sight. Plus, meaningful games for the Bills all over the weekend schedule.
Here are some notes to keep an eye on this weekend as the Bills host the Dolphins:
Bills fans have plenty of games to keep an eye on this weekend when it comes to the AFC playoff race and it starts on Saturday night.
Most important games watch …
Los Angeles Chargers (7-6) at Kansas City Chiefs (7-6) – Saturday, 8:25 pm on NFL Network
Who to root for: Los Angeles is still the team to root for to enhance Buffalo's playoff chances. With four straight wins, the Chargers are now 7-6 with a real shot to win the AFC West. That's the best possible scenario for the Bills—getting L.A. out of the Wild Card race. Buffalo owns the head to head tiebreaker against the Chiefs.
Baltimore Ravens (7-6) at Cleveland Browns (0-13) – Sunday, 1:00 pm on CBS
Who to root for: On Sunday while the Bills are battling Miami, keep an eye on the Ravens game at Cleveland. The winless Browns are running out of chances to get their first victory. Baltimore still is a major obstacle for Buffalo's wild card hopes, so hope for Cleveland to get its first win this Sunday.
Tennessee Titans (8-5) at San Francisco 49ers (3-10) – Sunday, 4:25 pm on CBS
Who to root for: Late Sunday afternoon, the Tennessee Titans are out west for the second straight week, with a game at San Francisco. The Titans currently hold the fifth seed in the AFC. They finish up with two home games, against the Rams and the Jaguars. The Bills will take any help they can get from Jimmy Garoppolo and the 49ers, who have won their last two.
For more information on the AFC playoff race click here for the most up-to-date information on NFL.com.
2. DEFENDING OUR DIRT – EVEN IF IT'S BURIED IN SNOW
Head Coach Sean McDermott started back in September preaching to his team about the importance of winning home games. The sign says "Defend our Dirt" in the tunnel from the Bills locker room to the field.
They've done a pretty good job of that. If the Bills win Sunday, they'd finish the finish the regular season with a 6-2 home record, Buffalo's best since the last playoff year (1999).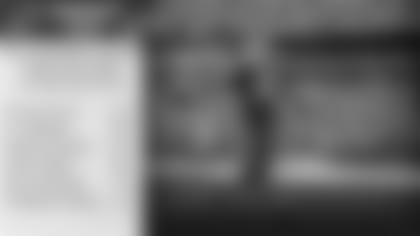 3. MCCOY HOPES TO STAY HOT AT HOME AGAINST MIAMI AS HE CHASES 10K
It could happen in the first half. It could happen on one run. But since LeSean McCoy needs just 39 yards to hit the 10,000-career rushing yard mark and the odds are it will happen sometime Sunday. McCoy is averaging over 100 rushing yards per game in the last four games. And he's had good success running the ball against the Dolphins in Orchard Park.
In two games at home vs Miami, McCoy has 240 total rushing yards and two rushing touchdowns.
His teammates are ready to help him pass the 10,000-yard milestone.
"He's so shifty, and has such a knack for making people miss," Guard Richie Incognito said this week. "That is really exciting. We know that if we create a little bit of space here, he's going to hit a home run."
Thurman Thomas is Buffalo's all-time leading rusher with 11,938 career yards. But he barely remembers passing the 10,000-yard mark.
"I never remembered hitting 10,000," Thomas said this week on The John Murphy Show. "I was never really a stat guy, but it is big.  He's been a guy who's been into numbers and I appreciate that. He's doing what he set out to do."
4. ANOTHER ALL-TIME BILLS RUNNING BACK IN THE HOUSE
Shady will be on the field. Thurman will take his usual seat watching the game at New Era Field. And longtime fan favorite Fred Jackson, third all-time in franchise history in rushing yards, will also be on hand at the game Sunday.
Jackson will be the Leader of the Charge, waving the flag above the tunnel entrance to the field just before kickoff Sunday.
Freddy spent eight seasons with the Bills and finished with 5,646 rushing yards, behind only Thurman and O.J. Simpson.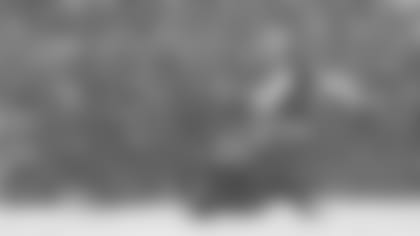 5. COLD, HARD "HAUSCH"-MONEY
The onset of winter hasn't seemed to slow down the reliability of Bills kicker Stephen Hauschka. He drilled his only kick last week in the "Snow-vertime" win over the Colts, a difficult extra point in the second quarter.
Hauschka has connected on 8 of his last 9 field goal attempts. And a bona fide kicking expert says Hauschka should continue his strong play despite cold and wind.
CBS Analyst Jay Feely, who kicked in the NFL for 14 years, says Hauschka is one of the best foul weather kickers in the league, going back to his days in Seattle.
"He's been very clutch his entire career," Feely said this week, in an appearance on The John Murphy Show."One of the things that I think lead him to be a good outdoor, cold weather, windy weather kicker, is that he doesn't have great elevation."
"That actually helps you when it comes to windy stadiums," Feely continued. "It doesn't have as much impact. When you hit a high football that explodes into the air, it allows the wind to have more of an impact on it. A guy like Stephen Hauschka who hits a low ball, it doesn't allow the wind to impact it. It's much better in those tough conditions."
Feely will be the color analyst Sunday working with Beth Mowins on the NFL on CBS telecast of the Bills-Dolphins game.
GARBAGE IN, GARBAGE OUT**
It's been an up and down season for Miami, just as it has for Buffalo this year. But the Dolphins come to Buffalo on a high. They've bounced back from a rough start that had their own Head Coach, Adam Gase, referring to their offense as "garbage."
After a 20-6 loss to the Jets in week two, to go to 1-1, Gase ripped into his offense, which was ranked 27th in the league at the time.
 "I'm upset about the way our offense played," Gase said back in late September. "I'm just tired of watching it for two years. Just garbage. We're going to have to figure something out."
The Dolphins traded RB Jay Ajayi to the Eagles in October, and got their offensive line settled down a bit. But they suffered through another offensive dry spell in October and November. In a five-game losing streak, Miami averaged 16.4 points per game. Now they've won the last two, averaging almost twice as many points, 31.0.
Miami has picked up the pace in their running game with Kenyan Drake and taken advantage of turnovers to boost their offensive production.