*For the first time in his career, Doug Whaley was the man in charge at the NFL Combine for the Buffalo Bills. The new general manager was running things in Indianapolis this past week after serving the three previous years as Assistant GM under Buddy Nix. His responsibilities are more numerous and a bit different from his previous roles in Buffalo's front office, but it was clear Whaley had a plan. *
Buffalobills.com brings you this exclusive behind the scenes hour-by-hour account of his first two days at the NFL Combine last week with direct comment from Buffalo's GM on some of his more notable observations.
Whaley and Director of Player Personnel Jim Monos arrived in Indianapolis on Wednesday for a league wide meeting with the director of the NFL Combine to go over any procedural changes along with the new technology being introduced to the workouts for the 32 clubs to use. The player scouting began the following day.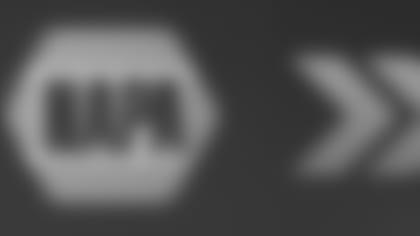 ](http://www.buffalobills.com/news/combine-2014.html)
Thursday, February 20
6:50 am  - Wakeup call –Whaley wakes in his room at the JW Marriott ready for day one of the Combine. His phone has a handful of emails and three or four text messages. Most are from President and CEO Russ Brandon and Senior Vice President of Football Administration Jim Overdorf.
Whaley is down in the lobby by 7:15 and grabs a quick breakfast on the go of yogurt and a croissant before heading over to Lucas Oil Stadium for weigh-ins with offensive linemen, tight ends, punters and kickers.
7:30 am – Weigh-ins –In the bowels of Lucas Oil Stadium the Bills GM stays to see every offensive lineman and tight end on the list.
"Greg Robinson from Auburn was an impressive specimen," Whaley said. "The Nicklas kid, the tight end from Notre Dame was an impressive specimen. (Austin) Seferian-Jenkins and (Eric) Ebron looked good and he has room to improve and get bigger up top."
With the league providing a report on official heights and measurements Whaley is taking notes on body types.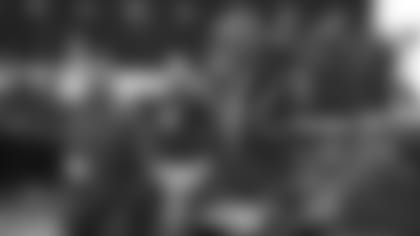 9 am – Bills suite –Each NFL club is given a suite at Lucas Oil Stadium from where they can observe the on field workouts. Whaley arrives shortly after weigh-ins are completed. There are no workouts on Thursday so he along with members of his scouting department watch game tape on a handful of prospects.
There are discussions about certain prospects as film is reviewed.
12 pm – Lunch meeting –Whaley heads to a lunch meeting at a downtown Indianapolis restaurant to meet with a handful of other general managers in the league. Pleasantries are exchanged and Whaley is given a few congratulatory handshakes. Whaley then returns the favor to two of the newest GMs.
"I was welcoming some guys to the club like (Cleveland's) Ray Farmer and (Miami's) Dennis Hickey," Whaley said. "So I'm not the newest guy. It is a small fraternity and I'm blessed and privileged to be a part of it. All of the guys are great guys. Even though we're all competitors we know we're all going through the same stuff of picking players and trying to win so there's no animosity or anything like that."* *
The personnel executives separate break off into pairs to discuss rosters and put out "feelers" for potential deals down the road.
"One guy might approach you and say, 'Hey let's talk,'" said Whaley. "They may throw some players out and some different scenarios with the draft and say, 'Hey were you guys thinking about moving?' 'Do you have any guys that you might think about acquiring from our team, or guys on your team that you may want to offer up?"
The general managers with new head coaches are of particular interest. Front office executives from other clubs know new coaches are inheriting players that may not fit their scheme on offense or defense.
"If they have guys that don't fit what they do anymore you see if they're trying to move guys," said Whaley. "You're basically getting a little update on whether they might be looking to do something with this guy or that guy so it gets the ball rolling and you evaluate if that's a guy you can use. You maybe watch more film on that guy later. It's nothing concrete. You're just kind of picking each other's brains and seeing where the other teams are with their rosters."
Whaley says the Bills salary cap situation will not prohibit them from getting done what they need to this offseason — John Murphy (@JohnMurphyShow) February 22, 2014
2 pm – Workout –After the GM meeting Whaley hits the gym at the JW Marriott to blow off some steam. It lasts about an hour.
4 pm – Bills suite –Whaley along with members of his personnel staff are back at Lucas Oil Stadium watching game tape of various prospects.
7 pm – Player interviews –Prospect interviews at the Crowne Plaza hotel begin at 6 pm, but Buffalo has only requested 55 interviews out of a maximum of 60 allowed. As a result their start time is pushed back an hour on the first day. Offensive linemen and tight ends are the position groups to interview Thursday night.
Director of College Scouting Kelvin Fisher leads the dialogue with each of the prospects who come into Buffalo's interview room with questions also being asked by the Bills position coach who matches the player's position. So offensive line coach Pat Morris and tight ends coach Greg Adkins are busy.
"We do a lot of watching film with the guys and try to get their football knowledge and any character concerns that come up Fish will handle that," said Whaley.
Whaley chimes in at times with a question or two of his own as does head coach Doug Marrone. Whaley is also taking notes on each interviewee.
A couple of offensive linemen leave Buffalo's GM impressed.
"There was a player who came in and he was so technically sound on what he was teaching off the tape of him playing, explaining it to us it was something where it made me think this guy is going to be a heck of a coach," he said. "Then we had another player who was so authoritative with his answers and so forceful in his speech that you felt if you got him on your team that he would be an instant leader in your locker room. He was so passionate and his love for the game came through in short, concise and powerful answers. He was one of those guys who won't say a lot, but when he does people will listen."
10 pm – Dinner –Whaley gets in a late dinner with members of the scouting department, Director of Player Personnel Jim Monos, coach Marrone and Russ Brandon. Then Whaley meets up with other coaches he knows in the league for a late night meeting. His evening is over at 1 am.
Monos thinks the underclassman who declared have increased the overall depth of the draft — John Murphy (@JohnMurphyShow) February 20, 2014
Friday, February 21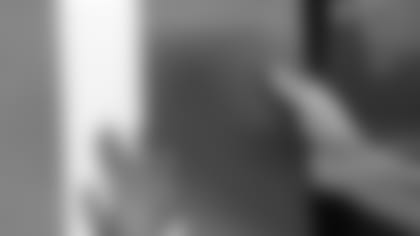 6:50 am  - Wakeup call – Whaley is up and down in the lobby grabbing another breakfast on the go en route to the stadium again for more weigh-ins. On the way he's going through his emails and texts that arrived overnight and is responding to as many as he can on the way.
"Throughout the day it's constant in and out texts all day. You hope to wake up to as few as possible," said Whaley.
The weigh-ins for quarterbacks, running backs and wide receivers has Whaley keeping an eye out for different body type attributes.
"I'm paying attention to whether guys are developed, underdeveloped, big legs, small calves, things like that," said Whaley. "See if they're ripped, how their body is cut. I like to see if fast guys have high calves and if they're high cut guys or if a receiver has a long torso or is long waisted."
Long torsos usually mean shorter legs, which is generally not a good attribute for receivers. Whaley is paying close attention to arm length measurements with the wideouts.
"You listen to hand size for QBs and arm length for receivers so if a guy is six-foot, but he has 34-inch arms that's a plus," he said.
10 am - Media responsibilities -Right after weigh-ins Whaley makes his way up from the bowels of Lucas Oil stadium to the pavilion level where he conducts a 20-minute interview for the John Murphy radio show. That's followed by a six-minute interview with Buffalobills.com on camera.
He then leaves the stadium with Vice President of Communications Scott Berchtold across the street to the JW Marriott hotel to conduct a group interview with the Buffalo media.
12 pm – Lunch –Not long after his media responsibilities conclude he and Director of Player Personnel Jim Monos meet up with a scout from another team. Their lunch doesn't deal at all with football business.
"We were trying to get away from it for an hour because it's taxing mentally," said Whaley. "So in the few times you have a little hiatus, you try to talk about anything else but football."
Some of the lunch conversation is about the NBA.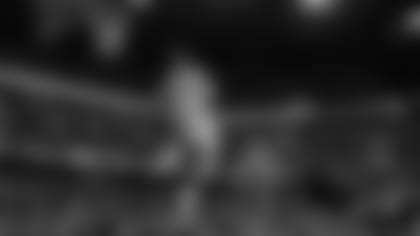 1 pm – Workouts –The punters, kickers and long snappers work out on the field and Whaley is back in the Bills suite observing the action. He also periodically steps away from the action to watch more tape on the players that's hooked up to a 50-inch flat screen television in the back of the suite.
"We stay here all day until the workouts are over," said Whaley.
With the workout group small in numbers they're finished by 3:30.
4 pm – Awards banquet –Whaley then heads over to the Marriott hotel to a Fritz Pollard Alliance awards banquet where Hall of Famer Joe Greene is being presented with the Lifetime Achievement award after a Hall of Fame playing career followed by a coaching and scouting career.
"Joe is one of my closest friends personally and that was one of the reasons I attended. He was scouting and just retired," said Whaley. "We worked together for about five or six years in scouting together in Pittsburgh."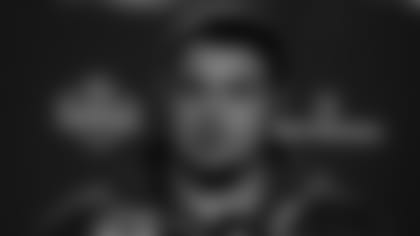 6 pm – Player interviews –Whaley leaves the awards banquet and hustles over to the Crowne Plaza for the second evening of player interviews. Linemen and tight ends are again the available players groups for screenings.
The Bills roll through their interviews in the required 15-minute increments, and again are encouraged by the football knowledge of a handful of prospects.
"With the O-line kids one who was real good was the Martin kid from Notre Dame (pictured). We had a couple of offensive linemen who were very knowledgeable of not only offensive concepts, but defensive concepts," said Whaley. "There were a couple of guys who not only knew the O-line concepts, but knew the whole play and what was involved for the receiver and what the quarterback was looking at. So they knew the full offensive play.
"Then there was one guy who was a senior and he had a lot of young guys next to him and he would actually call the O-line calls from the tackle position. Usually you have the center do it, but because the center was so young he was making the calls and checks and it would be relayed down the line."
Monos says the interviews with the prospects at the combine are important to learn about their football knowledge — John Murphy (@JohnMurphyShow) February 20, 2014
10:30 pm – DinnerHaving not eaten since 1 pm, Whaley heads to dinner starving with Brandon and Overdorf and is updated on the meetings with the various agents for Buffalo's unrestricted free agents.
"They updated me on the agent meetings and where we stood with our unrestricted free agents," said Whaley. "They just tell me where they think things are headed with our guys. What they're doing is getting a sense of where the agents think the value for our guys is going to be on the open market. So they give us what they feel are proper parameters for a contract."
Whaley says that Jairus Byrd is an exceptional player on the field and person off the field and they will try keep him in a Bills uniform — John Murphy (@JohnMurphyShow) February 22, 2014
The talks with the agents during Combine week really isn't the final stage of negotiations. Whaley sees it as more of a jumping off point for both parties.
"It's more gathering information," he said. "Then after the Combine we'll go back and reassess and say, 'Alright this is what he feels are his guy's parameters. Will that fit into our plan?' And from there we'll prioritize who we'll go after and then there are some guys we have sent out contracts to and they give us a response which is either yes, no or we can work on this, or this is a good starting point we'll talk more. Or no, it's too low it's not what we're thinking. Get back to us if you want to change it. So guys to whom we've submitted proposals you get feedback."
11:30 pm – Talking shopWhaley meets with another NFL GM for about a half hour. He later meets up with some other scouts and coaches from other clubs with whom he's familiar. The conversation between the huddle of NFL personnel people mainly recaps the day.
"You're always trying to get as much information as possible and not give up much," said Whaley. "After that I was back at the hotel to call it a night at 1 am."
Whaley maintains this pace with his scouting department for the next four days as the different position groups come through at Lucas Oil Stadium. Dinners with player agent firms take place as well as with Brandon and Overdorf, who continue to meet with players agents. Come Wednesday the Bills College Scouting Department as well as Doug Marrone and the coaching staff will pack up and return to One Bills Drive with a bounty of valuable information as they finalize their plans for their own free agents, the upcoming free agent market and the college pro days.
"If you break this up into a football game, it's probably the end of the third quarter almost starting the fourth quarter of our scouting process," said Whaley. "It's pretty exciting. There's still a lot of work to be done, but this is what it's all about trying to find the future Buffalo Bills players to get us where we need to go."
Buffalobills.com Combine coverage is presented by NAPA Auto Parts.  Visit your local NAPA Auto Parts store for NAPA Know How and all your car care needs.