MOBILE, Ala. (AP) — Dee Ford has picked up where he left off during the season.
The Auburn defensive end, who sacked Florida State's Jameis Winston twice in the BCS championship game, has blown by offensive tackles a number of times in practices leading up to Saturday's Senior Bowl.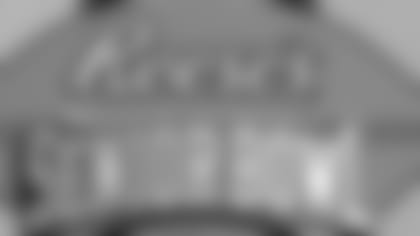 ](http://www.buffalobills.com/news/senior-bowl.html)
The 6-foot-2, 243-pound Ford is projected as either an outside linebacker or defensive end in the NFL, depending on his destination.
The projected second-round pick has turned some heads this week going against players like Vanderbilt's Wesley Johnson, Tennessee's Ja'Wuan James and Virginia's Morgan Moses.
"I think that all it takes is one team to really like him, and I think that Dee is exciting," said Gus Bradley, head coach of the Jacksonville Jaguars and the South team. "I really like his personality. I like his spirit. He loves the game, and he showcases that on the practice field. Any time a guy can come off the edge and show his ability to have some rushes in him, I think it really stands out and it really pops out for all the coaches."
Ford would be a "LEO," or hybrid linebacker/defensive end on the Jaguars' defense, but his size leaves his position destination uncertain. He has beefed up by 50-plus pounds since high school. A gym rat who regularly squeezed in extra workouts at gyms in Auburn, he arrived as a comparatively skinny 190-pounder.
"Any time I get success, I think about all the work I put into it," Ford said. "Y'all have seen me grow from that little guy in 2009 to now. This is what I expected to do at this level, on this stage. It's what I expected."
Auburn coach Gus Malzahn remembers "that little guy in 2009" and knows how far his top defender last season has come.
"He wasn't very big when he first showed up, but he had a great motor," Malzahn said Wednesday after taking in part of a practice. "He's always had that. He's worked extremely hard. He's very self-motivated, and he's fast off the ball."
Ford and Auburn's other current NFL hopefuls mostly floated under the radar along with the football team early in the season. Ford missed the first two games with a sprained left knee.
As the win total rose, so did the stock of players like left tackle Greg Robinson, a potential Top-10 pick, tailback Tre Mason and Ford.
"That just happens when you win," Ford said. "All your key players really are magnified. They know everything we do now, just because we were winning, playing on a big stage and producing. That's what we put work in. That's what we take pride in."
Ford finished his Auburn career with a big season. He emerged as one of the Southeastern Conference's top pass rushers with 10.5 sacks. Ford said the knee is only now starting to really feel healthy after a little rest since the season.
Former NFL defensive end Chuck Smith calls Ford one of college football's best pass rushers. After the South's initial practice of the week on Monday, he said he watched Ford "dominate every drill."
"Dee Ford comes in the league and gets 10 sacks right now," said Smith, now a trainer and pass rush specialist who has worked with Ford. "That's a first-round pick. I don't know if he goes first round. That's not for me to judge. No matter where Dee Ford goes, he's going to be an asset to any team."
Early in the week, Ford met with head coaches like the Steelers' Mike Tomlin and Jets' Rex Ryan. Both of those teams run a base defense with three-man fronts and four linebackers, and Ford said they were looking at him at the latter position.
He's not resisting a position switch.
"I'm prepared for it," Ford said. "I'll be prepared for anything. That's the work I've put into it, and I'm confident about any position I play."