The 2022 regular season finale is one Buffalo will never forget.
With all the emotions surrounding Sunday's kickoff between the Buffalo Bills and the New England Patriots, head coach Sean McDermott thought to himself in the days leading up to the game how special it would be if his team could take the opening kickoff back for a touchdown.
And sure enough, RB Nyheim Hines was there to deliver the emotional and tone-setting kickoff return TD that McDermott had in the back of his mind.
"When it happened I was just like, respectfully I wasn't surprised just by the way the week's gone, and then for that to happen was kind of like to God be the glory number 1, and then what else? What else," McDermott said." Also not surprised by our guys with that, they were set on doing that. Just a good moment for everyone."
As if the energy at Highmark Stadium couldn't get any higher than it was pregame when the crowd celebrated safety Damar Hamlin and honored the Bills' athletic training staff, Hines brought it to a new level.
"Being able to start the game off like that, it's amazing," Hines said. "I even talked to family and friends. I just said, look, we're gonna be ready today. Our boys are gonna play spirited … We have threes on, I had three on my thigh pads today. It's been amazing, but all that was for (Damar), and I'm happy for the things that happened to me, but I felt like he was out there with us."
"You go out and then you have this kind of shock to the system like that. It was such a tone-setter," center Mitch Morse added. "You could feel how palpable it was in the stadium. It was so surreal. Really the trajectory of that was paramount for us and the crowd was into it, the team, it really interjected a lot of energy."
There was uncertainty about how the team would feel when they returned to the field for the first time since they saw Hamlin down on the field getting medical attention. But that storybook opening is exactly what the team needed to confidently take the first snap and to battle the emotions they had been dealing with throughout the past week.
As Hines ran from one end of the field to the other, the Bills' sideline felt it in them that they were going to come out victorious for their teammate.
"Things like that just don't happen, that just shows you that God is real and for that to start that game like that, we were all like ... all right, something is scarily weird," OL Dion Dawkins said. "It's strong energy and this team, it's just full of love. And from the angels that have been watching us and D-Ham's spirit and all of those prayers, it just seems like it's just overflowing to each and every one of us and it was a special moment."
Through the eyes of QB Josh Allen, "It was spiritual. Bone-chilling. It was special."
"I can't remember a play that touched me like that, I don't think in my life," Allen said. "It was just spiritual. And I was going around with my teammates and saying God's real. You can't draw that one up any better... it's been three years and three months since the last kickoff return, so pretty cool."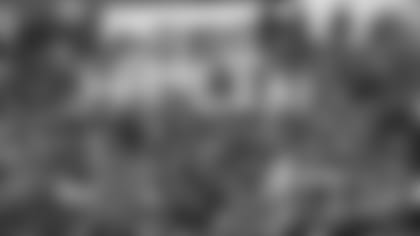 The spiritual emotion from the first 14 seconds of the game propelled the team forward until the final play of the game. From start to finish, Sunday's game is one that will stick with the team forever.
"Everything that we have gone through as teammates and as players and as fathers, this was a huge week," Dawkins said. "So, I usually sugarcoat it and I say, 'oh, it's just another win', but this one was extremely special. It was extremely special coming into it. We understood that we had to just get the job done, and we're blessed. Three was with us and it's a huge win."
Following the 35-23 win, Dawkins gathered his teammates for a heart-warming team huddle. The offensive lineman and the rest of his teammates put the No. 3 in the air to "give credit to where credit is due."
"For us, putting that 3 up for Damar, you can feel it and we can feel it and we're just saluting our brother," Dawkins said. "It just came to a moment in the game where we said, 'We did this.' Then we gave him a salute. That's what that 3 was – a salute to our brother that we knew was watching every play of this game. Just bringing that connection through his TV screen to this stadium."
When the team returned to the locker room following the huddle, CB Dane Jackson brought Hamlin into the room to celebrate the win with the rest of his team via Facetime. To hear his voice and see his smile was the team's second win of the day.
"He broke us down actually in his voice so that was cool, too," Allen said. "He got the game ball as well as our trainers and our training staff. So, it's a good feeling in there right now. No doubt."
Hamlin wrapped up his breakdown of the game with: "Love y'all boys. Bills on three, Bills on me. 1,2,3 Bills."