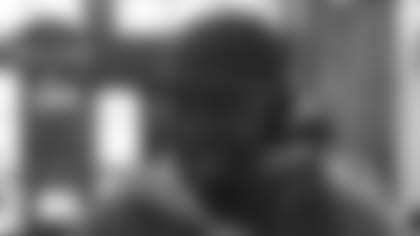 "Past performance does not guarantee future results"
That's what every seller of stocks, bonds or other securities is required by law to tell their customers. But when it comes to the NFL Draft, the recent past performance by GM Doug Whaley and his personnel department would indicate the Bills will draft successfully in 2016.
NFL Draft writer Bucky Brooks, a former NFL scout and Bills WR, is on record praising the Bills 2015 draft class.
"The production they were able to get, not only from Ronald Darby, but Karlos Williams and some of the other guys says a lot about what Doug Whaley, and his staff, his college scout director, Kelvin Fisher," Brooks said, in an appearance on The John Murphy Show at the NFL Combine in Indianapolis.
Brooks was the Bills 2nd round pick in 1994. After his playing days ended, he spent eight years as a regional scout in the NFL for the Seahawks and Panthers. And he uses his scouting contacts to keep in touch with current NFL draft prospects.
Brooks says he talked with Bills College Scouting Director Kelvin Fisher about Bills top draft pick last year, Ron Darby, and they had differing opinions on his prospects before the draft.
"I had a debate with Kelvin Fisher during the process last year about Ronald Darby," according to Brooks. "He said, 'Look, I think this guy can be a really good player.' He said it to me during a pro day and it came to fruition."
"I look at him (Darby) as a very competitive player, a feisty player; a guy who quickly understood the nuances of the defense and played like a top player and plays like a perennial starter."
Brooks is also a big fan of Buffalo's 5th round draft pick in 2015, RB Karlos Williams.
"We knew that he was big, fast and physical," Brooks says. "But the way that he performed in that offense, he was a nice compliment to Shady McCoy. In fact, when Shady was out, he showed that he could be a work horse guy."
"I think as he continues to master the nuances of pass protection, being able to be a guy that could potentially be on the field all the time, nice 1-2 punch that they have in Buffalo."
So here comes the 2016 draft-two months away. And with his scout's eye, Bucky Brooks says the Bills should be able to fill some needs in the upcoming draft.
"I mean I think they need a couple pieces," he told host John Murphy. "But I think a lot of their answers are in the building already."
Brooks says if the Bills are looking for help along the defensive line, the 2016 draft class is the right place to look.
"The deepest position in the draft is the defensive lineman class," he says. "There are first round talents throughout that. They could even get in the second round. I mean-- Sheldon Rankins, Vernon Butler, A'Shawn Robinson—so many guys on the inside that could come in and play right away. You can't miss if you take a defensive tackle."