It's where the roots of our family tree reach deep into the rich, fertile soil of our heritage. Where our character is forged in the crucible of memories made, dreams come true, and nightmares endured. Where hopes are carved—from the wounds and scars, joys and sorrows, triumphs and tragedies that prepare us for the battlefield we call life. It is here that heroes are born and legends are made. 
For countless professional athletes including the Buffalo Bills' quarterbacks EJ Manuel and Tyrod Taylor, and wide receiver Percy Harvin, home is the "757"— the area code tucked into the southeast corner of Virginia. Or, if we're using Tyrod Taylor's dictionary, the 757 can be accurately defined as, "the best area code in the world!" Taylor even jokes that, Bills running back, "LeSean McCoy wants to be from that area!"
For these three players, the 757 isn't just where they took their first steps, learned to drive, and graduated high school. It's where they each stepped onto the field, gripped a football in their hand, and felt the football grip their heart and make them love the game. And while each player is as different from the other as a draw play is from a screen pass, they all agreed that the one thing in the 757 that birthed the diehard football player in them was a sense of competition.
"The competition level being really high kind of makes you hungry to always work hard and always try to get success," said Manuel.
Manuel, Taylor, and Harvin all faced each other during their middle and high school careers, keeping the rivalry intense.
"We've all been competing since we were little," recalled Taylor. "Whether it was on the football field competing, or we see them in basketball season, or running against them in track. It was always a competition."
Manuel even remembers going up against Taylor in basketball and Harvin in a city championship game. Harvin recalls crossing paths with Manuel and Taylor on the basketball court during their AAU days.
However, middle and high school sports weren't just played for fun. They were the heartening and hopeful first steps along the path of promise for the three future football stars. A path they had seen numerous athletes before them follow to greatness.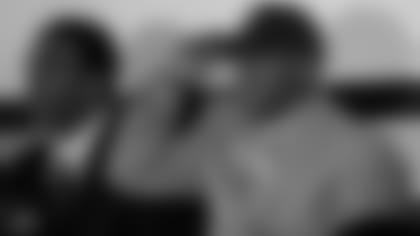 "There are a lot of guys who want to be the best," said Harvin. "It was a thing coming out of Virginia. You know, we had Allen Iverson and the guys that paved the way before us. Young guys like me, Kam Chancellor, a lot of guys from the Virginia area, we always want to try and exceed the expectations. So I think the older guys set the tempo, from Mike Vick to Plaxico Burress. We just tried to set our own bar."
And that's exactly what he did — set his own bar. Harvin excelled at football in high school becoming known as one of the greatest athletes to come out of the Hampton Roads area. He earned a reputation that cleared the way for him like a pulling guard clears the way for a running back, became a Florida Gator and began piling up his stats.
Drafted 22nd overall by the Minnesota Vikings in the first round of the 2009 NFL Draft, Harvin played for Minnesota, Seattle, and the New York Jets, until last March when he inked a one-year deal with the Bills. 
Seeing professional athletes emerge from their hometown and succeed at the highest level was pure inspiration.
"For us, if you can make it there, we really feel like you can make it anywhere," Manuel said.
And for EJ, anywhere, included One Bills Drive in Western New York. With dedication and determination Manuel did just that. He made his mark at Bayside high in Virginia Beach earning Parade All-American honors, then kept the momentum going as quarterback at Florida State. A 4-0 record in bowl games spelled just part of his success for the Seminoles, and Manuel was drafted by the Buffalo Bills as the 16th pick in the first round of the 2013 NFL Draft.
Watching greatness emerge in their own neighborhoods gave each of these players a hometown hero to emulate.
"I know a lot of us young guys, we talk about it all the time, Tyrod and EJ, wanting to excel over Michael Vick and Allen Iverson, some of the quarterback guys." Harvin said. "For me it was Plaxico and Allen Iverson and those guys who played the skill positions. Just wanting to be better than them and carry the tradition on… a tradition of just wanting to be better and keeping the 757 on the map."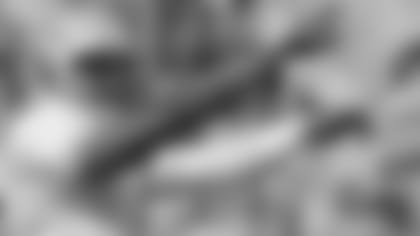 To this day Manuel's hero is not only a close friend, mentor, and neighbor, but also one of the greatest legends to ever suit up in a Buffalo Bills uniform — NFL Hall of Famer, Bruce Smith.
"I look up to Bruce. Bruce was my dad's friend from second or third grade." Manuel said. "I can remember meeting him when I was like four or five, and I'll never forget going to his house and just seeing him and looking up to him and being like, 'Wow!' Because I remember him from Little Giants, you know the movie that came out around that time. So I didn't look at him as my dad's friend, but Bruce Smith, the football player."
Smith is a 757 native himself and graduated high school as an All-State player. He went on to play football at Virginia Tech, earning the nickname, "The Sack Man," and became the most honored player in his school's history. He is passionate about his hometown and credits it with helping to cultivate his love for football.
"I think my humble beginnings are what shaped the person that I am today," said Smith. "They developed those crucial components such as work ethic, the desire to be the best and making sacrifices because of my parents.
"Growing up in the inner city there were challenges all around and there were obstacles. We had to find a way to overcome those challenges and obstacles. And quite frankly there were two ways — there was education and there were sports."
The competition in that area carried through the decades like aftershocks from an earthquake, and Smith can recall the same competitive atmosphere of the 757 impacting his generation.
"The competition was fierce," he said. "There were some athletes when I was growing up that were better than me. They were stronger and in some cases they were faster but I persevered and I continued to be better and I tried to make smart decisions."
His approach and the lessons he learned along the way not only fortified Smith's career, but set a standard for others, including Manuel. They are lessons that serve him on and off the field.
"You can't just be a football player," said Manuel of the counsel Smith has given him. "You have to be versatile. You have to be extremely smart. You have to make good connections and build your network as much as possible. You have to use this vehicle, which is football, to meet more people.
"And obviously just work hard and Bruce has always told me, 'Enjoy the process.' Just remembering that and not focusing on any negatives out there. Just focus on getting better that day."
Manuel took the words Smith gave him growing up like a hand-off and has run with it. 
"I would love to be remembered as a winner. I did well in high school. Thought I made my city proud when I was in college and I want to do the same thing in the NFL," Manuel said. "I mean that town is all about their football — basketball too, but mainly football. And so I definitely want to be considered one of the best to ever come out of that area." 
For Manuel, Taylor, and Harvin, the 757 is the birthplace of something greater. Something they have seen come out of their hometown time and time again. Something they strive to be one day — legends. Someone who would be remembered for what they did on and off the field.
"A guy that gave back to the community," said Taylor of the reputation he'd like to leave. "A guy that always repped his hometown wherever he was. I go back home now and I visit and I try to show love to my family and my friends. I never want to be one of the guys who can't go home and still support them.
"So that's really big for me. Showing love back home and just trying to show the younger kids that there's opportunity out there and make the best of it when you get your chance."
Taylor certainly made the best of the chance he was given. After leading Virginia Tech to an ACC Championship and Orange Bowl victory in 2010, Taylor was drafted by the Baltimore Ravens as the 180th overall in the sixth round of the 2011 NFL Draft. Then in March of this year, he signed as a free agent with Buffalo.
For Harvin, making a lasting impact on his community is something that evolves out of improving and excelling at the game he loves, because it allows him to give back. It also motivates him to perpetuate the flood of athletic talent that keeps pouring out of his hometown.
"I definitely want to be a role model for the younger kids so they can pave the way and keep the whole 757 thing going," he said.