It was a great week on the field as the Bills beat the Packers to stay in the playoff hunt, and it was just as great a week off the field as the Bills beat the Patriots to win the league-wide Responsibility Bowl.
And not only did the Bills beat the Patriots, it wasn't even close!
The victory is all thanks to Bills fans who signed up with Bud Light's Good Sport Program inside Ralph Wilson Stadium during the Packers game to be a designated driver, as well as Bills fans on social media who used #BillsFansNeverDriveDrunk on Twitter and Facebook to promote the program.
"Bills fans are very loyal to their team, and everyone wants to have a fun and positive experience at Ralph Wilson Stadium," said Andy Major, Bills VP of Operations and Guest Experience. "Their support of the cause on gameday and through social media is truly indicative of how much the message of the Responsibility Bowl rings true to our fans."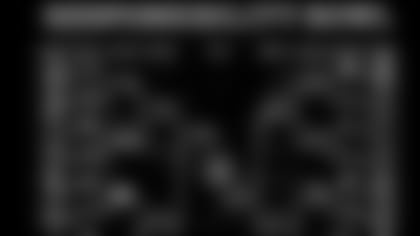 The Responsibility Bowl began in the 2014 preseason, when the Bills handed a 19,276 to 1,014 loss to the Vikings – those point totals combining the number of designated drivers signed up for the game, multiplied by six as if they were touchdowns, with one additional "extra point" coming from each mention of #BillsFansNeverDriveDrunk on social media. In other words, the Bills had 3,207 "touchdowns" over their two preseason home games and 34 "extra points" on their way to their first round win.
After three weeks of cruising to victories over the Dolphins, Texans and Bears, only their AFC rivals in the New England Patriots stood in the way of a Responsibility Bowl victory. The Bills made an early push with contests on social media that encouraged fans to spread the program's message.
Bills owner Kim Pegula got into the Responsibility Bowl spirit and encouraged her gameday guests and other fans attending the game to sign up, highlighting the importance of the message and how great a priority it is to the Bills organization.
In the end, with a Bills record 2,040 designated drivers signed up during the Packers game and an additional Bills record high of 24,157 social media points, the Bills edged the Patriots by a whopping 22,767 points to claim the championship win.
"We've seen a drastic change in fan behavior over the past couple of seasons and Bills fans are more responsible, courteous and respectful to fellow fans than ever before," said Major. "We thank them for giving us a victory in the Responsibility Bowl, and for caring about their gameday experience just as much as we do."