On Monday night, once Damar Hamlin was transported to the hospital after collapsing on the field and receiving CPR, Bills general manager Brandon Beane and head coach Sean McDermott quickly realized someone needed to stay in Cincinnati to be with Damar and his family.
"It's real simple," Beane said of why they should stay. "It's what would you want someone to do for your son? And I got two boys."
They ultimately decided it would be best for Beane to stay so McDermott could lead the players and coaching staff as they prepared for a potential next game.
"We divided it up, and I said, 'Let me stay here, let me support here. We'll work this out,'" Beane said of his discussion with McDermott. "That's why I love Sean. We were able to work this through, and he did a great job there."
While Beane stayed at the University of Cincinnati Medical Center to be there for Damar, his family and his medical staff, he got to witness the countless number of people who had a hand in saving Damar's life.
"There's a lot of people that did a lot of great things for Damar, and I just I think it would be unfair to not mention these people, a lot of heroes," Beane said as he met with media over Zoom on Friday. "We look at sports and we all have heroes on the field, but there's so many people that saved this young man's life."
The people Beane was amazed by were Damar's parents, Mario and Nina. Beane said it was a blessing to get to know the wonderful family Damar comes from.
"Just being near them these last few days, they should put a handbook together of how to deal with a life-threatening situation with your child," Beane shared. "I was in awe just watching their strength through such difficult up and down moments. It was a pleasure to be a part of and see how they handled it. I don't believe I would have handled it with the same strength if that was my son."
The GM also got to witness his medical staff's swift action on the field and continued care in the hospital. Beane feels lucky to work alongside so many talented professionals.
"The Bills medical team, I know that the guys have been mentioned, led by Nate Breske," Beane said. "Denny's (Kellington) obviously trending on Twitter now, which is good for him. And Tabani's (Richards) back there (in Cincinnati) and all those guys and the doctors did a great job. One person that probably hasn't been mentioned is Kori (Reblin), one of our equipment guys who had to get there and get his facemask off so that they could work on him, and not easy when you see the situation Damar's in."
"They've been incredible. I mean, they've just been incredible," McDermott said of his medical and training staff.
"I'm so impressed with the medical team," Beane said making sure to mention the doctors and nurses at University of Cincinnati Medical Center. "Yes, they're medical people but their bedside manner, their care, hugging us and seeing tears out of their eyes. There's going to be a huge party when Damar gets out of there."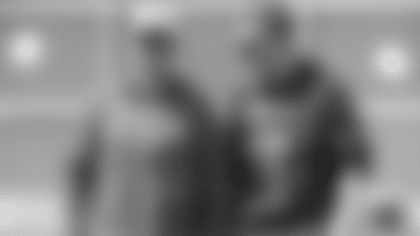 Beane also got to experience first-hand the highs and lows of waiting, praying, hoping and wishing for good news on Damar's status during his first couple of days in critical condition.
"(It was) very emotional," Beane said. "When anyone that's had loved ones in life threatening situations, the doctor explained it to us, it's going to be two steps forward, one step back. They're always giving you best case, worst case. So, there's always ups and downs and that's where we wanted to just try and bond together with the family and help each other through it."
The lows started to trend upwards once they were told Damar began to show signs of improvement.
"When they said later that day, 'Hey, he's handling this great, that is great news.' And then tells us that, 'He's out of the woods from the worst kind of scenario,'" Beane shared of what the doctors told them. "And so then you started to feel relief. Still not there yet, but like I said, from that point on, it just seems like things were trending up. And then yesterday morning, you walk in there and he's responding to commands was absolutely not what I thought I was going to hear, and it was just definitely tears of joy."
"Tabani, Nate and myself were just able to hug him and the grip strength that he had," Beane said of being able to witness Damar's movements. "I told Mario I'm not a crier, but man it was emotional and a lot of grown men in there were crying yesterday. Something I'll never forget."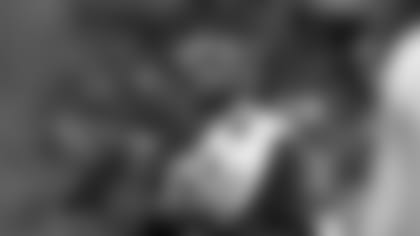 Through the tears of joy, Beane shared there was also plenty of laughter too. When the family realized Damar's toy drive GoFundMe was trending way over a few million dollars, his mother, Nina, joked about the fact that they won't have to worry about there being enough toys to go around after blasting past the goal of $2,500 dollars.
"We were laughing and she's like, 'He just wanted $2,500 for this thing,'" Beane said. "She's like some of the toys he bought, there was always some disagreements with which child gets this toy and that one and I was like, 'You're gonna be passing out cars next year, not toys.'"
As Beane arrived back to Orchard Park and was able to join the team meeting on Friday where Damar FaceTimed with the group and told his teammates, 'I love you boys,' Beane couldn't help but feel proud to be a part of the organization after what they've been through this season.
"I'll probably get emotional if I talk too much about it, but I'm so proud of our organization, our team, just so many people the way we've dealt with so much this year," Beane said. "Definitely not the way you draw it up. I don't know what's gonna happen the rest of season on the field, I really don't. This is a group of winners, and I will forever remember this team, this season, the moments of it. 
"I'm still hopefully optimistic that we can make a run. But I don't know if there's ever a team I'll be more proud of than this."
As they begin to prepare to take the field on Sunday, Beane can't wait for an atmosphere full of celebration.
"It's going to be a celebration of life and an ongoing life," Beane said. "Just a celebration that this is not only going to be a celebration in Buffalo, but the whole country and I'm sure people internationally that have watched this situation. I'm sure it's going to be a great seat if you've got a ticket to come here and just to be a part of this atmosphere. The hair on the back of my neck is standing up right now thinking about it. 
"It's going to be unique and I'm excited to see it. It will be a challenge for our team to be able to manage the emotions. There are going to be tears out there and that will be more of a challenge than the Xs and Os piece of it. Is just being able to go through that and just seeing our fans. And I know there are going to be a lot of '3' numbers out there, and I'm excited to see it."