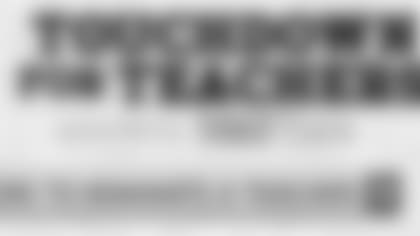 ](http://www.buffalobills.com/fans/touchdown-for-teachers.html?campaign=articlebufpage)

ORCHARD PARK, NY—The Buffalo Bills and M&T Bank are proud to announce the seventh annual Touchdown for Teachers program, which honors local teachers for outstanding service to their schools and communities.
"To be able to recognize the exceptional efforts of the teachers in our region is an honor for the Buffalo Bills," said Erica Muhleman, Vice President of Corporate Partnerships for the Buffalo Bills. "The Touchdown for Teachers program continues to be one of the most rewarding initiatives we do with M&T Bank."
Five finalists, one of whom will be named the grand prize winner, will be chosen based on their amount of involvement in the school or community, degree of positive impact and their demonstrated commitment to education. Educators must be nominated by the public through the application form at buffalobills.com/teachers no later than Friday, April 3, 2015. Finalists will be notified no later than Friday, April 17, 2015.
Each of the five selected honorees and a guest will be invited to the Bills private Fan Fest Event where they will be honored and the winner of the 2015 Touchdown for Teachers program will be announced. The grand prize winner will receive: -$2,000 in grant funds, payable to their school or district
-An in-class visit from a Buffalo Bills player or alumnus
The four remaining finalists will receive $500 in grant funds, payable to their school or district to further their impact.
"M&T has always been a company where people work hard to contribute to our communities, and Touchdowns for Teachers is one way we're able make a difference," said Jim Jarosz, M&T Bank Group VP for Retail Banking in Western New York. "Now in its seventh year, Touchdowns for Teachers continues to be a fun and exciting way for students, parents, and school officials alike to honor the outstanding teachers in our community, and we encourage all to visit buffalobills.com/teachers to nominate an influential educator today."
"The teachers I had growing up played a large role with the success I've had both on and off the field," said Bills running back Fred Jackson. "It continues to be an honor for me to support the Bills and M&T Bank Touchdown for Teachers program."
Educators qualifying for nomination to this program are defined as individuals directly involved in the instruction and education of students, including but not limited to: teachers, guidance counselors and teacher's aids. School and district administrators are not eligible for recognition as finalists but are welcome to nominate educators for recognition.
Information and nomination forms are available at buffalobills.com/teachers. They can be submitted online, downloaded and mailed to the Buffalo Bills attention Erica Muhleman at One Bills Drive, Orchard Park, NY 14127, or faxed to (716) 312-8603.
Teachers nominated must live in the following counties:
Buffalo-area:
Erie*
Wyoming * Genesee* * Orleans* * Niagara* * Chautauqua* * Cattaraugus* *
Allegany
Rochester-area:
Monroe*
Wayne * Livingston* * Ontario* *
Yates
Other areas:
McKean County, PA
Ontario County, Canada
M&T Bank is the Official Bank of the Buffalo Bills and the exclusive provider of Bills checks and check cards. Further information about different fan contests and promotions through M&T Bank is available at www.facebook.com/mybillscard.
About M&T Bank
Founded in 1856, M&T Bank (www.mtb.com) is one of the 20 largest U.S. commercial bank holding companies, with more than $96 billion in assets and more than 650 branch offices in New York, Pennsylvania, Maryland, Delaware, Virginia, West Virginia and Washington, D.C.