Heading into Monday's game, the Bills knew someone was going to have to step up on offense with the attention being paid of late to rookie Sammy Watkins. WR Robert Woods decided he was the man for the job.
Woods had a career night with nine catches, 118 yards, a touchdown and one catch that will surely be in the season's highlight reel.
Watkins was facing double coverage all night, and at one point the rookie wideout said to Woods, 'Somebody has to make a play.'
"I saw I was getting a lot of man-to-man coverage," Woods said. "I just have to beat my man and QB Kyle Orton placed the ball where only I can make the catch."
It didn't take him long to get going either. In addition to a 14-yard catch in the opening drive, Woods made an impressive catch in the end zone to give Buffalo an early lead. QB Kyle Orton had a small window to deliver the ball and Woods was able to stretch and make the grab.
"We knew all week it was going to be a back shoulder throw, open coverage," Woods said of the scoring play. "We always say if it's in the area, we're able to make the play. [Orton] just gave us a chance to make plays and be receivers."
The 90-yard drive in the second quarter best exemplifies that notion.
Woods caught all four of his targets on the 13-play drive for a total of 41 yards. Three of those targets converted third downs, including the spectacular 27-yard one-handed helmet catch.
"After I made the one-handed catch, [Orton] came up to me and said, 'I'm coming to you every time,'" said Woods. "He was finding holes in the defense and like I said he was putting it only where I could make the catch and it worked out for us."
Orton's words held true throughout the night. Eight of Woods' nine receptions in the game resulted in a first down. He also had at least two catches on three of the Bills' four touchdown drives (the one he didn't have a catch on was the two-play drive following Duke Williams' interception).
Head coach Doug Marrone reiterated the point that with Watkins in double coverage all night, someone needed to make a difference in the passing game and Woods took advantage of his opportunity and played extremely well.
"If he doesn't [step up], we're in trouble," Marrone said.
Part of the reason Woods was able to be so successful was his matchup came against Jets rookie DB Marcus Williams, whom he didn't see the first time around. Marcus Williams, an undrafted free-agent, was activated to the Jets' 53-man roster just earlier this month. The Bills knew about the matchup but to them, it didn't matter who was lining up against them.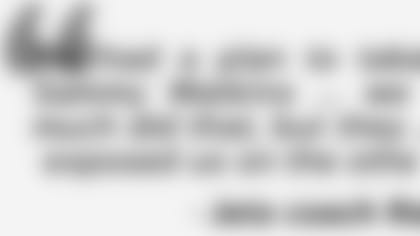 "We knew that he was new out there," Woods said. "But our whole mindset was whoever is out there, we needed to attack them and push them with speed and make them believe we're going deep every play."
And as many of the other players have done, Woods cited the city of Buffalo for the support and aid to make sure the game was played.
"Sitting stuck in the house, it doesn't seem likely but the people of Buffalo made it happen," he said. "Cleared the roads so some of the players could get out and ended up playing the game. This win was really for them, the city of Buffalo."
Bills WR Robert Woods' career in photos.