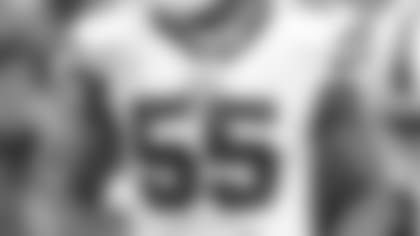 Upon walking in the door defensive coordinator Mike Pettine said he wanted his defensive unit to be physical, knock people down and not help them up. Through 11 games no other NFL club has knocked the quarterback down more than the Buffalo Bills. Leading the league with 37 sacks, the Bills have already surpassed their sack total from last season (36) with five games to play. In fact the defensive unit is on pace to eclipse the franchise's single-season sack record set back in 1995.
Back when Bruce Smith and Bryce Paup were bringing terror down on opposing quarterbacks, eventually earning Paup the NFL Defensive Player of the Year award. The '95 team tallied a franchise best 49 sacks.
Right now the 2013 Bills are on pace to beat that mark by almost five sacks (53.75). Buffalo's defensive coordinator however, doesn't put a whole lot of weight on one of the most glorified defensive statistics in the game.
"I've never been one to consider high sack totals a positive stat," said Pettine back in June. "Wins first and foremost, to me it's wins and points. I'm not even a big fan of the way the NFL ranks defenses. I always thought it should be some type of index that takes into account takeaways and points and those type of things."
Buffalo is strong in the takeaways department leading the league in interceptions with 16. As for points allowed, the Bills rank 21st.
Playing under a coordinator that doesn't put a lot of weight on sacks doesn't exactly have Buffalo's defenders jacked up about setting a franchise record. What they do value is the cumulative effect their sacks, knockdowns and hits have on opposing quarterbacks over the course of a game.
"That's the bigger number for me," said head coach Doug Marrone. "I don't know if they threw it 28 or 29 times last week, but 17 times we hit him. When you're getting to the quarterback that much, you're making him uncomfortable. You might be causing him to get rid of the ball earlier. You might be causing balls to sail because he can't step up. And that's more important than the sacks."
"It just makes him want to get the ball out faster. It makes him become more of a grab and throw guy because he's so worried about the hits," said Jerry Hughes who along with six sacks has four quarterback hits and 29 hurries. "So when he does that it throws the timing of the routes off and our secondary picks up on that and you start to see them jumping the quick routes. What happens is what we saw last Sunday, three interceptions."
Buffalo has their linchpin pass rusher in Mario Williams, who is the team leader in the sack category at 11 on the season, but he hasn't had one since the New Orleans game in Week 8. Part of the reason is opposing offenses begin games with the Bills by double teaming him.
That allows others like Kyle Williams or Jerry Hughes one-on-one matchups, and more often than not they have come through with consistent pass pressure. That in turn forces opponents to adjust their protections in terms of what Buffalo pass rusher gets the most attention.
"That's just how we want it," said Marcell Dareus, who needs just a half sack to match his single-season career high. "They always start the game off with Mario and then work their way to Kyle and I'm always getting a double team on the inside anyway. That's just how we want it. If you're going to double team Mario, you've got to watch out for me and Kyle. If you're going to double team Kyle you've got to watch out for me and Mario. Even our DBs and linebackers we send blitzes and we disguise. If you think you're going to double team him we're going to work it another way."
Perhaps the most interesting comment from the men who make up the majority of the team's sack total is their identical response when asked why they've been so successful.
"It has to be our secondary," said Hughes. "It just shows the kind of outstanding play they're providing back there as far as pre-snap, disguising what coverage they're in. They're giving the quarterbacks a hard time to get a bead on what coverage they're playing and then once they're in coverage just manning up and playing their guys.
"I feel like with our secondary and the way that they've been playing the past few weeks and forcing the quarterback to check from their first read and go to their second it gives us as a defensive line plenty of time to get back there and cause havoc and get balls out."
Now with the secondary healthier than they've been all season, the opportunities over the last five games to raise the sack total figure to be numerous. Two of their remaining opponents stand first and sixth in sacks allowed in Miami (41) and Jacksonville (33).  
Setting a franchise sack record would be an accomplishment, but wins are what's coveted by Buffalo's pass rushers.
"I guess it would be something great to look at in the offseason," said Hughes. "As far as in season it's all about winning games and doing whatever it takes to get that 'W'. That's all that matters at the end of the season."
"We can't tell the future," said Dareus. "We don't know what the future holds. We're just going to play the best ball we can play. If that's in our future then I don't think anybody can stop it."