For the first off day of training camp on Thursday, Bills cornerbacks Christian Benford and Ja'Marcus Ingram spent their day in a few classrooms right on St. John Fisher University's campus with young students who are a part of a summer school program from the Rochester City School District.
Kelsey Flanagan, the site coordinator of the summer program and sixth-grade teacher at Dr. Louis A. Cerulli School No. 34, reached out to Ingram on Instagram to see if he'd be interested in visiting the students while the team was in town. After reflecting on his childhood, Ingram knew he couldn't pass up the opportunity to inspire this group of kids.
"I wanted to go help because I used to be in the inner-city youth program myself," Ingram said. "To have this platform and play for the Buffalo Bills, it only felt right that I go give some wisdom and knowledge to the younger kids."
Similarly, Benford wanted to share his story with the kids as he also grew up in the inner city. Getting involved in the community was always something he wanted to do and to see the students' faces light up when they walked into the room was a heart-warming experience for both.
"You want to give them a little touch-up of love, or touch-up of peace because you never know what people are going through in life," Benford said. "People show a lot of smiles, but you never know what happens behind closed doors and when the phones are unlocked, so I think it's very important just to touch up on the kids."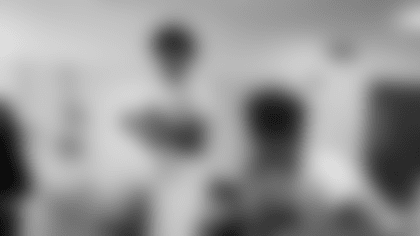 The two Bills cornerbacks bounced around between three classrooms, each with students from different grade levels. Their first stop of the afternoon was spent with first and second graders where they read them a book, answered any question the students had, and left them with some words of inspiration.
"We read them the Stephen Curry book about his story and his journey," Ingram said. "It was a fun experience to give the kids some positive feedback and some encouragement to do the right things, stay positive, and see the bigger picture outside of their circumstances."
The two then headed to a classroom filled with first graders and kindergarteners. They also read the Steph Curry book to this group and then listened to each student talk about what they liked about sports.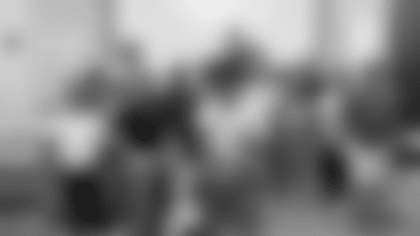 Their final stop of the day was at a fifth and sixth grade dance class. What started out as Benford and Ingram just watching the students' dances quickly turned into the students teaching them the dances followed by a dance battle. It happened to be Benford's favorite part of the afternoon as it brought him back to when he was a kid.
"I enjoyed the whole process, but the most memorable was the dance classroom," Benford said. "I never wanted to battle anybody when it came to dancing, football was my thing. My little siblings, my nieces, nephews, and now my son Calvin loves to dance, so it just brought back so many memories."
To make sure the students felt like they had a connection with them outside of the classroom, Ingram and Benford gave out their Instagram accounts to the students in case they ever wanted to reach out with any questions, problems, or to talk about anything that they were going through.
"I told them that they can hit me up whenever and just come to me to talk," Benford said. "If they just wanna talk about life or want to chat about something that's going on at home, I got you. If you want to play games, it's cool. I'm not really a gamer though, but I'd do it."
Afterwards, Benford and Ingram immediately started to see their trip be well-received by the students. Ingram gave one student a pair of his gloves and the next day, he received a text from that same student.
"He said, 'I felt like I was you when I put the gloves on yesterday in my game,'" Ingram said. "Just knowing that kid is wearing my gloves and actually being able to be hands-on just lightened my heart up."