Since 2017, safety Micah Hyde has been a staple in the Bills secondary and in the Buffalo community.
The veteran brings together those in the safety room, but not without the help of his trusty teammate Jordan Poyer. Since Hyde got official word that the safety tandem would be taking the field in a Bills uniform for their seventh straight season, he's been excited to "run it back".
"I think that we've always established a standard around here, just for not only our defense, but I just think internally into our safety room," Hyde said. "We've always kind of had that chip on our shoulder. Guys just trying to prove themselves. So, we feel like it's on us to set the standard and throughout the years, we continue to try to build off that … We're going to bounce back this year and obviously have to stay healthy, and we added some depth so that's good to see."
And after returning to One Bills Drive for voluntary workouts, it was brought to Hyde's attention that he and Poyer are in the top five for oldest guys on the team.
"Came out yesterday and started working out, and I looked around and I'm like, wow," Hyde said. "This is what the old head said would happen. It's really happening right in front of my eyes, but they keep me young and that's why we run every day and run sprints and conditioning stuff. I'm trying to beat them every day because I got something to prove."
Hyde is ready to prove what he missed out on showing to the world last year. The safety's chance to return to action last season was cut short when the team's season ended in the AFC Divisional Round to the Cincinnati Bengals. But after more time to heal and recover from his neck surgery, Hyde shared he is "feeling amazing".
"I feel great," Hyde said. "I was in my backyard, getting tackled by my son, preparing for a little season coming up. But I'm truly, truly excited. I've been working out for the longest time, so I'm itching to get back out there."
After being on the sidelines for all but two weeks of last season, Hyde took a step back and realized how grateful he is for the opportunity to be in the league.
"Guys are going to continue to go out there and play and they're going plug in bodies to try to go out there and win," Hyde said. "So, I'm just grateful for the opportunity to be back out here. Kids are getting older, so I want them to see me play and remember. So, it's a hell of an opportunity for myself, and for my family."
But the football field isn't the only field Hyde is eager to step foot on in the coming weeks as the third annual Micah Hyde Charity Softball Game is set to return to Sahlen Field on Sunday, May 7.
When Hyde thought of the softball game as a way to do something for Bills Mafia three years ago, the event attracted some attention and sold a couple thousand tickets. Now fast forward to what is close to a sell-out this year after over 12,000 fans packed Sahlen Field last year.
"It's amazing, truly amazing. I can't even put it into words," Hyde said. "I think that every year, Bills Mafia shows their true colors to the players and just around the nation through what they continue to do. I couldn't be a part of the better organization with a group of guys that just like to have fun and want to be a part of the softball game."
He added: "Just kind of eye-opening to me just go in there each and every year and be in front of the fans, signing autographs and stuff like that. It's kind of hard to do that stuff when you're playing on Sundays or Mondays. You kind of focus on the game, but this is kind of stress-free. We're just out there hitting a softball, so not too many guys are too nervous."
Last year's game is one that Hyde and the rest of Buffalo will never forget, and one that represents why he wanted to hold an event like this in the first place.
The tragic mass shooting in Buffalo's East Side occurred the day before the charity game was scheduled to happen. And after discussing whether or not to still hold it, Hyde ultimately decided it was a way to support the community, one that he believes is "one of the best communities in the nation".
"On top of that, we wanted to put smiles on people's faces," Hyde said. "We knew that if we could get fans in front of us for a few hours, that we were going to joke around, have fun, and get people laughing. Not to be erasing the event that happened, but kind of taking people's minds off it."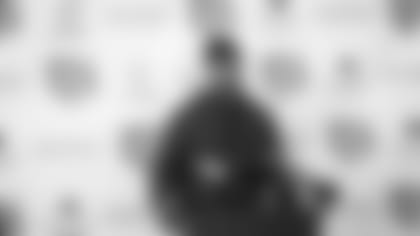 Hyde and his teammates look forward to having fun in front of the fans on the baseball diamond every year, and he feels that it's also a way to strengthen the bond between the players and the community. But there's also a friendly competition between the Bills offense and defense, and Hyde has already made sure to spread the word that the defense is up 2-0 throughout the locker room.
"I just shot a group text out to everybody just a little bit ago reminding them again defense is up 2-0," Hyde said. "Josh has the Home Run Derby all locked for the last two years so guys are trying to take that also. So, it's a bunch of guys out there competing and having fun for a good cause."
New this year, in typical Buffalo fashion, will be a tailgate at 9:00 a.m. to kick off the fun. And possibly new this year is a home run derby champion if someone is able to take the crown away from QB Josh Allen.
"I'm pretty sure this will be the year," Hyde said. "I'm not going to say who, but I'm confident someone's going to step in and take the throne from Josh. Josh is obviously very competitive, he's not going to let that happen. He's probably going to hit a batting cage somewhere knowing him."