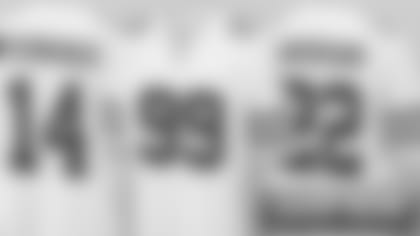 ](http://www.shopthebills.com/Buffalo-Bills-Throwback-Jerseys.aspx?utmsource=buffalobillscom&utmmedium=story&utm_campaign=2012)

BILLS UNVEIL THROWBACK JERSEYS
Nike throwbacks unveiled during PLAY 60 Kickoff Event 
Orchard Park, NY –The Buffalo Bills officially unveiled Nike throwback jerseys during the PLAY 60 Kickoff Event at Kleinhans Music Hall today.  Over 2,000 local elementary school students attended the event which featured a number of Bills Players and personnel. 
The 2012 throwback Nike jerseys are white with red and blue stripes; blue lettering with red outlining. The jersey is modeled after the uniform that the Bills wore during their 1965 AFL Championship season.
The throwback jersey will be worn by Bills players during the December 9th game vs. the St. Louis Rams at Ralph Wilson Stadium. The throwback jersey will be worn in combination with the traditional Bills white helmet featuring the Red Standing Buffalo. The Bills last wore a white throwback jersey during the AFL 50th anniversary season in 2009.
Throwback jerseys, as well as a vast selection of other commemorative throwback items are now available for purchase at The Bills Store at Ralph Wilson Stadium and online here.