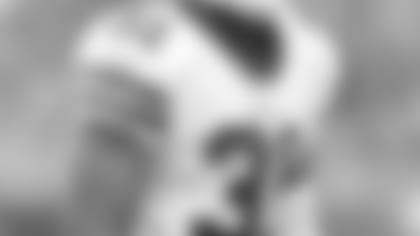 When he caught his fourth interception of the season Sunday, Jairus Byrd also seized the title of most interceptions as a safety since 2009.
Taken from rookie quarterback Mike Glennon early in the second quarter, Byrd's interception could have changed the game if Buffalo's offense capitalized on it.
"Yeah, anytime we make a play, I'm like, 'Let's go. Here we go,'" Byrd said. "But this isn't a business of pointing fingers, we win and we lose together. We just have to find a way to win. We have to make sure everyone is on the same page. That's all we can do."
Although Buffalo fell to Tampa Bay (27-6), Byrd's interception boosted his career total to 22, and 27 total takeaways including fumble recoveries.
With 10 career forced fumbles, the five-year-veteran out of Oregon has proven he knows more than one way to dispossess Bills opponents.
Byrd's new accolade as a defensive back seemed unlikely at the start of the year. The 27-year-old suffered plantar fasciitis through Buffalo's preseason, and it didn't heal up well through the early stages of the regular season as he sat the first five games.
But in his shortened season, Byrd's four interceptions now put him in a tie for the team lead with Kiko Alonso.
He also tied George Saimes for 10th all-time in Bills history (22). He and Alonso, along with several others, are tied for third in the league this year.
When Byrd posts an interception, the team more often than not posts a victory, though that wasn't the case Sunday. Their record in games with a Byrd interception is 10-7.
"We've just got to make plays," Byrd said. "Going back to the last two games, the last two games we were kind of doing that, we didn't have too many plays (Sunday), but I think it's something we've got to be better at."
How to create enough of those plays to turn losses into wins was an answer Byrd and his teammates are still looking for.
"I don't know. That's a good question," he said.
Byrd, however, does make opportunities in the best way he knows how. His interception Sunday with the Buccaneers in field goal range took potential points off the board. He ran for 19 yards on the play. In his career, Byrd's returns on interceptions are at 409 yards.
After Byrd gifted Buffalo with a new set of downs, E.J. Manuel gave it right back, throwing an interception to Johnathan Banks. 
Head coach Doug Marrone said Byrd's consistency in the safety role isn't enough to produce wins, the Bills need consistency all around.
"We need someone to make a play," Marrone said. "I wouldn't say the focus wasn't there, it was, but the problem is when you don't win, one of the things you see is being able to do it and it goes back to that word consistency, down in and down out and being able to forget things and not think about things for the future and win that down at the moment, and I addressed that before the game…win every down."
Byrd has averaged one interception per game over his last four played. If he can keep that pace, there's still a chance for him to lead the league in that category.