There are endless possibilities for the Week 1 starting offensive line but for now we take a closer look at left guard.
The Bills have three newcomers, all veterans, competing for the starting role this summer.
One guy under consideration is free agent signee Spencer Long. Long was hindered last season at center with the Jets due to a hand ligament injury, but his versatility is what head coach Sean McDermott and general manager Brandon Beane liked about him when they signed him at the beginning of the offseason.
Long can back-up Morse at center but has experience at guard. He started 32 games there at Nebraska and 13 games at left guard for Washington in 2015.
"Of course, that's where I originally started," Long said. "When I was in Washington we had a need for center. I started doing both in practice. Once our center went down, I took it from there and never looked back. I definitely feel I can do all three interior positions. I'm willing to do whatever the coaches feel is my role on this team. We'll see how it shakes out."
Long saw a healthy amount of time at the starting left guard spot in the spring practices and is expected to man the spot at the outset of camp.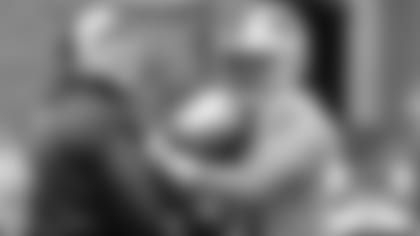 Quinton Spain was one of the latest signings the Bills made in free agency and will now compete for a starting job after finishing up his time in Tennessee. In four seasons, he made 48 starts and appeared in 50 total games. His first career start came against Buffalo.
Spain has been a starter since his rookie season and doesn't want that to end. He went undrafted in 2015 and wants to be the last offensive lineman in the league from that draft class.
"It's going to be a great competition and I just want it like brotherhood," Spain said. "I hope we can get on and I hope I can bring everyone together like I did in Tennessee and have that bond. If you have that bond then you know you can count on that guy beside you."
Spain alternated snaps between right and left guard with the first and second units before thumb surgery at the tail end of OTAs cost him the remainder of the spring practices. He's expected to be ready for the opening of training camp.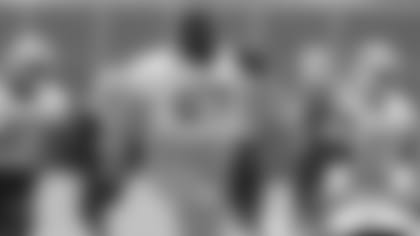 Last up is former Raider Jon Feliciano. Feliciano was mainly a backup but could have an edge due to his familiarity with offensive line coach Bobby Johnson.
Feliciano is known for his nasty on-field demeanor at the line of scrimmage and physical drive blocking style that he's displayed throughout his career. Feliciano has earned praise for his play from past teammates.
"He is a starter. For one, he's always ready, mentally and physically ready. He's grimy — in a good way," said Oakland right guard Gabe Jackson via the Las Vegas Review-Journal. "They're going to get a lot from him."
Feliciano also lined up at center while Mitch Morse was recovering from core muscle surgery. But when not in the pivot, left guard was where he saw most of his reps in the spring.
With both guard spots currently open there's a chance more than one of these players could be starting come Week 1.
"We have a lot of guys who are experienced, have played a lot of football, and it's going to be interesting how it shakes out," he said. "I think it's going to breed a competitive environment. Not only that, but we have a lot of good dudes in here who are going to work the right way. I feel like that's going to elevate all of us."