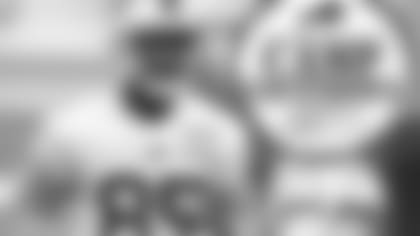 ](http://bufbills.co/campcountdownarticle)

Camp Countdown presented by M&T Bank will examine some of the more pressing issues facing the team on the field as they make their final preparations for the regular season. We also focus on a few different areas that impact the team off the field. We'll address these subjects one at a time until training camp begins. Here now is the latest daily installment as we carefully probe for some of the answers the Buffalo Bills have to come up with between July 30 and the Sept. 13 opener at Ralph Wilson Stadium against Indianapolis. ![](http://bufbills.co/ccarticle300)
It's a position from which the Bills historically have not received much production. As the league has seen the emergence of dynamic, game-changing tight ends over the last decade, Buffalo has had trouble incorporating one into their offense. They've also not had an offensive scheme willing to exploit the talents of a tight end in the same way as other clubs. That approach is changing under offensive coordinator Greg Roman. So what will be some of the bigger changes at the tight end position in 2015?
Heavy on field presence
Last season Bills former TE Scott Chandler was on the field for 71 percent of the snaps on offense. Former blocking TE Lee Smith got 31 percent of the snaps. The might seem like a heavy workload for most clubs, but not for a Greg Roman offense.
In his four seasons as offensive coordinator for San Francisco, number one tight end Vernon Davis got 87 percent of the snaps. His peak was his first season under Roman when he played more than 96 percent of the snaps in the 49ers attack.
Perhaps even more telling was Roman's usage of the second tight end. Whether it was Delanie Walker or Vance McDonald, the second tight end was on the field for more than 52 percent of the snaps over Roman's four seasons as coordinator with the Niners.
Suffice to say that tight ends are a big part of Roman's system. Their pre-snap motion and multiple alignments are a valuable tool in disguising just what will be executed against the opposing defense.
"I like to use what is available," said Roman. "Various places I've been I've had some very good tight end groups. They were good and we used them. That's the thing here. There's a huge opportunity here for those guys. Whoever steps forward to grab that brass ring—if you're a good tight end you can block defensive ends and outside backers and beat safeties in coverage, then there's a lot of different things you can do with that player. The best players are going to play."
And it's likely to be more than just the starting tight end who will find his way onto the field with great frequency.
Multiple roles
At the top of the depth chart at tight end is big money signing Charles Clay, a player that Roman sees as a Swiss army knife.
"I think Charles has shown that he's a very multi-dimensional type player, and he can function at a high level in the run game and in the passing game," said Roman. "He's what we look for, he's a football player and he loves playing the game. He'll probably be doing a lot of things; he'll have a lot on his plate. He'll be studying a lot at night."
Clay has no issues playing multiple roles in Buffalo's scheme having done it before in his career.
"They don't want me coming off the field," Clay said. "They want to use me in a lot of different positions moving around a bit which is something I feel very comfortable doing. Dating back all the way to high school, playing running back and getting to college and playing so many different positions and then going to Miami and playing a lot – it's something I feel very comfortable doing. I can't wait."
Versatility
Roman covets players like Clay who are versatile because it makes his task of keeping an opposing defense guessing that much easier.
"This guy is a hard guy to defend," said head coach Rex Ryan of Clay. "He's real multiple in what you can do with him. So he creates matchup problems. He's too fast for a linebacker and he's too big for a corner to cover. He's a guy who is perfectly suited for what we're looking for in Greg Roman's offense."
Being a former fullback Clay is very comfortable lining up in the backfield, either as a true fullback, a move tight end, an H-back or detached as a receiver. What that versatility does is help shroud Buffalo's play calls with a different formation or alignment making it all the more difficult for opponents to know just what's coming next.
"I'm very excited," said Clay. "I watched him a lot when he was coaching up in San Francisco and what he was able to do with those, not only the tight ends, the offense in general and then I know how creative of a mind he has and just it's so many different things that he can do with a lot of different weapons in this offense.
"I want to be that versatile guy. I want to be that guy that can be in on third and one and run block that can be in a third and long situation where I'll have to pass block or be in on a third and short where I have to beat man-to-man coverage. It's something that I've definitely work towards is being able to do multiple things."
To maximize the value of that versatility it has to be captured in more than just one player. Clay is the bell cow at the tight end position, but finding equally versatile talents will be critical. The tight end that appears to come closest to Clay's skill set is Marqueis Gray, a former quarterback who is just coming into his own in his transition to tight end.
Greg Roman helped him with the beginning of that transition when Gray was in San Francisco's training camp a few years ago. Fast forward to 2015 and Gray could be in the right place at the right time to serve as Clay's primary understudy.
"He's a multi-tasker and I like that," said Roman. "This is an important year for him career-wise. He's smart. He pretty much gets it."
Sixth-round pick Nick O'Leary also flashed in the spring practices and will battle with third-year man Chris Gragg and surprising undrafted rookie Clay Burton for the last couple of spots on the roster.
Whether the Bills keep three tight ends or four will be a question that is determined based on needs at all offensive positions. What is certain is under Roman and the rest of the offensive staff, the tight end role could see the most action and attention it's had in the franchise's history. ![](http://bufbills.co/ccarticle588)