He successfully posted back-to-back 10-sack seasons the past two years, but when one breaks down Jerry Hughes' game there's far more to it than just taking down quarterbacks behind the line of scrimmage. One example came in a Week 13 game against Cleveland. On a third quarter pitch play by the Browns the defensive end forced Terrance West to the sideline and stripped the ball from him as he made the tackle. This, all while being held by Pro Bowl left tackle Joe Thomas, who was flagged on the play. Then he scooped up the loose ball and ran 18 yards to the end zone for a touchdown.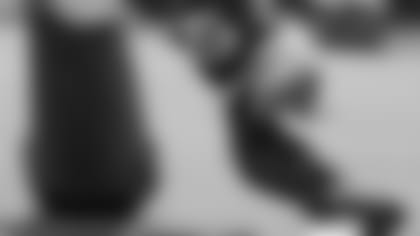 "I was trying to find a way to get to the running back," said Hughes of his game changing play. "Once I saw him, we attacked the ball. That's something we harp on, we go over it in practice every Friday, attacking the ball, raking it, pulling it out, picking it up and scoring. It's really just taking practice and bringing it to the field on Sunday."
For anyone that knows Hughes' commitment to weekly preparation his assessment of the play of the game in the Week 13 win is anything but surprising. The pass rusher's strict personal regimen speaks to his dedication to the routine. When one watches Hughes play however, his performance has been anything but.
On a Thursday late in the 2014 season the time is 1:47 p.m., and the Bills practice has just concluded. There are a handful of players spending some extra time on the practice field to get some details of their game nailed down. Over in the far corner of the field Jerry Hughes is by himself assembling his post-practice set up.
He's dragged the pass rush ring onto the field that measures 10 feet in diameter. Defensive ends typically run around it as the loop accurately represents the route a pass rusher must take to the quarterback. Just inside the ring Hughes is dragging a pair of six and a half foot tackling dummies. The first will serve as an offensive tackle. The second, across the ring from the other, is the quarterback.
Hughes gets in his three-point stance and is off like a shot, dipping his inside shoulder to slide under the offensive tackle, circle half the ring and slap the quarterback from behind. The Bills' pass rusher tries a multitude of rush variations over the course of the next 20 minutes.
He adds extra elements to the self-imposed drill as he goes along. Hughes pulls out the yard markers to mark down and distance. He slides a broom stick through the handles of the tackle dummy so it looks like snowman arms. Then he makes sure to get his full body under the stick without slowing down or breaking stride on his next 10 pass rushes.
Still in full helmet and pads from practice, most of his teammates are already headed to the weight room for their lifting assignments. One gives Jerry a wave from across the field. Hughes raises a tired arm in response. Five minutes later Hughes is finished and returns all of the equipment to its original location.
"Just part of the routine," said Hughes as he made his way to the locker room still trying to catch his breath.
Creature of habit
Growing up in Sugar Land, Texas with a pair of parents that left the house to go to work around the same time he headed off to school, Hughes had an upbringing that had a routine.
"Mom and dad would go to work and I would go to school," said Hughes. "There was a sense of comfort in that routine. I've made sure to have one ever since."
Living in the Houston suburb, Jerry's mother Pam worked as an accountant at Shell Oil. His dad, Jerry Sr. was a quality control manager for a furniture company.
"I was taught to work hard," Hughes said. "My parents were always pushing me."
"I was very stern with him," said Hughes Sr. "The activities that we put him in we told him that you can't quit activities. Once you begin to participate in something you have finish until the term is up. So we just supported him in whatever activity or school project he wanted to be a part of. We got behind him to help him be the best that he could be."
Hughes was big on baseball at an early age and his large hands made him a quality pitcher.
"I was a pitcher and played third base," he said. "I threw hard, but my out pitch was a slider. I had good control because my hands were so big."
Baseball soon dominated the family summers. Playing on select teams in the greater Houston area, Jerry Sr. was driving everywhere to games. By middle school Hughes' father thought if his son had any future in sports it would be in baseball.
"I was pushing baseball because we were spending a lot more time and money in baseball lessons, pitching lessons," said his father. "I thought he'd have more of a future as a pitcher in baseball."
By middle school Hughes was playing football and also running track. The routine of going to practice after school for all three seasons appealed to him.
"He did like the routine," said Hughes Sr. "I would get home from work to be with him after school and make sure he had his homework done or pick him up from practice. He liked coming home from practice, taking a shower, finishing homework and heading off to bed."
If the routine was every altered however, you were going to hear about it from young Jerry.
"When you changed it on him, no matter what it was, he would be the first to say something," said his father. "If we changed up our schedule from what it normally was he'd want to know why we're doing something new. He'd have a lot of questions if everything was working the way it was."
From offense to defense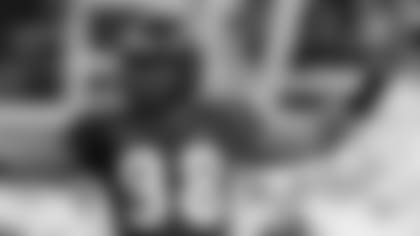 As Jerry made his way through middle school and on to high school football began to take on more importance. Soon baseball became secondary. Hughes wasn't a defensive player in high school. He was a running back, and a pretty good one.
Playing at Austin high school Hughes rushed for 1,412 yards and 19 touchdowns as a senior. He earned First-team All-District 20-5A honors. He was also an accomplished kick returner. Though he was only rated a two-star recruit by Rivals.com, there was a good deal of interest knowing Hughes played at a big school and against some of the top high school talent in the state.
"There were a handful of schools interested," said Hughes. "Iowa State, North Texas, TCU and Arizona State. I picked TCU because I was tired of not winning (in high school) and they had just come off a winning year."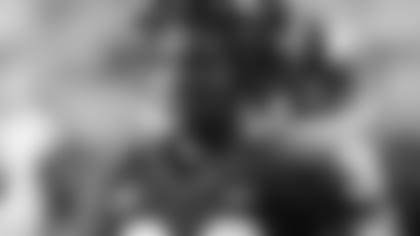 Gary Patterson's Horned Frogs had just finished their second 11-win season in a row and had a convincing Poinsettia Bowl victory. Patterson made a couple of visits to Hughes' home to secure the commitment. Running back however, was not the position that the Horned Frogs coach had in mind for him.
"He had unbelievable explosion," said Patterson. "He was a tailback who I knew could be a linebacker or defensive end and be a really good one because we had turned a lot of running backs into defensive ends. Two plays were all I needed to see."
"Coach Patterson told him they were going to move him to defensive end and Jerry tried to persuade coach Patterson to give him the opportunity to be a running back," said Hughes Sr. "But it was settled that he was going to be a defensive end when he went to TCU.
"The thing that was good about coach Patterson was he came to our home and visited a couple of times was he was straightforward with Jerry. He told us if something happens and Jerry doesn't work out in their program they would make sure that Jerry would get his degree."
Hughes held out hope that he might be given a chance to still play running back, but that hope was fleeting.
"When I was handed jersey number 98 I knew something was up," he said. "At first I was bothered by the thought of playing defense, but my dad said it's a new challenge."
"I remember that conversation," said his father. "It was up in his room and we discussed it because he was going on and on about being a running back. I told him, 'Sometimes in life you have to take a different path and accept the challenge that he's giving you.' You can't go wrong. You're going to get your degree, which is what's most important and now you're going to change positions. Step up to the plate and see if you can do what he wants you to do."
Hughes' freshman season was spent getting used to playing the position and serving on special teams. Everything was new to him and at times it was difficult to adapt. But Hughes had someone who showed him the transition was possible. Fellow defensive end Tommy Blake was also a running back in high school. By his junior season Blake led the Mountain West Conference in tackles for loss and was second in sacks.
Blake helped Hughes build a new routine as a player to perfect the nuances of the game that he needed as a pass rusher.
In his sophomore season Hughes became a rotational player with his best game coming in a win over SMU when he posted eight tackles and his second career sack.
With Blake graduating, Hughes would have the chance to earn the starting role at the vacant position. His defensive line coach, Dick Bumpas, gave Hughes some game tape of a pair of NFL pass rushers that he felt were similar to his skill set and stature.
"My position coach brought it up to me. He gave me some DVDs of (Robert) Mathis and (Dwight) Freeney," said Hughes. "Undersized guys like me who were athletic and could get around the edge."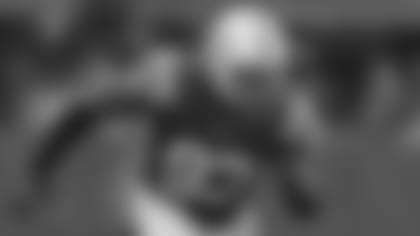 Hughes studied their moves and counter moves heading into his junior season. By season's end Hughes had 15 sacks, 18.5 tackles for loss, six forced fumbles and two interceptions, one of which he returned for a touchdown. Consensus All-Mountain West Conference and All-American honors followed as TCU went 11-2 and again won the Poinsettia Bowl over Boise State. He was also named Mountain West Conference Defensive Player of the Year.
Hughes was seen as the linchpin to TCU's defense, which was ranked number one in the nation. All of the notoriety for their son left his parents breathless.
"At that time we were excited for him because he was getting exposure and they were winning every week and their defense was outstanding," said Hughes Sr. "It was overwhelming to know that your son is doing so well at a position that he hadn't played before. He was up for the challenge."
It wasn't until his senior season that his parents thought the NFL was possible. After being approached by several agents they realized what could unfold following their son's graduation.
Hughes finished his senior season with 11.5 sacks and a career-best 54 tackles and earned every postseason honor he had the year before. And again the Horned Frogs' defense was tops in the country.
NFL waiting game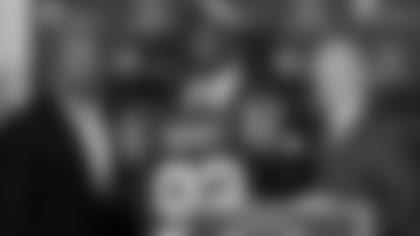 The night of the 2010 NFL draft Hughes chose to spend the evening with his family at his parents' house with neighbors and close friends in attendance. His agent told him first round or early second round was his range.
"That was shocking," said Hughes Sr. "When they told us that he could be a first round pick I was excited for him. To have your first child be a first-round pick in the NFL, that was overwhelming to know that was possible. Then when it happened it was almost too much to comprehend."
Hughes had to wait until the first round was almost over, but Indianapolis called and took him with the 31st pick. He was stunned. The men he had watched rush the passer on DVD as a junior and senior were now his teammates.
"I was blown away when I was drafted by Indianapolis and being on the same roster as Freeney and Mathis," Hughes said.
His wait on draft night would pale in comparison to the one he'd endure on the Colts' roster. Hughes knew he'd not see much of the field on defense as a rookie with Pro Bowl talents in front of him on the depth chart. Come his second year there were again limited opportunities as he made just one start and served on special teams.
Hughes was getting frustrated, feeling the best way to improve as an NFL player was to be on the field on Sundays. Not having that as an option he developed a new approach to try to get the most out of his time on the field during the week.
"I treated practice like a game," he said. "Anytime Mathis or Freeney came out for a rep I was halfway on the field already to step in."
Freeney and Mathis were also good teachers. They could see that Hughes wanted to be a good player in the league.
"They showed me how to prepare for opponents, take care of my body, tips on what to look for from offensive linemen," said Hughes. "Offensive coordinator's tendencies, just little nuances of the game that you need to know."
Come season three he saw a bit more of the field making six starts, but was largely a rotational player.
"At that point he became real quiet," said his father. "He quit discussing it and I would call him to see how he was doing and I would tell him, 'Just wait your turn. Just learn everything that you can from Freeney and Mathis and play special teams. Your time is going to come, so stay patient.' But he was getting impatient. He wanted to get on the field and show people what he could do."
That offseason there was a front office change as Colts owner Robert Irsay parted ways with GM Bill Polian and hired Ryan Grigson. One of their first moves was the announcement that Freeney would not be re-signed in the offseason. Finally Hughes would have an opportunity at a starting role.
Or so he thought. Three weeks later the Colts signed free agent OLB Erik Walden to a contract averaging $4M a season with the promise that he would start opposite Mathis. Convinced new management and new coach Chuck Pagano didn't have a role for him Hughes wasn't sure what the future held.
Six weeks later he had an answer.
Buffalo bound
The news of the trade came as a complete shock. Player-for-player trades aren't all that common in the NFL, especially right after the NFL draft. The Bills and Colts did just that with Buffalo sending Kelvin Sheppard to Indianapolis in exchange for Hughes.
"When the trade happened it was weird," he said. "We had just finished spring ball and my agent called me and filled me in and I didn't know what to make of it. I asked him if I was going to finally play going to Buffalo. He told me you've got to work for your opportunity, but they called and made the trade because they wanted you. When he put it that way it got me excited. My next call was to the Bills offices trying to get my hands on a playbook."
Hughes quickly discovered he had been dropped into one heck of an advantageous situation when it came to the personnel he'd be lining up with on defense. Coming from a similar defensive system in Indianapolis under Pagano, adjusting to Mike Pettine's scheme heading into the 2013 season proved easy.
"Once he started playing it in the preseason he started to get excited and it was clear that he loved it," said Hughes Sr.
Playing a hybrid DE/LB role in Pettine's scheme, Hughes logged 10 sacks and a career-high 56 tackles.
"I was proud of him," said Patterson. "People quit sometimes when things don't go right for them. He kept working hard, and I'm very appreciative of the Buffalo Bills for giving him the opportunity. I always thought he had the potential to play at that level."
"I think it was good for me to be able to produce like that," Hughes said. "After waiting three years there were times where you let doubt creep in about your game, so to come out and have a pretty good season in 2013 was very rewarding."
Now validated as a productive NFL player, Hughes is trying to find parts of his game where he can do more for the team. That's why the extra time is spent after practice.
"Just get better. That's why you put in the work," he said. "If you can make yourself a better player why wouldn't you reach for that?"
In 2014 Hughes became just the fourth player in Bills history to record 20-plus sacks in his first two seasons with the club. One might've thought in a contract year that he was focused on personal stats, but Hughes' goals are different.
"The goal is an AFC East title," said Hughes. "That gets us to the postseason automatically. There's no hoping you get in that way. You win the division and you're in the playoffs."
And a postseason berth for Buffalo in 2015 would make any routine worthwhile.