He was a multi-faceted player in high school, served in multiple capacities in college and now that he's returning to the city where his football career started, Corey Graham's list of roles will be anything but singular.
Graham, who agreed to terms with the Bills on a multi-year pact Wednesday, will continue his professional football career where it all started, in Buffalo. And he'll continue to serve in a dual capacity as a cornerback and as a core special teamer on coordinator Danny Crossman's coverage units.
Set to turn 29-years old this summer, Graham's football career really showed promise while enrolled at Turner Carroll high school. The school unfortunately closed its doors right after he graduated in 2003 due to financial problems and declining enrollment.
Graham was a multi-dimensional threat for the Chargers rolling up 2,700 all-purpose yards as a senior including 1,700 rushing yards along with 22 touchdowns. He also posted 99 tackles in his last scholastic season on defense. All that production led to his third straight All-Catholic selection as well as All-Western New York and All-State honors, which helped lead to his recruitment at the University of New Hampshire for college ball.
Playing for the Wildcats, Graham stepped in right away as a freshman making nine starts at cornerback in 2003 where he recorded three interceptions. He'd compile 12 picks through the course of his college career, including three for touchdowns.
An accomplished kick returner, Graham served in a dual role for New Hampshire in his final two collegiate seasons averaging 27.5 yards a return with a pair of touchdown returns. His kick return exploits are what first drew the attention of NFL scouts playing in the Atlantic 10 conference in what was then Division 1-AA. When he graduated he was the only Wildcat to record touchdowns on an interception, kick and punt return in a career.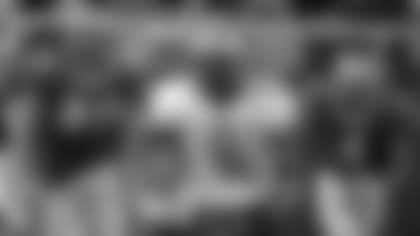 A fractured fibula his senior season, which required surgery, prevented him from participating at the NFL combine, and reportedly hurt his draft stock. His pro day however, was sensational as he was clocked at 4.38 in the 40, had a 39-inch vertical leap and benched 225 pounds 10 times.
It helped convince the Chicago Bears to use a fifth-round pick on Graham, where he served primarily as a reserve cornerback and a special teamer. Graham has played in Buffalo as a pro a few times including just last season with the Baltimore Ravens in Week 4. The veteran cornerback once told the Chicago Tribune what playing in Buffalo would mean to him.
"It's an all-time dream of mine to play back in Buffalo," Graham said. "Just to come back and play in front of my family and people that never got to see me play so far in the NFL, it's a big thing."
Now Graham will be doing that as a member of the team he grew up rooting for.
Graham joins free agent OL Randy Colling as the second Western New York native on the current Bills roster. Colling hails from Arcade, NY.