For Mackenzie Park and Jordan Binggeli, a couple from nearby Rochester, New York, the thought of getting married at one of their favorite places – New Era Field – is something that until a few months ago, they'd never have dreamt possible.
Both diehard fans, the Bills-themed wedding is the perfect next chapter in their love story – one that started with a first date at a Bills game, included routine trips to proudly cheer on their beloved team, and until recently, reached a pinnacle with a proposal at New Era Field.
One of nearly 1,400 couples that applied for the Bills "Halftime Wedding Experience of a Lifetime" contest, presented by Reeds Jenss, just a few months ago, Park and Binggeli still thought it was a long shot for them to win – even after they were notified that they were finalists.
"It's the icing on the cake. It's the touchdown. It's a hail Mary and we scored with no seconds left. We won," said an awestricken Park as she glanced over at her soon to be husband.
Although it undoubtedly seems surreal for "the future Binggelis," they will head to the chapel (50-yard line) and say "I do" this Sunday, Sept. 29 at halftime. The wedding ceremony of the century will feature a star-studded cast of Bills Legends, including longtime fan favorite Kyle Williams, who will officiate the wedding! That's right. Williams, who presided over his sister's wedding a few years ago, will take the stage to give one of his famous game day speeches – albeit this time in a very different capacity.
Defying the odds, the couple now credits fate for the opportunity.
"It was the second day of school at…our community college in Rochester. It was gym class," said Park as she reminisced on the first time she met Binggeli. "I walked in and he still tells me to this day, that he noticed me right away. He sat right behind. I never noticed a thing. We had to get into groups and then he started talking to me and we knew so many [of the same] people and then he found me on Facebook…Then [he] said, 'Hi, I'm Jordan from sports class.' And then we just hit it off from there and just kept talking. Then I just asked him, 'Hey want to go to a Bills game? Then the next night want to go to Fright Fest at Darien Lake?' 'He was like, yeah.' I had just met him, but we had this instant connection. He was so spontaneous."
That game was in 2008, but the way the couple recalls it, it seems like it was yesterday. Bonding over watching Bills wide receiver Lee Evans make his famous helmet catch against the Chargers, and Jordan's uncanny ability to eat peanuts at a notable rate, the two have been inseparable ever since.
After becoming close friends, they were ready to make things "official."
"We were sitting in her driveway, it was like 11:30 at night, maybe midnight, and we had to decide if we wanted our anniversary to be on the 20th or 21st of February," said Binggeli. "And I picked the 21st because I was a big Paul O'Neill fan growing up, a big Yankees guy."
"I comprised. I'm a Red Sox fan but that's what it's like in a relationship," joked Park. "You have to pick your battles and if it's about sports, I'm okay with it."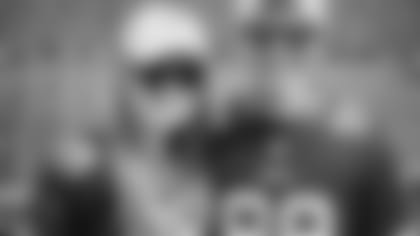 It's safe to say, that it's been about sports for Park and Binggeli ever since. Both Bills fans from childhood, their love for the team is something that they can always agree on and their 17-5 Bills record is one they excitedly share.
For Park, it was her father who brought her to her first Bills game against the Raiders in the late 90s. Just six or seven years old at the time, the visit started a tradition that she will always cherish and carry on in his honor.
"Every chance we got, we would go," she explained. "I think when he died…that's one part of me, that I was like, 'Nope that's what he would want [me to continue doing].' He would take me to training camp every year. He'd throw me the ball. He'd do the accuracy test at the training camp. He'd always throw the ball at me and say, 'Go run a route with me Mackenzie.'
"And then he [Jordan] does that with me and it's kind of funny."
Keeping the ritual of playing catch going each time they attend a game, the couple has also formed a few other tailgate traditions – all of which helped Binggeli on his quest to plan a perfect proposal.
"We have a ritual…We get our little grill…We play catch. We really get into it and we love it...We sit there in our Zubaz…," said Park.
"That's the thing. My engagement, my friend kept asking me the night before, 'Don't you want to wear jeans?' Because she knew this [was happening] …I was like 'No. I don't wear jeans to a Bills game,'" said Park who is quick to dismiss anything outside of her normal game day routine. I need to get into character. I need to wear the Zubaz, the Bills hat. I have to be a part of this."
Reassured by his friends that he was on the right track with his Bills-themed proposal, he put his plan into motion before the Saints game in 2017.
"I had probably two or three ideas before I choose this one," explained Binggeli.
Tossing an unsuspecting Park a football during their tailgate, he waited (nervously) as she read the words written on it in silver sharpie.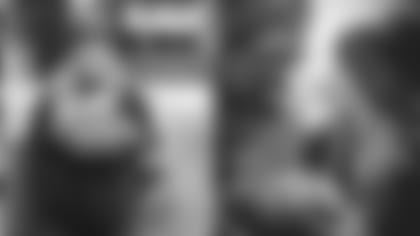 "You intercepted my heart. Let's tackle the world together. Will you marry me?"
Taken aback, Park stood in disbelief for a few seconds – seconds that felt like an eternity for Binggeli as he waited on one knee– before exclaiming, "Yes!"
It was a moment that the two will never forget and one that took on extra meaning for Park. Learning that Binggeli wrote her father a letter, asking for her hand in marriage beforehand, meant the world to her and solidified what she already knew in heart to be true. She'd met her match.
As they prepare to take the next step in their relationship in just a few days, Park finds comfort in knowing this is exactly what her dad would want for her.
"It's really, really nice. I miss my dad terribly and I know this is probably his dream. His baby girl is getting married at the Bills game."
Fans who can't make it to New Era Field to see the magic happen, can still view the wedding ceremony, presented by Reeds Jenss, LIVE on buffalobills.com, Facebook, Twitter, the Bills Mobile app, presented by M&T Bank, and the My One Buffalo app.