This year's Bills defense, under the eye of new defensive coordinator Jim Schwartz, is rife with depth and talent. The starting defensive line, armed with three Pro Bowlers and a double-digit sack edge rusher in the fourth spot leads the unit. But NFL defensive lines must go deeper than a starting four to be dominant for 16 games. Second-year DT Stefan Charles is quickly making his presence felt in an effort to be a part of the line's second wave. Said by some in the Bills organization to be a sleeper this summer, Charles is quickly showing he deserves a place on a formidable defensive front.
Last year at this time Charles was in training camp with the Tennessee Titans trying to earn a roster spot. He landed a job on the team's practice squad, but Buffalo signed him away from Tennessee to their active roster last October after Alex Carrington had been lost for the season to a torn quadriceps. He saw a few series of work here and there over the final eight games of the year with a career-high six tackles and a forced fumble in the season finale at New England.
Charles' broad and thick frame is tailor made for run stuffing inside, something the Bills could use more of in light of their issues with run defense last season. Defensive coordinator Jim Schwartz however, believes there is more to Charles' game. Schwartz believes Charles can move quarterbacks off their spot as well.
"I think it's just a matter of attitude and technique," said Schwartz. "He's very strong, he's hard to block and that can contribute to pass rush also. You don't have to be nifty and quick to be a good pass rusher. You can be a guy who collapses the pocket. We've seen those guys do that before and everybody has a different skill set. The whole idea of coaching is putting those skills sets to the best use."
Over the last handful of practices Charles was rotating in with starting DT Kyle Williams for reps with the other first team defensive players. It's being done in part to save the veteran Pro Bowler's legs for the season while also exposing Charles to starting caliber competition.
"He's doing good," said Williams. "A big physical guy. Can move around well. I think he's working on polishing up some technique issues but he's definitely a talented guy that's going to help us out."
In practice, Charles is one of the easier figures to spot on the field, although most fans probably don't know him. This was made apparent when walking behind him as he left the practice field this past  Sunday. A fan called out "Hey, number 90!" mistaking him for DT Alan Branch who started 13 games for the Bills at the position last year. Charles laughed it off and said "Nah, I'm 96."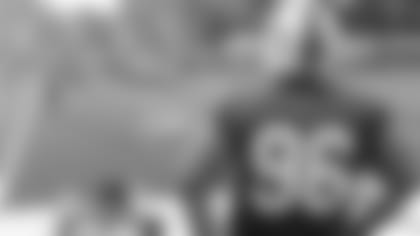 Fan confusion aside, Charles is a 6-foot 5-inch 323-pound block of a man who can be seen tearing into offensive lineman with an uncommon veracity, often taking up two or three linemen in the process.
"That's how we get there," said Charles. "That's how we go."
On the sidelines, Charles is constantly around his coaches or talking with Dareus and going through little hand drills and maneuvers while he waits to get back on the field.
"That's my boy," said Charles of Dareus. "We just talk about getting better, talk about new things we can try when we get out there. Just technique stuff. Things we can try. Little things that work for him then we just do the same thing, feed off each other."
In a Coach Schwartz defense, the object of the front four is to get up field, an objective Charles has shown he can accomplish.
"Not just pass rushing but getting up the field to stop the run is what we're trying to do here," said Charles. "By all means, I could definitely get in that backfield. That's what we want, a party in the backfield."
Although Charles is making a good showing in practice, he still has five weeks to convince Schwartz that he deserves a spot in the defensive rotation.
"It'll be a little bit of a transition for him right now, but how well people are doing is not really dependent on what they're doing in practice," said Schwartz. "We've got five preseason games to see what we can get from a player like Charles."
As preseason practices continue to pass by and Charles continues to make a name for himself among his fellow defenders, the growing attention doesn't distract him from the team's overall goal. "We're a unit so it just feels good to be contributing to anything that our D-line is a part of so, bit by bit, I'm going to play my role just like everybody else is," said Charles. "I'm not really worrying about where I am or what number I am on the depth chart as long as I'm contributing to the team and what we're trying to do here."