It's a topic of debate that always centers around one position. The top 10 picks in every NFL draft are usually most impacted by the quarterback position. It's the most coveted position by every team that doesn't have a bona fide starter. And although the 2019 quarterback class pales in comparison to that of 2018, it doesn't mean the signal callers projected to be at or near the top of the draft board this year will have any lesser effect on how the early picks fall.
So just what will happen in the eight picks that precede Buffalo's selection at nine?
In what appears to be the worst kept secret concerning the 2019 NFL draft, the Arizona Cardinals with the top pick will take Oklahoma QB Kyler Murray with the first overall selection.
"I think they take Murray because it's all about the fit," said ESPN NFL analyst Louis Riddick. "It's also about minimizing risk, especially at the top of the draft. When you're at one and you're an organization that's resetting for the second year in a row and you're picking number one overall, if you're going to draft a quarterback you better draft the guy who you've already said is a perfect fit from a schematic standpoint and a personality standpoint. Kyler Murray is a guy who Kliff Kingsbury has said is someone who he respects. So it all makes sense."
And though Murray going first overall is widely anticipated, it could lead to a domino effect of quarterback jockeying after that for NFL clubs like the New York Giants, Denver, Cincinnati and Washington.
"If Kyler goes one, there's another quarterback in this class and it's Josh Rosen," said ESPN draft analyst Todd McShay. "I keep hearing Washington is the most likely of the teams to make a trade and is the team that is most interested in Josh Rosen. I keep hearing stuff about (Missouri QB Drew) Lock. Giants at six or 17 I keep hearing stuff about Lock. Broncos at 10, Lock. Bengals maybe Lock. Dolphins no quarterback. Redskins gets Rosen. Back to 17 with the Giants, Lock. Where does Haskins go?"
WILL DEFENSIVE LINEMEN DOMINATE THE TOP 10?
The value those teams put on quarterbacks like Lock, Ohio State's Dwayne Haskins and Duke's Daniel Jones could impact the top five if one of those clubs deems it necessary to move up the board. Short of that however, there will be a lot of defensive lineman hearing their names called in the top five.
"When I look at this draft to me it's all about big guys," said NFL Network draft analyst Daniel Jeremiah. "Premier talent and depth at the defensive line position, inside, outside, it's outstanding."
Deemed by most draft analysts to be the top three elite players in the class, Alabama DT Quinnen Williams, Ohio State DE Nick Bosa and Kentucky DE/OLB Josh Allen are all expected to come off the board in the top five.   
Most draftniks have San Francisco taking Bosa to add a top-flight edge player to strong defensive interior.
"You're seeing a guy who is a three-down player, who can combine both power and speed and technique all at the same time," said Riddick of Bosa. "His kind of hand use, there are two or three edge rushers in the NFL who can swipe with hands like he can and turn with leverage and power the way he can on a consistent basis. When it comes to football intelligence and executing a football counter he can do it quickly and get to the quarterback. Add in his competitive character and you've got a total package."
For the Jets at pick three, they need edge rush help, so the prevailing fit would be Allen, but with Quinnen Williams still on the board, he would be difficult to ignore.
"The best player on the board at that point is Quinnen Williams by far," said ESPN draft analyst Mel Kiper. "In this draft the three super elite are Josh Allen, Quinnen Williams and Nick Bosa. Williams is the closest thing to Aaron Donald that you saw in college. He was in the backfield, destroying double teams, pursuing to the sidelines. He's a hard-working kid that hustles. Interior pressure bothers quarterbacks more than anything. If Williams is there for the Jets, I don't think they'd hesitate."
WILL THE RAIDERS BE THE WILD CARD TEAM IN THE TOP 10?
Then comes the unknown at four with the Raiders. Oakland is armed with three first-round draft choices. They need a ton of help on defense and a pass rusher like Josh Allen would be the sensible pick, but sensible and the Raiders haven't been synonymous very often.
"The Raiders at four you just don't know because Jon Gruden is a wild card and he really likes Drew Lock," said McShay. "So what's their plan? Do they try to move Derek Carr, or do they keep Carr because they realize they have so many other needs? They can take Josh Allen and two other really good players later in the round at 24 and 27."
If the Raiders somehow buck conventional wisdom and take a quarterback, it will suddenly have the Giants biting their nails at six.
"If Murray is off the board or any two of the three quarterbacks, then the Bucs are in a good spot and the Giants are getting nervous," said McShay. "They might be calling to move up a spot if they like the third quarterback who is left as well as other teams that might be looking to move up."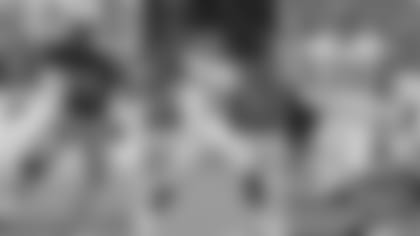 McShay thinks the desperation of the teams in need of a starting quarterback could create a scenario where as many as three QBs coming off the board in the top 10. Mel Kiper however, doesn't think things get that far.
"I'm not believing three quarterbacks in the top 10," Kiper said. "To me that's insanity where these quarterbacks are getting pushed up so far. I can't see the 25th or 30th best player going in the top 10. I can't see Jon Gruden taking Drew Lock when he has Derek Carr. Why would you do that?"
So presuming the Raiders replace Khalil Mack with Allen, the Buccaneers at five have defensive needs, but the premier talent is off the board. Do they look to move back or do they take the best defensive talent left to choose from?
Most draft analysts have LSU LB Devin White going to the Bucs at five, but if the value doesn't match Tampa Bay could look to trade out.
Which brings us to a big decision for the Giants if they covet one of the top quarterback talents left like Haskins. Riddick believes he would be a good fit for New York.
"Schematically it fits," said Riddick. "They do some move-the-pocket stuff. Some deep play-action type stuff of seven step drops. Do they have the necessary people now to run all that with OBJ gone? I don't know. But it fits with the offense Pat (Shurmur) runs. Haskins wants to go to a West Coast type system."
At seven, the general consensus is Jacksonville will rebuild their offensive line and take an offensive tackle to help protect their new quarterback Nick Foles. Florida's Jawaan Taylor is the name that continuously surfaces for the Jaguars in mock drafts.
The Lions at eight were in dire need of a pass rusher until they signed Trey Flowers to giant money in free agency. Do they add another premium talent to their defensive front, or do they go in another direction like tight end?
"I think (Iowa TE) T.J. Hockenson is one of the 10 best players in this draft," said McShay. "I know they haven't had the greatest success drafting tight ends early in Brandon Pettigrew and Eric Ebron, but you don't often find tight ends coming out of college who can block in line and flex him out and can be as successful blocking as they are running routes and creating after the catch. I just think he's one of the most complete players in this draft. If I was drafting for the Lions, Hockenson would be my choice."
WHAT WILL BE AVAILABLE TO THE BILLS?
Which brings us to the Bills at nine.
Many draft analysts have projected either an offensive or defensive lineman to the Bills at pick nine. With the way this draft board has unfolded there are a few intriguing options. Alabama OT Jonah Williams is still on the board as is Washington State's Andre Dillard.
"To me if Dillard is there, who I think is the premier pass protecting left tackle, that would be hard to pass up at that point in time," said NFL draft analyst Daniel Jeremiah. "So that would be one I would definitely have an eye on."
Williams is a prospect who has faced his fair share of scrutiny in the pre-draft process, but there's no denying his consistency in one of the most talented conferences in college football.
"People always look at that Clemson game and Clelin Ferrell beat him up bad and that wasn't the case," said ESPN draft analyst Mel Kiper. "It was one play when he caught Williams off balance. And he went unblocked on another play when Williams pulled. So Jonah Williams more than held his own against Ferrell in that game. He wasn't a liability at tackle at any point in his career. He plays with an attitude. He gives you everything he has and was a real good player for a long time. He's ready to play from an experience and technique standpoint."
An option on the other side of the ball, who has been mocked to Buffalo, is Houston DT Ed Oliver. A player who may not have maximized his skill set because he was asked to play a two-gap nose tackle role in a 3-4 scheme for the Cougars. Most NFL talent evaluators see his ideal role being a three-technique defensive tackle in a 4-3 scheme.
"Ed Oliver is so dynamic and so explosive, and it's frustrating to watch him because they play him a lot head up over the center, and talking to some D-line coaches, when you have an athlete like that, they say, 'Why would you line him up blocked,'" said ESPN draft analyst Todd McShay. "Let him get in a gap and let him get upfield where he can use that quickness and really be disruptive. He'll benefit from a move to that three-technique full time. Park him in there and let him go."
While it's impossible to know how the Bills have some of these prospects graded on their board, GM Brandon Beane and company are confident they'll be able to land an instant impact type player.
"We've got the board stacked," said Beane. "I'm real confident we'll get a good player at nine. And that could happen on either side of the ball."