He's not the only power back in the 2014 draft class, but if you put on game tape of LSU's Jeremy Hill it's hard not to be think he doles out more punishment than he takes. At 6-foot-1 and 233 pounds, Hill is a run game grinder in every possible way. Where he's different is he's got enough athleticism to spin off would be tacklers and make receptions in the passing game.
Hill, who rushed for just over 1,400 yards last season, and averaged almost seven yards a carry improved on his NFL combine numbers this past week. He was clocked at 4.52 and 4.54 on his two 40-yard runs in Baton Rouge Wednesday, both significantly better than his 4.66 in Indianapolis.
He also demonstrated soft hands in catching passes out of the backfield and looked smooth in getting up field after the catch. It was an important facet of his game to put on display after making just 18 receptions in two seasons with the Tigers.
"Hill is a guy when you watch him on tape and his games he's impressive," said ESPN NFL draft analyst Mel Kiper. "His workouts aren't going to wow you from a speed standpoint, but to me he's one of those backs his talent indicates he should be a second-round pick. His performance indicates second round, but he's probably fourth or fifth round based on how backs drop."
Hill also isn't helped by the two arrests he had while at LSU. The first was for a misdemeanor sexual assault charges that forced him to sit out the 2011 season. He was also arrested for battery outside a bar last August. He's reportedly on probation until July 2015.
The LSU back said he was straightforward in explaining the incidents to NFL clubs at the combine in February.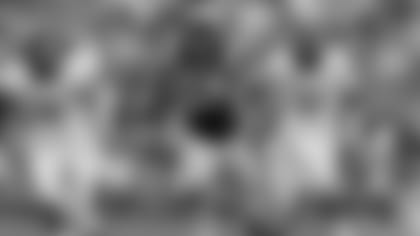 "They've done their homework," said Hill. "They know what's going on. It's up to me to be honest about it and be forthcoming. I let them know everything that happened. I put myself in those situations. I can't really focus on that. All I can do is make the right decisions going forward and put myself in the best position possible."
Knowing the demand for running backs isn't high coupled with his checkered past Hill goes into the 2014 draft with no expectations.
"No one knows. You have to go into draft day being open to anything, even being undrafted," he said. "I'm going into draft day with nothing expected. Just being blessed and honored if any team takes me. I don't have high expectations. I'm just doing everything I'm supposed to do right now and trying to make it as tough as possible for those GMs and coaches (to pass on me)."
Hill had a pre-draft visit with Buffalo last week. Bills head coach Doug Marrone has talked more than once about grinding out the tough yards late in the season when the weather turns in Western New York. In 2013 Marrone was largely true to his word of having a potent rushing attack. Buffalo was first in the league with 546 rushing attempts. They also ranked fifth in the league in rushing. Short yardage however, proved to be a trouble area for the Bills. That was rarely an issue for Hill.
With Fred Jackson and C.J. Spiller both entering the final year of their respective contracts Buffalo does need to begin grooming younger players at the position.
By no means is Hill a finished product. He will bounce a few too many runs outside at times and isn't as effective as an east-west runner. He's susceptible to running high instead of low behind his pads, but for a big man he has quick feet especially in tight spaces and possesses an effective jump cut to elude traffic. Hill is also a willing pass protector.
With low miles on his tires and just 21-years of age, Hill has upside to his game. His off field baggage must be investigated fully, but a team could roll the dice on the LSU product in the fourth round.
"All I can do is just tell them what happened and why it happened," said Hill. "After that, there's really not much you can do about it or they can do about it either, just move forward. They're going to accept it and like it, or feel like they can't move forward with it. It's out of my hands at that point. All I can do is give them all the information they need. Hopefully they like me and hopefully they can move forward with me."