Looking at Joel Bitonio he doesn't pass the eyeball test for an NFL offensive tackle. With arms that don't quite stretch to 34 inches and an ice box shaped frame a good number of league scouts believe the best place for this successful college offensive tackle in the NFL is at guard. But after a solid showing at the Senior Bowl at a host of positions including tackle NFL clubs are pretty split on where Bitonio can fit on an NFL offensive line.
"Probably 50-50," said Bitonio of the feedback he's gotten from league talent evaluators on where they see him lining up in the NFL. "Some teams think they're going to give me a shot at tackle and see what happens. Other teams said
they thought I was a guard, some have even said center, so it's been all over the board."
Bitonio (6-4, 315) opened some eyes at the Senior Bowl this past January. He lined up at tackle, guard and some center despite never playing on the interior before. By most accounts he fared well, which is important as ESPN NFL draft analyst Mel Kiper sees it.
"Joel Bitonio from Nevada he can play tackle or guard," Kiper said. "Arm length is borderline for tackle, strength you'd like to see improve a little bit, but Bitonio is a guy that has improved his stock."
The Wolfpack lineman has been shuffled between both the left and right tackle positions since his sophomore season at Nevada.
"I played one season at right tackle and one season at left tackle and my sophomore year we switched sides during games so I played right and left tackle, so pretty much tackle my whole career," he said. "But I think I've shown teams I can play both. There might be a bit of learning curve, but it shouldn't be too much trouble."
Bitonio's on field demeanor has been described as feisty and relentless, two traits he attributes to his late father, who passed tragically at age 45 of a massive heart attack during Bitonio's freshman year at Nevada. The late Mike Bitonio was an MMA fighter.
"I would say my strengths are my tenacity and finish," said Bitonio. "I play to the whistle every play and I try to finish guys every play."
He's also held his own against some top flight pass rushing talent in his draft class including UCLA's Anthony Barr, who he held without a sack and to just five tackles.
"He's a good athlete and moved around well and he changes up his moves pretty well when he's rushing," said Bitonio. "He's got a good motor when he's playing. He's long and athletic and plays hard."
If a team takes Bitonio as a tackle he'll likely be a second round pick. A team more inclined to play him at guard might wait until round three. Either way NFL Network draft analyst Mike Mayock sees a day one starter.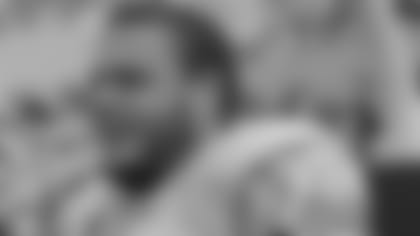 "Joel Bitonio from Nevada, he's going to be a second or third round tackle that starts immediately," Mayock said.
Bitonio is fully aware that his versatility will likely help him come May.
"They want guys who can play multiple positions because they only dress seven for a game so they want guys who can play multiple positions," said Bitonio. "If you have the experience at tackle and someone goes down and you're playing guard, you can bump out to tackle for a few plays. They're looking for good O-linemen mostly and if you're a tackle that's going to play inside that's okay."