On April 26th, 2018, the Edmunds family set a precedent in NFL football history that may never be repeated. For the first time ever two brothers, Tremaine and Terrell, were not only selected in the same NFL draft, but both were taken in round one. Tremaine went 16th to the Bills while Terrell went 28th to the Steelers.
"To make history with two brothers taken in the first round of the same draft, it was a really special day for Virginia Tech and the Edmunds family, and it could not have happened to a better group of people," said Hokies head coach Justin Fuente. "I mean, just from the grandparents on down, just first class all the way. We were really honored to be there and be in the moment with them. It's pretty special."
As special as the moment was that night, those who have yet to lay eyes on Tremaine Edmunds on a football field, reading plays, running and making hits might have a new definition for the word special very soon.
A head taller than almost everyone in the Bills huddle, with arms that seem to go on for days and a 4.54 40 time at 250 pounds, Edmunds certainly has the physical package. What's coupled with that however, is a mature understanding of responsibility, respect and what it takes to be great.
"Tremaine is a freak. The first day I met him, he's like 6-5 and I'm looking up at him," said veteran LB Lorenzo Alexander. "But he's very intelligent and smart. He's very mature for his age. The legacy of his father and his brothers being around this game, he understands it and gets it and really cares."
"He's got that dog mentality. He's going to go out there and compete every play. He's not the type of guy who likes to lose. That runs in our family. Nobody likes to lose and he's going to go out there and compete every play." Terrell Edmunds, one of Tremaine's older brothers and a first round pick of the Pittsburgh Steelers
Tremaine's father, Ferrell, was Tremaine's head coach at Dan River High School in Virginia. One of Ferrell's assistant coaches at Dan River high school told the head coach and his wife, Cookie, early on that Tremaine would prove to be the most prolific player of the three brothers.
Their college coach certainly never wanted to play favorites, but he does confirm that Tremaine has a very rare physical skill set with a mental acuity to match.
"He's long and he can run and he's quick," said Fuente. "So, when he gets that first step, he can cover a lot of ground, and he did it for us for a couple years and really just kept getting better almost day by day, week by week. He became more and more of a dominant player for us, and I see the same progression at the next level."
Tremaine's older brother likely wouldn't give him the satisfaction of admitting he is the supreme athlete of the three, but they completely respect the way the linebacker plays between the lines.
"He's got that dog mentality. He's going to go out there and compete every play," said Terrell. "He's not the type of guy who likes to lose. That runs in our family. Nobody likes to lose and he's going to go out there and compete every play."
The lessons in the home started early for the Edmunds boys. Their parents Ferrell and Felecia, nicknamed Cookie, were demanding and made sure all three understood what was important in their household.
"We had the responsibility to keep our grades up," said Terrell. "I remember that distinctly. If you got a 'C' in any subject you couldn't play any sports. My parents would tell our coach they were getting pulled out of practice and wouldn't play in games if there was a bad grade. That's just what our parents held us to."
"We're talking about family that goes to church, eats their vegetables, works, is on time, is respectful of everyone," said Fuente. "Just a great family."
"Since we were toddlers, our parents instilled in us different traits and characteristics. Things like responsibility, respect, love, honesty all of those things," said Trey, a second-year running back with New Orleans. "Our parents made sure we understood those things at a young age because as we got older we were going to experience life on your own.
"As you get older it's harder for parents to be hands-on as much. So at a young age they instilled that in us and by the time we got to college we were able to make the decision ourselves."
Although their father, Ferrell, a two-time Pro Bowl tight end in the NFL and a seven-year veteran, was their high school coach at Dan River in Virginia, Mrs. Edmunds proved to be the tougher coach in addition to being the stricter parent.
"My wife ran track in college at Southern Illinois and coached my boys in track," said Ferrell of his wife, who was a three-time conference champion as a sprinter and hurdler. "She worked them harder than I did. She not only trained them, she had them on a diet. She had them doing sprints to increase their stride length. Sprinters have to open up their stride and lean. She worked on the details with them."
The Edmunds also made sure their three sons knew how fortunate they were to grow up in the household they did, where they had two nurturing and supportive parents. Ferrell and Cookie made a habit of taking foster children into their home and making them part of the family. There have been more than 20 in all.
"They still do it today," said Trey Edmunds. "We still take in foster kids. I think it's a beautiful thing. My parents have been blessed to raise three young men. I think we're doing pretty good for ourselves and no trouble or anything like that. My parents are wonderful people and role models and they're model citizens. They saw fit to help other peoples' children. 
"Being in the household with those other children it just made me view life differently. We treat those foster kids in our home now, those three boys we have now, just like our brothers. 
"We have fun with them. We talk with them. They get disciplined just like us. They've got to follow the same rules as us. I appreciate my parents because they don't have to do that."
"It just taught us to pretty much give back," said Terrell. "Everyone is not in the same position. You want to be able to look out for people the best way you can. It taught you to look at things with a different perspective. Anybody can be put in that situation. It's not just because of something that happened out of the blue. Anybody could be in that situation at any time."
That's why their head coach at Virginia Tech can see the Edmunds brothers excelling more than just on the playing field.
"When you're around Ferrell and his wife, Cookie, you realize very quickly (the boys) grew up in a very structured, disciplined environment," Fuente said. "They gave them the tools to go and succeed in life. They prepared their children for the road, and those kids are walking down that road right now. There's not a doubt in my mind they're going to be successful."
As prepared as the Edmunds brothers appear to be in leading successful lives, their preparation for the game may have gone even a step further. 
With all three taught to watch film the way the pros do by their NFL father, there's an accelerated football IQ residing in the brain of the three prodigies. 
Tremaine was the most ardent student of the game among the three brothers. He'd spend the most time watching film, and typically would ask the most questions of his father. It's made the 20-year old wise beyond his years with the nuances of the game.
"I know my approach is to be a professional, because that's what I am now," Edmunds told Buffalobills.com. "All my life I've been doing that so that's just carried on to now. People are really starting to see it now. The coaches I've had before have seen it for themselves. You can't look at me and tell how old I am if you have a conversation with me. I just control what I can and try to learn and approach it like a professional."
That's why his brothers see no problem in Tremaine stepping in as a rookie to run Buffalo's defense from the middle linebacker position.
"At a young age my parents prepared us for pretty much anything," said Trey. "As we got older, my father and mother drilled into us that just be ready for the opportunity. You never know what opportunity could come. No matter what you face, whether it's being young, small or not as fast - whatever the obstacle might be, just be ready so when your name is called you can go out there and perform.
"People see Tremaine as a 20-year old, but I just see him as a football player. I think that's how he's preparing and he's going to go out there and learn as much as he can and be ready to do whatever the coach asks him to do."
All indications from Buffalo's coaching staff to this point have been very positive.
"It's a challenge coming in as a rookie for sure, and then being a middle linebacker to lead, you're in a leadership role. You're calling the defense. You're setting the front. You're doing a lot of things that are required to lead an entire group, and that's asking a lot of a rookie. Up to this point, he's handled it extremely well," said defensive coordinator Leslie Frazier, who compared Edmunds learning curve to that of Tre'Davious White. "I don't really see any indication that that won't continue. He'll just continue to progress as he goes along and we'll just continue to put a little bit more on his plate as he goes."
"He's been fantastic," said Jerry Hughes of Edmunds at the close of minicamp. "He takes command of the huddle, doesn't really have the deer in the headlights look where you know, this is really too much or overwhelming. You can kind of see him really at ease out there. Kind of just taking that leadership role in stride.
"For someone so young, I know he's 20-years-old, but he doesn't really show his age. I catch him in the breakfast hall, you know he has his notecards, he's going over plays. He's a real, true pro. I love to see that in a young guy coming in."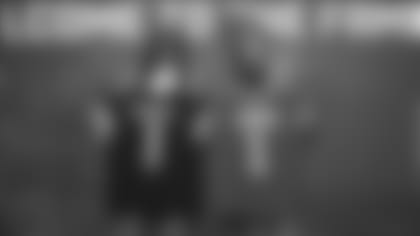 Having been teammates for most of their football lives, it will be strange that all three will be carrying out their professional careers in different cities.
The three brothers do their best to stay in touch every week and believe it or not the main subject isn't always football.
"We always talk," said Tremaine. "During the week it's kind of tough because we all have different schedules. The days are kind of long, but we're always talking to each other and trying to keep that communication going. Sometimes it's about football. Sometimes it's about life. Just to keep that brotherly relationship.
"We're that close where we can talk to each other about anything, just like brothers should. So when we want to take our mind off football and just have somebody to talk to we can rely on each other for that."
They've also taken a look at one another's game schedules to see where the bye week falls for each. Plans to see the brother who is playing when one of the others is on a bye are already in motion.
"If there's an opportunity or a free day I'll definitely visit them," said Trey, a running back for the Saints, knowing Terrell and Tremaine are just a three-hour car ride apart being in Pittsburgh and Buffalo. "If there's a chance I can shoot up there, I'm on it."
Though Ferrell and Cookie Edmunds are certainly proud of their three sons, the reminders are still provided.
"Every day you take on a different challenge," said Ferrell of his message to his boys. "Don't allow your success to go to your head. Improve your craft every day. Find something that you can work on to make yourself better. Every day get better. It's just like life, every day allow yourself to get better as a man. Get better as a teammate."
Being teammates is what the Edmunds boys have been to each other all their life. That part will just come naturally.