Five interceptions usually seals a game with ease for the team that records those takeaways, but somehow the defending Super Bowl champions had a chance to tie the game or take the lead with just over a minute remaining. Buffalo had turnovers of their own so it took Joe Flacco's fifth interception with 57 seconds remaining, and the second of the day by Kiko Alonso, to nail down a hard-fought 23-20 Bills victory over Baltimore.
"I'm proud of this team, here we are after the first quarter and we're 2-2," said head coach Doug Marrone. "We've had a lot of adversity throughout every part of the program. Whether it be injuries, whether it be schematics, the coaching, trying to get people in the right spot. With the players communication is a big challenge. We're playing with a lot of players that haven't been together for a long period of time. I give a lot of credit to the players and I give a lot of credit to the coaches." It marked the first time the Bills beat a defending Super Bowl champion since Buffalo beat the Dallas Cowboys 10-7 in the 1996 season.
WATCH FULL REPLAYS OF NFL GAMES Without their top three cornerbacks out with injuries, the Bills got three of the five interceptions from their secondary with Aaron Williams posting a pair and Jim Leonhard nabbing the other. It was a big rebound performance from a secondary that was victimized for long touchdowns a week ago.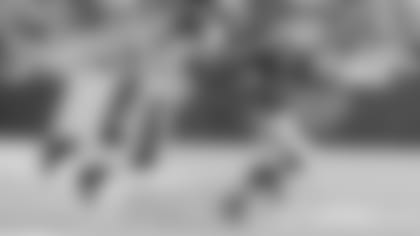 ](http://www.buffalobills.com/media-center/photo-gallery/Ravens-vs-Bills/09ee80a2-54ee-4e66-bcce-bc151112be0e)"Obviously, we've had our share of adversity in that room," said Leonhard. "We've proven over four week s  that we have a room full of guys on the back end who will fight week in and week out, whatever happens, whether we're giving up big plays or making them.  We've proven that we have a group that's going to go out and fight for 60-minutes."
The four takeaways, prior to the last interception by the Buffalo defense, led to 13 points for the Bills. They carried a nine-point lead midway through the fourth quarter (23-14) after Alonso's first interception led to a Buffalo field goal near the end of the third quarter.
"The first one, that was just a gift," said Alonso. "I'm not going to lie. I'm out there just running around, and luckily I'm at the right place at the right time."
EJ Manuel however, was picked off on a deep pass attempt intended for Robert Woods at the Baltimore nine. A 74-yard pass play from Flacco to Torrey Smith put the Ravens in scoring territory, but Brandon Burton turned away an attempted touchdown pass to Smith from Flacco three plays later to force Baltimore to take a 35-yard field goal from Justin Tucker. That made it a one score game (23-17) with seven minutes remaining.
After the Bills offense went three-and-out on the ensuing series, the Ravens again went deep with the long ball as Flacco completed a 33-yard pass to Deonte Thompson, which was accompanied by a questionable personal foul call on Jim Leonhard. It set Baltimore up at the Bills 11-yard line. But Mario Williams sacked Flacco on first down, and on 3rd-and-5 at the Buffalo six, Da'Norris Searcy knocked away a pass to the end zone intended for Ray Rice.
It led to a 24-yard field goal by Tucker with four minutes remaining (23-20) to pull Baltimore to within three.
Buffalo's offense could not successfully run clock as they went three-and-out. The series was compromised by a fumble on a read option keeper by EJ Manuel that fortunately was recovered by Stevie Johnson.
With 2:20 left Baltimore began their drive at their own 37. Marcell Dareus looked to put the drive in dire straits with a sack of Flacco on first down to set up a 2nd-and-18. An incomplete pass by Flacco brought up 3rd-and-18, which the Ravens converted with a 21-yard completion to Torrey Smith at midfield.
But on 3rd-and-8 at the Bills 48, Flacco's pass over the middle was picked off by Alonso at Buffalo 36. Buffalo's offense was able to kill the remaining time on the clock for the victory.
The Bills were bound and determined to re-establish their fifth-ranked rushing attack after a down performance in Week 3. Buffalo made their intentions known at the outset with frequent one tight end and two back sets. Their first three plays from scrimmage were runs with C.J. Spiller gaining 18 yards.
Though the drive stalled forcing Buffalo to take a 27-yard field goal, the offensive line was making holes and Spiller was gaining positive yardage on the 11-play scoring drive.
"Our game plan was to come into this game running the ball, a lot of double tight ends and fullback," said Robert Woods. "Just to play a powerful football, play physical with a physical team, I think we did that, did great on the ground."
Both Spiller and Fred Jackson were nicked up during the course of the game, but both gutted it mixing and matching carries to combine for 164 rushing yards and a score. Marrone says both players will be fine for Thursday night's game in Cleveland.
Aaron Williams, who also had a pair of interceptions, gave the offense a short field when he jumped a route on a pass intended for Tandon Doss at the Baltimore 27 on the ensuing series midway through the first quarter. The drive again ended with a short field goal from Dan Carpenter for 6-0 lead with three minutes left in the quarter. Those were the first points scored by Buffalo in the first quarter all season.
With Leodis McKelvin's availability in doubt this week, Marrone and his staff committed to Aaron Williams playing corner this week full time in preparation for the game.
"We said, 'Let's settle in Aaron right away because they are two different positions,'" Marrone said. "We settled him right away and made a commitment saying we're going to put him at corner and then we'll take care of the safety positions. Rather than have Aaron thinking well if Leodis can go maybe we'll put you back there or something like that. That was the decision we made during the week and I think he played very, very well."
Williams finished with a pair of interceptions, two tackles and four pass breakups Sunday.
Buffalo's offense however, gave Baltimore a prime opportunity to move ahead on the scoreboard and the Ravens made quick work of it. After EJ Manuel was sacked and fumbled on his own 27, Baltimore needed just three plays before Joe Flacco hit Marlon Brown for a 10-yard touchdown on a post pattern to make it 7-6, Ravens.
Following an exchange of possessions, Buffalo again went to the ground. C.J. Spiller carried twice in a row for a total of 14 yards and a first down. Fred Jackson came on and ran on the next two plays for another 14. It set up 1st-and-10 at the Baltimore 42.
With the run game success it pulled one of the Ravens' safeties up closer to the line of scrimmage. That allowed Robert Woods to work essentially one-on-one. Woods beat his defender on a deep post pattern and Manuel hit him in stride for a 42-yard scoring strike (13-7) with 8:45 left in the half.
"When the run game works the safeties and linebackers are going to try to scoot up a little more trying to be more aggressive to stop the run at the point of attack," said Manuel. "I made a great play action fake with the running back, Woody did a great job with his route, like a corner post and was wide open down the field. It was a good play."
On the next series a Jim Leonhard interception on a Flacco pass intended for Ed Dickson over the middle at the Baltimore 28 provided yet another scoring opportunity for Buffalo.
With prime field position, Fred Jackson burst up the middle for a 16-yard touchdown run to cap a four-play drive. It was the first rushing touchdown scored against the Ravens this season and sent Buffalo to the locker room with a 13-point advantage (20-7).
"Another great job by the offensive line to open up the gap for Fred," said Manuel. "He went in and broke a couple of tackles and did a great job getting into the end zone."
With the win the Bills even their record at 2-2 on the season. They have a quick turnaround as they travel to Cleveland for a Thursday night game with the Browns at 8:20 pm.
Notes:Manuel finished the game 10-22 passing for 167 yards a touchdown and two interceptions.
Buffalo rushed for 203 yards in the game averaging 3.7 per carry against the league's fourth-ranked run defense.
The Bills did not allow a single rushing first down tying a team record. Baltimore did provide some assistance calling 31 straight pass plays in the second half and calling just two run plays over the final two quarters.
Buffalo's defense also held Baltimore to just 3-16 on third down conversions (19%).