As usual, the NFL Combine news will be dominated by numbers this year. 40-yard dash times, bench press totals, times in the three cone drill, high jump, etc., etc.
And there's one draft prospect who seems uniquely qualified to deal with the rush of numbers at the combine.
Williamsville native John Urschel is one of the top ranked offensive guards in Indianapolis this week. And he's also one of the top student-athletes in the country.
Urschel got an undergraduate degree in math from Penn State in three years, and put up a 4.0 grade point average while doing it. He stayed at Penn State for a fifth year, picking up one Master's degree in math and is on his way to a second Masters. Somehow, the Canisius High School (Buffalo) product also managed to teach the last few years at Penn State. He taught Geometry and Trigonometry last spring and Vector Calculus last fall.
Urschel says his love of football is almost matched by his love of mathematics.
"I love the beauty of it," he said Wednesday night, in an appearance on The John Murphy Show from the NFL Combine in Indianapolis. "It's very elegant when you look at abstract theory, you look at proofs. I love that there's an explanation behind everything. That's something I really appreciate about math."
Urschel was asked whether his superior background in math has any application at all to his outstanding performance on the football field.
"I wouldn't say math helps directly," he replied, "but I'd say having a strong set of quantitative skills certainly helps you as an offensive lineman where you need to remember all your plays, remember the snap count. You need to make adjustments at the line depending on what the defense shows you. Make adjustments after the snap in real time. Offensive line play takes some serious intelligence."
He's got it. And he had it throughout his four years at Canisius High School in Buffalo. Urschel was named Mr. Canisius at the end of his four years in High School.
"That's still a big deal for me," he told host John Murphy. "I've picked up some hardware in the meantime, but that ranks as high as anything else I have, that means the world to me. It's voted on by teachers and students at Canisius, who decided that I epitomized what Canisius represents, being a man for others. That's what I try to do in my daily life."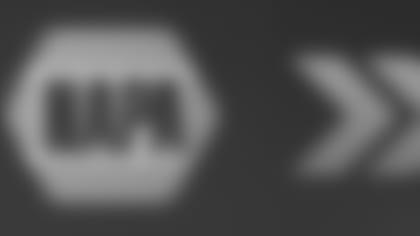 ](http://www.buffalobills.com/news/combine-2014.html)There's no shortage of hardware on John Urschel's mantle. At the end of last fall, he won the William V. Campbell Trophy as the nation's premier college football Scholar-Athlete. He's also a two-time Capital One/CoSIDA Academic All American.
But Urschel is a football player also. He was on the Outland Trophy and Lombardi Trophy watch lists before his senior season for the Nittany Lions. Ourlad's Scouting Service ranks him as the sixth best guard in this May's draft.
As you might expect, he has keen insight into his strengths headed into this week's combine in Indianapolis. "I'd say my strengths are my explosiveness," he says. "I'm a good run blocker."
Urschel spent the last seven weeks in San Diego at the Athletes Performance Camp getting ready for this week's combine. And he goes into the week with a no-nonsense approach--he's a man looking for a job.
"That's all this really is, a job interview. And it's an important one. I want to come out here and impress."
Urschel and the rest of the offensive linemen were weighed and measured Thursday morning at the Combine. They'll do some weight lifting Friday and hit the field at Lucas Oil Stadium on Saturday for on field testing. And throughout the week, the players will spend evenings in the meeting room with coaches and scouts in 15-minute sessions, answering questions about themselves and their approach to pro football.
With John Urschel's strong academic background and opportunities outside the game, he expects he'll be asked how important success in the NFL is for him.
"That's a reasonable question to ask me," he says, "not knowing me, not knowing what I'm like. Not having met me, that's a question I would ask. I have no doubt that when scouts meet me when coaches meet me, they'll see immediately how much I love football. I think it will be immediately obvious to them where my priorities lie."
Buffalobills.com **Combine coverage** is presented by NAPA Auto Parts.  Visit your local NAPA Auto Parts store for NAPA Know How and all your car care needs.