Several Bills players will have a meaningful opportunity to showcase their talents when Buffalo takes on Pittsburgh in their second preseason game on Saturday night. One player who wants to shine under the bright lights is defensive end Kingsley Jonathan. With almost 20 defensive linemen currently on the roster, Saturday marks an important day for Jonathan to prove why he deserves a spot on the team's 53-man roster.
Even though he's a younger player, the 25-year-old defensive end is no stranger to the Bills as he went through offseason programming with the team last season and joined their practice squad in November. Jonathan was active for the first time with the Bills during Week 16 when they played Chicago and he recorded one tackle for loss in the game.
That one hit was full of meaning as it represented all the sacrifices Jonathan has made to play at the highest level. For Jonathan, that tackle is also just the beginning of what he wants to do in a Bills uniform.
"The more opportunities you get and the more you put good film together, the more your confidence goes up," Jonathan said as he's starting to feel more comfortable in Buffalo's defense.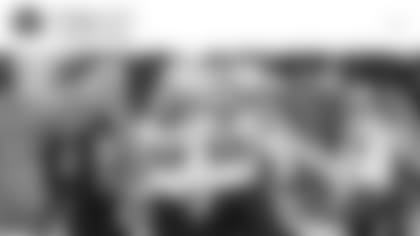 THE JOURNEY FROM NIGERIA TO THE UNITED STATES
The journey he's been on to make it to his second NFL training camp is one many wouldn't believe. His story could be viewed as one that's full of hardship and heartache, but Jonathan likes to focus on the positives in it all.
Jonathan's story starts in Lagos, Nigeria which is where the defensive end spent the first 16 years of his life. 
While Jonathan never expected to end up more than 5,500 miles away from home in Western New York, he was elated to find teammates who treat him as a brother.
"Some things I miss are Nigerian food and family," Jonathan said thinking about home. "But Buffalo has embraced me as family, so being around the team makes it feel like a family atmosphere."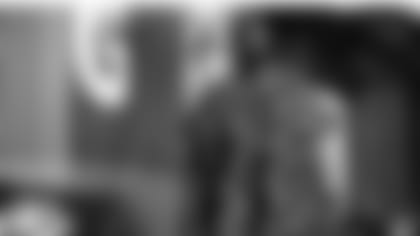 What brought him to the states wasn't the Bills or a love of football. Jonathan moved to the United States with a dream to make it to the NBA.
"I came to the United States so I could play in high school for a bit, play college and make the NBA," Jonathan said. "That was my goal."
Basketball was his first love. Growing up in a country full of corruption, basketball was Jonathan's haven.
"We played basketball every day," Jonathan shared. "Me and my brother always competed. We would play until like 11 or 12 at night until our parents called us in for the night."
His parents saw his passion for the sport and wanted to help turn his dreams into a reality, so they saved up enough money to send their son to America. A brave 16-year-old packed up his life in Nigeria and settled in North Carolina with plans to attend high school and join a team.
Those plans fell through quickly because Jonathan wasn't able to play basketball at the school he had hoped to.
His host family also turned out to be the opposite of what he and his family imagined. The people that took him in were alleged to be part of a human trafficking scheme, which was investigated by the FBI.
Jonathan quickly realized he was alone in a new country and had few people to lean on.
"It was just me out there because nobody is going to pat me on the back, nobody's going to pick me up," Jonathan said when it looked like there wasn't much hope. "I have to do this by myself. I have to pull myself up and pat myself on my back. I gotta keep going and can't quit."
Something that kept Jonathan motivated during that time was his family in Nigeria.
"Just thinking about my parents, siblings and the sacrifices they made to get me here," Jonathan said. "Thinking about being the breadwinner of the family, being able to provide for them."
After watching what his parents did financially to help him achieve his dreams, Jonathan wanted to return the favor but wasn't sure where to turn to next.
FOOTBALL LEADS TO FAMILY
Not long after, a piece of hope came into Jonathan's life in the form of a new sport – football.
"Some coaches at my high school talked to me and invited me to come out and try out, so I got out there and they just told me to run around and just look for the ball and hit somebody," Jonathan said of his coaches at Eastern Alamance High School. "It was fun. Just being out there, running around and hitting people has always been fun."
Football didn't just bring joy into Jonathan's life, it also brought friends. And with that, came more hope.
One day, Tim, a friend from football heard about Jonathan's living situation and knew it wasn't similar to his home life. So, Tim wanted his parents to meet Jonathan in hopes that they would help.
"I went to his house to visit him, and they heard my story," Jonathan said. "They wanted to take me in, adopt me and have me be a part of the family…they wanted to get me out of the situation I was in and take me in. They didn't just look away or turn their heads."
Jonathan couldn't believe the sheer kindness that the Grate family showed him on that day.
"It was they either take me in or nobody was going to take me in, so I would be sent back to Nigeria," Jonathan explained. "They took me in and really changed the course of my life. I feel blessed that I have them in my life and they took care of me like one of their own kids."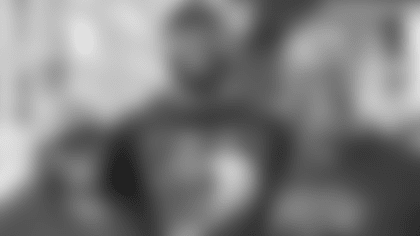 FROM HOOP DREAMS TO NFL DREAMS
A foreign land started to feel not so foreign anymore as Jonathan felt that he was in a loving and safe home. Now, he could focus on a new dream — giving it all he had on the gridiron.
"Ever since I started running around out there, I always really loved being involved in it," Jonathan shared. "And at that point, I just dove more into it by just breaking everything down and learning it from the bottom up."
To grow in the game of football, Jonathan moved to Baltimore, MD and spent his senior season playing for St. Frances Academy.
"When I got to Maryland at St. Frances, we had Coach Messay and he talked to me about my game," Jonathan said. "He was like, 'Man, you got a shot to be able to play in college and in the next level.'"
Jonathan played outside linebacker that year because they had too many defensive ends. It didn't matter where he played because the senior took his game to the next level with 17 sacks.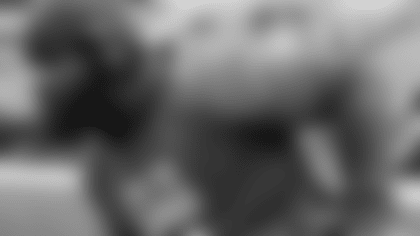 What set him apart from others was his size and speed. And because of that, Division I colleges started calling.
"I had some family in Syracuse, and he invited me to come up to check it out," Jonathan said of going on the visit. "And I just went up there and really, really liked it. I just bought into what Coach Dino Babers was talking about. I committed on my visit there.
"People ask me why Syracuse, I'm like why not Syracuse. I went up there and fell in love with facilities, the campus, coaches, ideology, and everything."
The 6'4 kid from Nigeria who had played just two years of football in his life was heading to a Division I school. At first, Jonathan taken back by how important his accomplishment was.
"I didn't understand how big it was going in because I hadn't been in the United States long enough to understand being able to play college football and everything," Jonathan shared. "My second year there, I started to understand that not everybody gets to do this and reminded myself how blessed I was to be in that position."
Jonathan did, however, understand the impact he was making on the field. In his five years at Syracuse, the defensive lineman played in 56 games and tallied 15 sacks, 101 tackles, three forced fumbles and four passes defensed.
A COLLEGE ATHLETE TURNED PRO
He put together a body of work that had NFL teams interested in what someone who didn't pick up a football until high school could offer. So, the Bills decided to take a shot.
"You saw his athletic ability," Bills general manager Brandon Beane said. "They moved him up and down the line, sometimes even played him in the middle and dropped him into coverage a little. Kingsley being at Syracuse, we were able to see him at our local day…so we were able to get around him, get him on the field but also get him in the room and see his smarts, his work habits and just his passion for the game. Even though he's young, this guy's a sponge and you're going, 'Man, if we can get him in our system, where can we get him to?'"
Now in his second NFL training camp, Jonathan believes he's got the skillset to make the 53-man roster.
"I'm a guy that's going to give you 100% whatever you need," Jonathan said. "I'm gonna get out there and rush the passer, play the run, be a good teammate, support the team, go crazy on special teams, being that key piece wherever you need me to be, being versatile and playing on the inside and outside."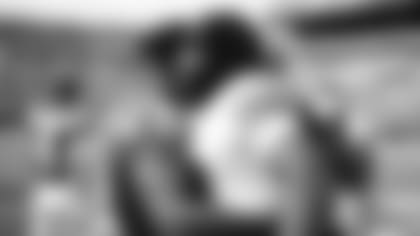 His teammates like Von Miller have also been impressed with his growth over the last year.
"He's doing everything in the right way," Miller shared. "He's very inquisitive, especially when it comes to pass rush and all the little things that make great players great. He's just a very, very smart guy. Very, very intelligent guy. He's always asking the right questions, and he just has that unique ability to take coaching and put it into his game." 
When Jonathan hears top tier NFL players say that about him, it feels almost surreal because Jonathan used to watch tape of Miller when he was learning the game.
"His speed and his finesse stand out most," Jonathan said of what stands out. "He has a really good ghost move that I've been perfecting and working on this offseason. And his recognition in blocks, the way he gets guys hands off him and the way he plays in that edge, all those little things."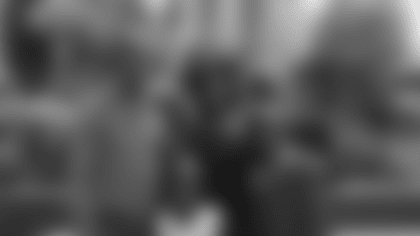 A SUPPORT SYSTEM BACK HOME
While he's perfecting those moves in training camp, Jonathan is always making sure there's time for his family in Nigeria. He hasn't seen his parents in almost 10 years, but he keeps them up-to-date on life with multiple FaceTimes a week.
"They're really proud of me," Jonathan said. "They're always praying for me, always supporting me. Anytime I need to call them and talk to them, they always have something to say to me. But they try to catch the games, they look up the games on YouTube and watch highlight tapes, things like that."
They hope to make it out to one of Jonathan's games to see him play in-person for the first time ever.
As the DE pushes to make his dream of making the team a reality, he does so with his family and their sacrifices in the back of his mind.
"When I sit down and think about it, it's just the sacrifices that went in to get me where I am today by a lot of people, especially my parents back home," Jonathan shared. "They spent all the money they had to fly me over here. My parents that took me in in the states gave me all I needed to have this opportunity. And for myself, I moved away from home and was alone, had strangers take me in and adjusted to that, playing a new sport.
"Just all of that sacrifice, I'm just blessed to have that many people in my life who helped give me an opportunity like this."
Jonathan isn't going to let this opportunity go to waste. His motivation won't be shaken and is founded in the hardships he has faced to make it to where he is today.
"I'm always trying to see the positive in every situation," Jonathan shared. "I always see everything as a learning situation, see the positive in everything, trust God and know that he has a plan for you. And I just lean on my support system, they helped me get to where I am today."
Jonathan's real first name isn't Kingsley, it's Chukwuemeka which means, 'God has done it.' Jonathan believes his story is far from over and is still waiting to see what God has planned for him as it relates to football.