One ardent member of the Bills Mafia is representing the Blue and Red as the December recipient of the 2021-22 Buffalo Bills Season Ticket Member of the Month Program. Jeremiah Ranzie may be a resident of Brooklyn, but that does not stop him from making trips up from New York City to watch Bills home games.
Jeremiah, a season-ticket member since 2009, could have easily become a New York Giants or Jets fan with both teams being in his backyard in the tri-state area of New York, New Jersey and Connecticut. But a trip he took as a kid spawned a fandom that the 45-year old upholds to this day.
"Well growing up my dad [David Ranzie] was a Bills fan, but he has a little place by Binghamton, NY, like a hunting cabin," Jeremiah said. " … He would take us down there every weekend and the only thing going on over there, back then, was the Bills. They didn't have Giants and Jets [fans]. And that got me going watching the Bills games and it's just gone on to becoming a whole family thing."
Jeremiah and David had season tickets for roughly 20 years and often attended games with the former's brothers.
As a fan of the defensive side of the ball, Jeremiah's favorite current Bills player is starting weakside linebacker Matt Milano. He's also got some favorite memories of the team from over the years, including Frank Reich engineering the 32-point comeback win over the Houston Oilers in the AFC Wild Card round during the 1992 season.
But one memory that will last a lifetime for Jeremiah was seeing the Bills end their 17-season playoff drought during one of the more memorable NFL Week 17 finishes in 2017. That was the same year his father David passed away, and the support he got from the Bills Mafia helped carry him through.
"I was amazed, everybody in my section … like one person found out about it [and] most people in the section knew," Jeremiah said. "They came up to me, consoling me, and all that stuff. … That's what they say, it's like family being a Bills [Mafia] member."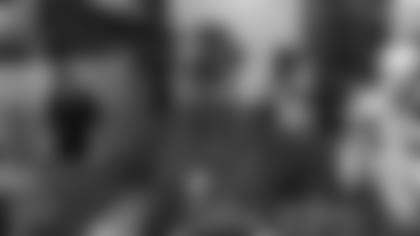 By day, Jeremiah works for the City of New York Department of Sanitation. The pandemic has been tough with the department being short staffed, so he logged a plethora of overtime hours when NYC needed it most.
But like other Bills superfans, which includes the "Bills Elvis" John Lang, Ken "Pinto Ron" Johnson, and the late Ezra "Pancho Billa" Castro, Jeremiah has an alter ego of his own: "Bullfrog." The name comes from the classic Three Dog Night tune 'Joy to the World' and its opening lyric, but the persona itself is all Jeremiah in his own right.
"That's what everybody called me growing up, [it] was Bullfrog," Jeremiah said. " … I have like maybe 10 or 12 [costumes]. The Buffalo Bills, they sell the helmets that look like a Buffalo, and I paint them, I custom paint them. I have one for Halloween, I made an all white one, I have a breast cancer one that's pink, and I redid them."
There's two pieces that differentiate Bullfrog from the pack; first his bullfrog chain that he wears to accentuate his outfits. But the other is his friend called the Baby Bear — a doll given to Jeremiah as a birthday present during the Bills' 2012 season. The Baby Bear — who also has his own Facebook page — is so well traveled, he even came with Jeremiah to London for Buffalo's game against the Jacksonville Jaguars in 2015.
Going from Jeremiah to the Bullfrog is a process to say the least, but it's one that the NYC native relishes.
"It starts with a little bit of facepaint and then you've gotta go shopping. I see friends and stuff and I go 'oh that would look good for Sunday with the facepaint,'" Jeremiah said. "People would give me things, like some of the chains around my neck … it's just become an obsession. We find more and more stuff just to add on."
But the glitter added to his beard may be the trickiest part of it all.
"Sometimes you go to shower in July and you find glitter in your toes," Jeremiah said with a laugh.
What allows Jeremiah to migrate to Western New York for game days is that he saves his yearly vacation time to come and watch the Bills all fall. He's been so dedicated to watching the team that the three seasons prior to COVID-19 impacting the NFL (2017-19), Jeremiah went to each Bills game, home and away.
Outside of being the Bullfrog, Jeremiah enjoys coming into Orchard Park to visit with friends tailgating in the famed Hammer's Lot. Speaking of tailgates, he also has must-have tailgate foods in White Castle hamburgers and New York-style pizza that he brings in from Brooklyn.
"I've been putting them on my blackstone grill for the guys, they've been loving it," he said.
Although Jeremiah is not a Buffalo resident, he loves the community here. He shared his thoughts on what makes the 716 stand out to him.
"Everybody's like a die-hard Bills fan or they love their sports teams. That and the fishing, I can't complain about the fishing, I bring my poles up every game. If I get a chance, I do [fish]," Jeremiah said.
"The perch fishing in the lakes is phenomenal, and I'm a yellow perch fisherman. But it's amazing how they love their sports games. They might be heartbreakers, or losers, this and that, but they love their team, no matter what. I tell my friend 'if the Bills win [the Super Bowl] what do we do then? It might change us. … Time will stop."