BARGAINS ON THE WAIVER WIRE
Everybody follows the draft and free agency and uses those tools to evaluate NFL personnel decisions. And that makes sense. But there's an unheralded part of roster building that makes a difference also. Scouring the waiver wire for depth and diamonds in the rough is part of personnel management as well, and the Bills have made some significant waiver claims this season.
The Browns game saw a couple of recent roster claims make big contributions. New kick and punt return specialist Marcus Thigpen made an immediate impression the first time he handled the ball with a stop-and-start darting punt return for 19-yards. Thigpen, just waived by the Tampa Bay Buccaneers four days before the Browns game, averaged close to 12-yards on the four punts he handled.
Tight End MarQueis Gray was claimed off waivers from Minnesota on Thursday, November 18th, four days before the Jets game in Detroit. Because of the snow storm in Buffalo, he joined the Bills in Detroit for practice, and got in his first workouts in a borrowed Lions practice jersey since the Bills didn't travel with one for him. He was inactive for the Jets game, flew back to Buffalo after the Monday night game, and dove into his Bills playbook last Tuesday, five days before the game against Cleveland.
Against the Browns, Gray played almost half of the offensive snaps and caught two key passes for first downs.
"Credit to him," said Bills Head Coach Doug Marrone Monday. "I thought he did a very good job during the week picking things up and playing special teams also. In the game he had an opportunity to make two plays and he made them. When you have those opportunities and you do those types of things, that's what you need to do to have a job in this league."
When I talked to Gray Monday, he said it has been difficult bouncing around the NFL from Cleveland, to Minnesota, to the Bills over the last five months.
"It's hard to make friends and learn playbooks when you have to worry about the business side of the NFL," he said. "And that's one thing I hate about the NFL, the business side. I'm a guy who just wants to make a football team and help make plays."
Kickoff specialist Jordan Gay is another waiver claim made by GM Doug Whaley and his personnel department.
SPECIAL SPECIALISTS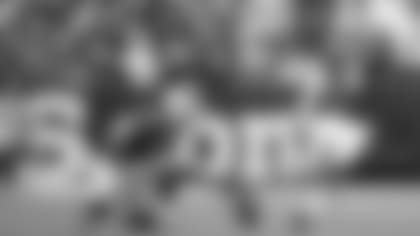 The Bills defense deserves all the kudos it's getting for its performance against the Browns. But once again, the Bills kicking specialists should get some credit for dictating field position.
Jordan Gay had an outstanding game kicking off in the swirling winds of Orchard Park, with all seven of his kicks in the end zone and five of them resulting in touchbacks.
The analytics group at Pro Football Focus ranks Gay 7th overall in kickoffs this year, and they say he's second in maximum hang time, at 4.87 seconds.
PFF.com has good numbers on first year punter Colton Schmidt also. And it's much more difficult to measure with numbers because of the situational nature of the punting game. He's put 26 of his punts inside the 20-yard line and Schmidt's net average of 39.6 is just a shade below the acknowledged benchmark for punting efficiency of 40-yards per kick.
PRO BOWL MATCHUP: PERENNIAL VS. FUTURE?
Defensive End Jerry Hughes made the biggest play of the game with his fumble return for a touchdown, but even without that, Hughes may have played his best game of the season. And he did it against one of the top left tackles in the NFL.
The Pro Football Focus analytics say Browns LT Joe Thomas had one of his worst games ever. They gave Thomas a grade of -2.7 as he struggled to block Hughes. And Thomas was flagged for four penalties, the most he's ever recorded in one game.
Thomas is a seven-time Pro Bowler; he's gone to Hawaii every one of his seasons in the NFL. It says here Hughes should be a shoe-in for a spot on the AFC Pro Bowl team with Thomas this year.
One more grade from PFF.com worth mentioning, the 6.1 grade handed out to Bills LB Nigel Bradham. He finished the Browns game with 12 tackles and one sack. Pro Football Focus named him the player of the game, saying he was "the best player on a defense that made life impossible for the Cleveland offense."
Head Coach Doug Marrone doesn't need analytics to tell him how well Bradham has played this year.
"Nigel Bradham has really done a 180 and turning around and playing lights out in comparison to what he did in the past," Marrone said after looking at the video from the Cleveland game.
NOISE OFF THE CHARTS
We work with headsets on the radio broadcasts so it muffles the crowd noise. But it seemed to me the noise level at Ralph Wilson Stadium during the third quarter, ten-second, two-touchdown explosion was over the top.
So I did what normally don't do. I took my headset off and marveled at how loud it was. While I missed Mark Kelso's incisive analysis for a moment or two, it was worth it to hear the deafening roar from the crowd. There have been more than a couple moments like that this season, going back to the home opener against the Dolphins. Here's hoping the crowd has a chance to make that kind of din once more when the Bills host the Packers in two weeks.
Photos of the Week 13 matchup between the Buffalo Bills and Cleveland Browns at Ralph Wilson Stadium.