As part of the National Auto Body Council Recycled Rides program and in partnership with the Buffalo Bills, Gabe's Collision was in search of a worthy recipient to receive a vehicle that the Gabe's team repaired from top to bottom. And hearing Leanne Hull's story from the Veteran's One-Stop Center of WNY, the decision on who would receive the new vehicle came easy. 
And on November 12th, the day after Veterans Day, Gabe's Collision and Geico Insurance presented a refurbished 2018 Toyota Rav4 to Hull, who served in the Army National Guard for 7.5 years. 
"Once we read Leanne's story, it was a no-brainer," Jeff Mucciarelli, Owner of Gabe's Collision said. "When we passed Leanne's story on to our vendors and our team, the response was overwhelming. Our team is even supporting Leanne's charity. It's head and shoulders above anything that we've ever done before." 
But the Veteran's resume doesn't stop there. Hull is also a tax accountant for those in need, she volunteers at The Trading Post in Springville three days a week, was a volunteer fireman, and the list keeps going. 
"I am so humbled to be even put in perspective because for many years, I was just a mom, a full-time student, and a volunteer in my community since the day I left the military," Hull said. 
She has always put others' needs at the forefront, especially when it comes to her three children, four foster children, four stepchildren, and 12 grandchildren. When talking about her family, Hull said that they have humbled her to be the person she is today. 
"Sometimes we don't see eye to eye, but I know that count on me to be their rock," Hull said. "I turn to volunteering in my community and being their support. I'm not usually the one that gets all the attention. I'm used to having control because I'm Mom."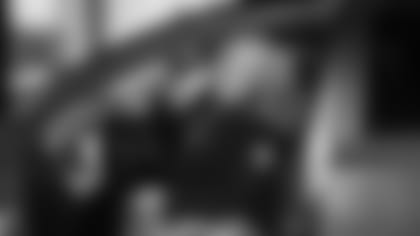 Hull has had Cancer three times in her life and is now in remission. But that didn't stop her from pushing herself to get an education to further support her family. Years later, she's proud to have two master's degrees – one in Finance and one in Human Resources. 
"I'm just working to make places better," Hull said. "It's not about me when I leave the house in the morning. The thing I say is it's not about me. Where am I needed? What can I do today to make somebody else's life so much better?"  
And last week, Gabe's Collision generosity made her life better. 
Before she received this car upgrade, her old car often broke down and wasn't always reliable, which made it very difficult and stressful when trying to support her family. Now, she won't have to worry about transportation with her new Rav4. 
And knowing how many people Hull touches through volunteering, Gabe's Collision and their vendors wanted to help those people and Hull's family as well. So, they raised donations for the food pantry, boxes of clothing for her grandchildren, and a new laptop to help Hull with her accounting tasks. 
"This whole thing has changed for us," Mucciarelli said. "This is really from the heart of everybody and all our employees. Everybody was a buyer, even the vendors. This is really a special thing we have going on."  
"This to me is overwhelming because I'm not on the receiving end of things," Hull said. "I don't do things to show off and to put out there. It's not about me and I have a higher calling. But I'm beyond grateful for everybody at Gabe's Collision and the Buffalo Bills for what they've done."