The average Bills fan likely hasn't heard his name a single time this season, but head coach Doug Marrone said it's for the best when the starting left tackle is under the radar.
Cordy Glenn has started each game for Buffalo, protecting each of the team's three different starting quarterbacks while bolstering the team's run game.
"He's playing well," Marrone said. "When you're a left tackle and nobody's really talking about you, that's a pretty good year."
Nobody is talking about him because he's covered most of his assignments flawlessly. Pro Football Focus, ranked him as the fifth most efficient pass blocking tackle in the NFL, and the 14th best overall tackle in the league.
Marrone on Cordy Glenn: "When you're a left tackle and no one is talking about you, that's a pretty good year" — Buffalo Bills (@buffalobills) November 13, 2013
According to their statistics, after allowing just one sack this year, he is tied with four other tackles for least amount of sacks allowed.
That statistic becomes more impressive when one sees that of the top 76 tackles, he and his partner, right tackle Erik Pears, have played the most snaps of all tackles at 748 snaps.
"I look forward to the challenge," Glenn said. "At the end of the day I'm getting better, and that's just the biggest thing for me. So I accept them. I accept all the challenges."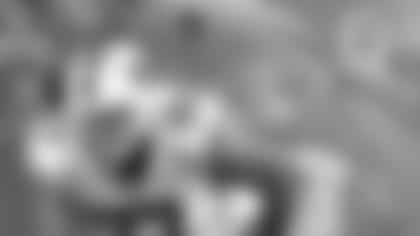 ](http://www.buffalobills.com/probowl)One challenge for Glenn was inconsistency at the quarterback position, which has led to adjustments and struggles for the entire unit. Glenn's consistency in the eyes of his teammates however, works to the benefit of the offense.
"He's stepped his game up this year, he comes every week prepared and focused," said Kraig Urbik, a fifth year guard. "He works his butt off every week and it's showing."
In the 2012 NFL draft though, Glenn wasn't even sure what his position would be; analysts said he would likely be taken as a guard. He said in high school, he played tackle, but while at college in Georgia, he moved between tackle and guard.
"At the end of the day, I'm a football player, I can't really worry about what people say," Glenn said. "All I can do is go out there and show what I can do."
Since he was drafted as the 41st overall pick in the second round, Glenn started all 23 games he's been in, from his rookie year to now, at tackle, but he said he's improved tremendously.
"I've made a lot of strides, just in technique and experience, knowing what's going on a little more and just learning how to be a pro," Glenn said.
Glenn credited three coaches along with Eric Wood, Erik Pears and Doug Legursky with helping him learn the pro game.
"I wouldn't say I'm a complete player, but I think I've polished it up from last year to this year," Glenn said. "I've still got a long way to go, but I can see improvement."
Marrone, having coached Glenn's position for eight years and played on the offensive line three years professionally, admittedly has high expectations for his players.
"I really think, personally, he can play a lot better," Marrone said. "I think he knows that. To a point where there are some things that occur that I think he will do a better job, and I think he's working hard towards that."
Glenn is near the top of his game when it comes to pass protection. He said he loves the challenge of facing the best rusher.
"Going up against the best rusher multiple times every week, you can't get too high, you can't get too low, you've got to keep an even keel about you."
He also doesn't mind that Buffalo's offense has shown some consistency in the run game. Buffalo has the second most rushes in the league, with 325 attempts rolling up 1,407 yards this year, or 140.7 yards per game.
"I'm on the offensive line, I love when (we) run the ball," Glenn said. "Just getting after it, wearing out the defense without them just being able to pass rush every single play."
He and his teammates agreed there's a long way to go in improving the line. They hope they can make difference in upcoming games.
"We're doing really well in the rushing game," Urbik said. "(But) obviously there's a lot to be improved upon. We were a little more up and down than we'd like to be, we'd like to be a little more consistent, but we'll just keep on improving our game."