Players like TE Chris Gragg, LB Ty Powell, H-back Evan Rodriguez and guard J.J. 'Unga saw playing time this past Sunday. According to head coach Doug Marrone he'll continue to provide opportunities to the young players who take advantage of it, most notably 'Unga.
The rookie guard, who was signed a little more than two weeks ago, saw just seven plays of action Sunday at Tampa Bay, but it was enough to convince Marrone to give him more time on the field this coming week at Jacksonville.
"I thought he did very well and I think we're going to increase his playing time," said Marrone.
'Unga felt he held his own against Tampa Bay's formidable defensive front.
"It was good for me with it being my first NFL action the opportunity was there and coach gave it to me, which I was grateful for and I seized the opportunity," 'Unga told Buffalobills.com. "I had fun. I was jacked up to the max. I came out and yeah the team wasn't doing good, but on a personal note I was feeling good about the time I got."
For 'Unga (6'5", 320), who had spent the 2013 season on the Baltimore practice squad prior to signing with Buffalo, more playing time is an opportunity he does not intend to squander.
"I feel like it's a challenge that I love taking on just so I can prove myself coming from a little small town school," said 'Unga. "I think it's good for me."
'Unga (6'5" 320) played offensive tackle at Division II Midwestern State, where he appeared in 20 games making 10 starts. He earned All-Lone Star Conference honors as a senior in 2012.
He lined up at both right and left tackle in his college career, but right guard is where he feels comfortable and that's where he'll see more snaps this Sunday.
"What I'm trying to figure out each week is who gives us the best chance to win and make sure we know exactly who we have," said Marrone.
"I need this opportunity so I can show them what I've got," 'Unga said. "I just want to make sure that I leave everything on the field."
Time to increase for LB Powell too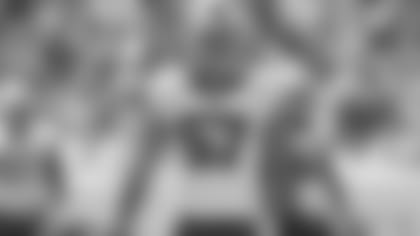 Marrone sounded especially pleased with the play of LB Ty Powell as well in last Sunday's game. He stepped in for Manny Lawson and Jerry Hughes at times getting a total of seven snaps as well.
In that short period of time on the defensive side of the ball, Powell registered two tackles including one for loss and a quarterback pressure.
"What we're trying to find out is who are the people we can go out and win with," said Marrone. "I want to make sure that I know where everyone is at as we keep moving forward with this team.
"Ty Powell did a very good job so that's exciting and we need to grow with that. The playing time, it's tough in some situations to get them in there, especially with Ty a little bit more on the defensive side when we have Manny (Lawson) and Jerry Hughes, both of those guys are doing a nice job.
"But he went in there on special teams and made some plays. So we have to find a way to get him some more playing time because he's a good football player and keep progressing with him along with the other players."