It's the early 2000s and Stevie Johnson, a young, eager, athlete, is joyfully riding his bike around Angelo Rodriguez High School's unfinished campus in Fairfield, California. With each pedal turn, Johnson – who was enrolled at the well-established Armijo High School, located just 13 miles down the I-80 freeway – envisioned the promise that the new institution symbolized not only for him, but for the community.
"This school has no history. I can be the first one to make it," he said in reflection. "And then it was built, and I ended up transferring, getting some of my friends to transfer with me…It was just [about] grinding, that's where that 'handle biz and have fun' [came from]."
A well-rounded athlete, Johnson certainly lived by his slogan, excelling in football, while also playing basketball. Leaving his mark on the school's history, Johnson, a member of the 2004 inaugural class, realized his dream when he was selected by the Bills in the seventh round of the 2007 NFL Draft.
Now, 15 years later, as fate would have it, Johnson will return to his alma mater as the school's head football coach. Grateful for the chance to be around the game that he loves, Johnson feels there are bigger reasons his name was called.
"I didn't know they even had a vacancy there. As soon as they said it, it was just a sense of an opportunity to help more," he said. "I wasn't thinking about wins or losses. I was just thinking, 'I know I can help a ton of kids now, with just the wisdom of the good stuff I've done [and] the bad things, most importantly.' Because that's a good vessel for it and I'm just honored that it was back at my hometown, and I didn't force this. I didn't ask for it. It was just like it was supposed to happen like this."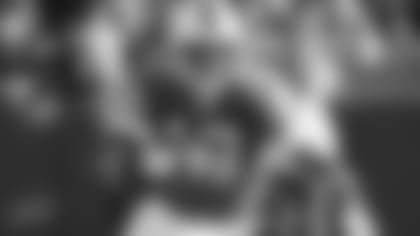 The motivation
During his eight seasons in the NFL, the wide receiver garnered attention for his remarkable route-running ability, as well as his unconventional training methods. His larger than life personality on the field was counteracted by his quiet and 'chill' demeanor in the locker room. Due to his atypical approach as a player, Johnson's newest venture may come as a surprise to some.
However, Bills Legend Donald Jones feels it's precisely his former teammate's distinct personality traits and unique background that make him a perfect fit for the job.
"Stevie was not traditional in any sense of the word," said Jones. "He was naturally gifted, but because he was so unconventional in the way that he played, it didn't allow DBs to really get a beat on anything that he was doing and that's why he was so good and so effective…[He wouldn't] be in gym working out all the time like the rest of us. He played basketball. He was just different.
"But I think overall, he understands that he was different than everybody else. I think the way he played the game will also be a big help for kids because most people play it in the traditional way, but he can teach it in another way. So, that it's just a lot better for these kids and I think that's part of the reason why he's doing it. He wants to give back and all that stuff, but he wants to make those kids better – especially at the wide receiver position. He's going to be the head coach, but I would almost guarantee you he's going to focus on the wide receiver position and trying to teach those kids a way to be 'space creators' like he always says."
For Johnson, his motivation to accept the position was simple. He wants to help.
"These kids were me. Why does there have to be only one Stevie Johnson to make it out, when now I can develop and create even better me(s)?"
These kids were me. Why does there have to be only one Stevie Johnson to make it out, when now I can develop and create even better me(s)? Bills Legend Stevie Johnson
Knowing full well how vital a role he has when it comes to shaping his athletes' lives, Johnson plans to draw upon the experiences he had in the NFL, as well as the lessons he learned from his former coaches, when designing his own strategy.
"There were good things that I took from my experiences with coaches and there were bad things that I took…I'm making sure that I fix some things that I wish I could have fixed openly without getting any backlash on it – just understanding and communicating," he said. "There were coaches in the league, and I had coaches that I played basketball with, that I'm inspired by…My influences were helpful everywhere."
Johnson cited former Bills head coach Chan Gailey, Steelers wide receivers coach Ike Hilliard and Kevin Kelley of Pulaski Academy High School in Little Rock, Arkansas, as a few sources of inspiration.
After spending the 2010-2012 seasons together in Buffalo, Johnson developed a close connection with Gailey and an appreciation for his coaching style.
"I know he's out there with the Miami Dolphins doing his thing and I feel like I got a lot of information from him," said Johnson of Gailey. "He's with the good influences because he gave that freedom. He allowed us to think the way I'm thinking now. So, that's always appreciated with Coach Gailey."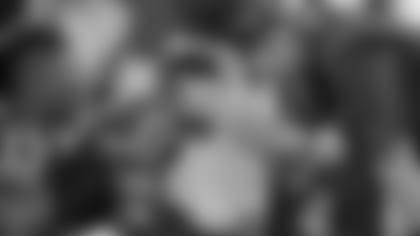 Another key piece of Gailey's system, and one Jones thinks Johnson will adopt, is the familial environment he instituted.
"Chan was a family type of guy. So, [when] he coached the team, [it] was always about family," said Jones. We're a family. You have some coaches who are structure and discipline. You have other coaches who they would call 'players' coaches.' They're more like the family type of guy like the Pete Carolls, and others like him, who want to make it feel like a family atmosphere, so that you come together as a team and you gel. Chan was that kind of guy.
"Stevie's that kind of guy. He loves his family, his teammates. He considered them as family, as brothers, and he will do anything for his family. So, that's I'm sure the approach that he's going to have. He's not going to be the structured, disciplined type of guy. I would almost imagine that he's going to put coaches around him that are more like that, so that he can just lead the team from a family standpoint."
Given Johnson's knack for breaking the mold, it's also easy to see why he relates to Kelley and Hilliard.
"I'm inspired by coach Kevin Kelley also. He's at Arkansas. I don't know him personally, but he has a mindset that takes a different approach than a lot of the classical coaches. Ike Hilliard also."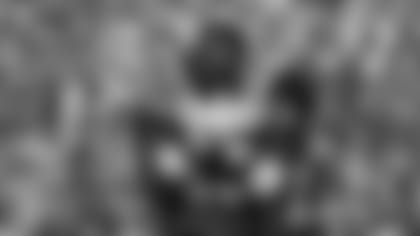 The plan
Putting a fresh spin on coaching at the high school level, Johnson's plan is two-fold in nature.
On the field, he'll be implementing what he calls a "flaw ball" scheme. Off the field, the Fairfield native will engage the entire community, encouraging others to get involved with the program.
"I'm going to spread it out," he said. But to not answer it like a regular coach, telling you what type of offense we're running, we're going to watch a lot of film. I'm going to call it, 'flaw ball.'
"My plan, it will be to protect the kids, get the ball out quick, 'flaw ball' – take advantage of the defense's weaknesses. 'Money plays'…We work on money plays in the NFL every week…that's a part of 'flaw ball,' running it over and over until they stop it.
"If they're playing press, that's where practice and doing our individual drills come in big because, obviously, if they pressure you, one or two moves and it's a big reward…We'll attack with a quick game and it's all based on protecting our players because we have all incoming guys. This will be their first year on varsity. So, I'm not sitting back there [trying] to pass the ball with five, six step drops, trying to read if the route is open, 10, 15 yards down the field. We don't have that type of a roster right now to be doing that. We have to find the flaws right now and get our guys in space because we've got a ton of athletes that can create space."
"Money plays" aren't the only thing Coach Johnson will be borrowing from the NFL.
"I'm going to implement the NFL system in the high school place…I can bring this college aura or NFL aura to high school…I'm going to have barbers come every week to cut the kids," he said. "See, the thing about where I'm from, going back home, there are so many connections, and it will give so many people in the community the opportunity. So, that's why I'm not even thinking about the wins and losses. We already won right now, and with the passion that I have to give all this wisdom, the skills that I have inside, to these kids, they're already going to win. I know it. The rest is going to be on them to follow through."
In his coaching debut, Johnson has also confirmed that he will hold true to his motto, "handle biz, have fun," as he works to foster growth.
"That 'handle biz, have fun,' it represents accountability and it represents responsibility," he explained. "It's just simple. It's a simple, positive message, and it's self-explanatory. So, it's easy for them to attach to and thrive off. 'Handle biz, have fun.' In that order…It sounds easy for them to say…and they'll be accountable for it. Don't get on the phone, don't go play video games, unless you did your work. Then after you do that, have peace of mind. That's peace. You can have as much fun as you want, and then you repeat."
Although his Mustangs won't take the field for several months, Johnson's already doing his due diligence when it comes to putting his game plan into action. From watching film of last year's team on YouTube to studying local opponents, Johnson is wasting no time preparing. Traveling from his home in San Diego, Johnson also recently attended the first-ever NFL Legends Community Coaching Clinic in Indianapolis. Joining 27 youth and high school football coaches, he was able to collaborate with the group, while hearing from several speakers on topics like best practices and how to develop character. Since then, Johnson's appointed his coaching staff and will even be holding the school's first athletic combine on March 11 and 12.
Leading by example, he's optimistic that his message will resonate with his team.
"Me being the first there [at Rodriguez], at a time where recruiting wasn't heavy, they didn't know the school, and now within this time, where everybody, all the parents, all the kids are even…[saying], 'Oh, I have to go to this program because they get looks…I'll be the example that you don't," he said. "You don't need to chase programs. You don't need to go chase the attention. You just have to put in the work individually and collectively as a team with your teammates, and they'll find you. Because they found me…With that ammo, I think it'll make them better people, as opposed to just being better players because they won't have that stress about that pressure, that I've been through, and I can teach them how to get through that."
As the football season closes in, it will certainly be fun to follow along with Johnson as he continues to "handles biz, have fun," writing the next chapter in his story.