It's a quiet Monday at One Bills Drive in early February. The locker room is quiet and empty with players now out of town for more than a month following the playoff loss in Houston. One of the few players still coming to the team facility every day, is one who couldn't participate in the Bills playoff game.
Working his way back from ACL knee surgery in late September, Phillips, is now in month six of his rehabilitation.
"It's been a very long, slow process," Phillips told Buffalobills.com. "It's a marathon not a sprint and I've been learning a lot through the whole process. Overall, it's going really well. If you were to ask the trainers or the strength staff or anybody involved in my day to day they would most likely rave and give you the double thumbs up with where I'm at."
Phillips, who has been posting video updates of his progress on his Instagram page, just began straight line running two weeks ago.
"I'm now to the point where I can run, just like a normal person on turf," he said. "I'm not sprinting yet. I think I'm up to 14 miles an hour in that range. They don't really want me to push it too much further than that right now. We've got the GPS trackers, so we can tell how fast I'm covering distance, what my maximum speeds are, things like that."
The Bills defensive tackle appreciates the instantaneous feedback provided by the team's athletic trainers and sports scientists, noting how much more helpful it is from the first time he had an ACL rehab as a sophomore in college at Stanford.
"If I do 10 10-yard runs, after I finish the second one, they might say, 'Hey Harrison that was too fast.' Or, 'Harrison you can push it a little bit more,'" said Phillips. "So getting that feedback is good."
Phillips also just began plyometric training like box jumps. He's also doing single-leg hops underwater for buoyancy to keep his body weight off his knees.
All the new training along with weight room work has Phillips encouraged that he's closer to the end of his lengthy rehab journey than the beginning. But like any long rehabilitation, there were some dark days right after he sustained the injury in Week 3.
"The season was one of the hardest things I had to go through," he said. "It was just so emotional. I was so happy for my team. I was so happy for my brothers, the guys I grinded with last year, but it was just a can of mixed emotions. I was hurt from not being able to play, excited for the team doing well, to then almost jealousy and greed factoring in like, 'Man, what if I was out there? Could I have made that play? Could I have gotten that sack?' All these things factor in and it was just a really tough time, plus you're isolated."
Injured players typically do not travel with the team for away games, so game day Sundays when the team is on the road are tough.
Fortunately for Phillips, head coach Sean McDermott added Phillips to the travel party at the end of the season. Instead of just being along for the ride, Phillips made sure to contribute to the team's success in some way.
"I started doing more in a sort of assistant coaching role," he said. "When the players would come to me on the sideline and Jerry (Hughes) and Shaq (Lawson) would ask, 'Hey what rush should we do on this play?' And I said, 'Hey I would run this game.' And then they went out there and ran that game and got a sack. Well I really felt like I was more part of the team and they'd come over and be like, 'Good job! Thank you for telling me to do that.' So I felt like I was contributing more but yeah it was still really, really tough."
Phillips had inherited the on-field pass rushing play call duties from Kyle Williams in 2019. He far and away did the most film study to put together a pass rush plan, and either he or Lorenzo Alexander would call them on the field pre-snap based on down and distance and formation from the opponent.
Once the ACL injury ended his season, Phillips poured himself into film study even more because he couldn't do anything physically. He provided his keen scheme knowledge of the opponent on to his teammates every week to still feel a part of the weekly effort, but it never came close to playing.
That's why although disappointed to see the team's 2019 campaign come to an end in Houston, that finality also provided him with a lift.
"I was really emotional," he said. "It's super sad for all the guys and myself. I'm still part of this team. But the next day I woke up with just this new energy and I said that the next time that the Buffalo Bills play I'm going to play with them. That just kind of changed my whole mindset and since then, I've seen the light at the end of the tunnel."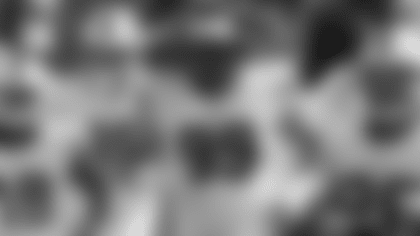 Phillips is extremely grateful for the daily efforts of athletic training staff, the strength and conditioning staff and the sports scientists, who have been integral parts of his recovery. That staff has also helped to control Phillips' eagerness to push the envelope in his rehab.
"I'll say, 'Hey guys, you know I feel really good. We were doing 600 pounds on leg press. I want to do 700. I think I have it.' And they'll send me an article saying why you shouldn't push up to 90 percent of your max on this exercise. They have so much knowledge. They're so smart. I'm just learning so much about the why."
"The goal for me is that I'm 100 percent healthy for training camp practice one," Phillips said. "That is the goal. OTAs in the spring, how and what I'll do in that area will more so be on the coaches, general manager and trainers' decisions, not as far on my health. At the risk of having an undrafted free agent offensive linemen trying to prove himself to make the team diving and doing all this crazy stuff is that worth me being out there for not? That's going to be up to somebody a little higher up to me to make that decision. But I'll always be asking to do more."
Regardless of the extent that Phillips will be able to work, the defensive tackle wants to be out on the field with his teammates every single day, even if it is scaled back work that's seen as less of a risk. But he has a greater understanding of why the process is laid out the way it is for him.
"I'm a big believer in in dreaming really big and hard work can get you there," Phillips said. "So I want to be in the weight room four hours a day. I want to run for the next two hours every day and our staff is showing me the science behind why more is not always better. So I've learned a lot."