MOBILE, Ala. - Heath Farwell is a lifer when it comes to special teams.
He put in 10 years as a player, three more as an assistant coach on NFL special teams.
"I think it's the heartbeat of the team," Farwell said Wednesday in Mobile, meeting with the Buffalo media for the first time. "If we run down on a kickoff and tackle inside the 20-yard line, that's one of my favorite things to see. The defense comes flying out onto the field, high-fiving, celebrating. It sets us up, we go three-and-out because of the energy. And then suddenly we're setting up our offense on the other side or it."
Farwell joined the Bills last week and immediately came to Mobile this Monday, to spend some time with head coach Sean McDermott and the other coordinators, and to interview some Senior Bowl prospects. He wants them to know how critical special teams will be to the Bills.
"It's the heartbeat. Special teams are made up of offense and defensive guys. Getting them all out there, working together, it's the whole team working together."
Farwell made his mark playing special teams. An undrafted rookie from San Diego State, he signed with the Minnesota Vikings and immediately went to work building his special teams credentials. He covered kicks and punts, blocked for kicks, and did whatever he was asked. He did it so well, he was named Minnesota's special teams MVP in his second year in the league. He was the NFC Pro Bowl Special Teams starter six years into his career. And his formula for success was simple.
"Energy and effort," Farwell says now. And that's how he evaluates the special teamers he must scout and coach.
"That's the first thing I look at every time I turn the tape on. And I'll make that really clear to our guys. Energy, effort, strain – you got to show that passion. That's what special teams are all about."
After three seasons playing in Seattle, with a Super Bowl win following the 2013 season, then Seahawks coach Pete Carroll hired him as a special teams assistant.  After two years there, he moved on to Carolina last year to serve as the Panthers special teams assistant.
Farwell is now the Bills special teams coordinator. He'll keep Matt Smiley on staff as assistant special teams coach. And he'll inherit a Buffalo special teams unit that had struggles with personnel changes and inconsistent play overall in 2018.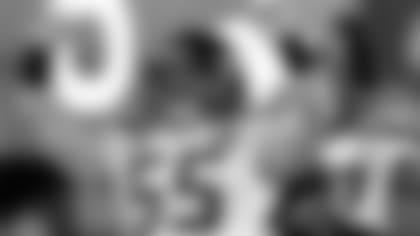 He also inherits longtime veteran Lorenzo Alexander, a one-time special teams mainstay in the league who's become an important starter on defense for the Bills. Farwell says he'll lean on Alexander's special teams background for his younger special teamers.
"Lorenzo is a heckuva player. He and I battled for so many years," Farwell says. "I have a lot of respect for his game, the way he plays the game, the passion. Leadership—I'm going to rely on him heavily to show these young guys the importance of it."
Farwell is energetic and eager to get started. He's also eager to find some special teams prospects among the 114 players at this week's Senior Bowl. And he knows what he's looking for, and what questions to ask the Senior Bowl players.
"I think heart and passion-where's your passion at? Do you want to play special teams? That's one of the first questions that I ask them. Obviously, they want to play offense or defense. But special teams are about energy and effort, and strain, want-to and grit. If you have that, you usually make a good special teamer."
He was a good one as a player. Now, Heath Farwell needs to find some more.