Bills fans truly can be found in just about every corner of the world, and many proud supporters often describe feeling a deep connection to the team that makes New Era Field a second home for them. For one Season Ticket Member, that feeling was so strong that it helped convince him to move from England to be closer to his beloved Buffalo Bills.
Originally from just outside of London in England, current Waterloo, Ontario resident Nick Manning has been a proud season ticket member since 2013. For Manning, the Bills made an impression on him the very first time he saw them play – all  the way back in 1991.
"My Dad took me to see the Bills play the Eagles in 1991 at Wembley Stadium and I just thought, 'This is the greatest thing ever.' I was 11. It was amazing. By the time I was about to turn 18, I came to Buffalo for the first time. We flew to Toronto, [then] drove to Buffalo and since 1997, it averaged out that I was coming from England to Toronto and driving down to Buffalo once a year to come to a Bills game."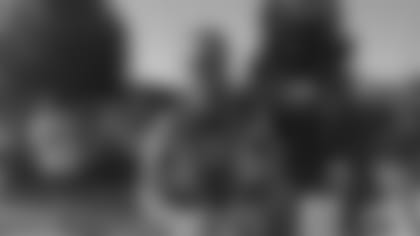 After going through that routine for over 10 seasons, Manning still couldn't shake his desire to be closer to the team he absolutely loves. When an opportunity to move "across the pond" presented itself, Manning jumped at it.
"I realized, I knew that I wanted to have a season ticket. I always dreamed that maybe I could buy a season ticket from England and give it away to people, just to say I had one." Manning continued, "My wife and I had the opportunity to move to Canada and we knew that when we moved, we needed to move to Southern Ontario so I could get my season ticket."
Bills fans commonly refer to fellow Bills fans as their extended family and talk about how special the memories they make with them are. Manning not only has a special connection to the team, but he also has a special connection to the person he attends games with on Sundays.
"I come every week right now with a guy that I played American football for when I turned 14. My head coach when I was 14, he called me, I showed up randomly to play American football for a team called the Luton Huskers. It was a youth football team, I didn't really know there was much football played in England, but I got into that scene. The coach said yes to me playing center because I really wanted to be Kent Hull. I played 12 years of American football for him in England. He called [me] a couple years after I moved here and said he was thinking of moving to Canada and wanted my advice. He said they were thinking about moving to Halifax and I told him 'Well don't move to Halifax, move to Waterloo where I am, and you can come as a Season Ticket Member to Bills games with me!'"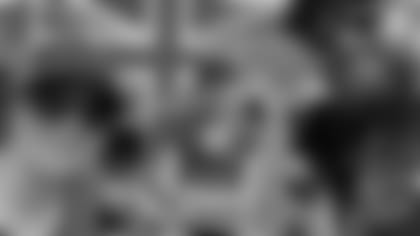 While Manning is certainly grateful to now be close to the team he fell in love with at a young age, that has motivated him even more to help make game days as special as they can be for other people at New Era Field on Sundays.
Talking about his tailgates, Manning said, "We often get lots of visiting fans or people that are in for just one game, and I try to make them feel at home. I remember that experience of visiting from 1,000 miles away, with a rented car and a bag of chips, and feeling a bit out of place. So, we try to make it a home within our new home for visiting fans or fans from faraway places."
Bills games mean so much to Manning and it's been everything he wished for and dreamed of when he was living in England and hoping to purchase season tickets one day.
"I'm a massive football fan, and I just get such a kick out of being able to show up on Sunday and see NFL football and, most importantly, see the Bills play. You always get that same chill as you walk out and see the field. It goes right down your spine. That's what I love."
The Buffalo Bills would like to thank Nick for his many years of being a loyal Bills Season Ticket Member and our Season Ticket Member of the Game. In addition to Nick being selected as a Season Ticket Member of the Game, he received a club seat upgrade to the Ravens vs. Bills matchup, an autographed item and select Bills merchandise.
If you would like to submit a nomination for a Bills Season Ticket Member of the Game, please fill out the form located here.